A European Vision
The European Coalition for Vision (ECV) and its elections manifesto will be launched in Strasbourg on the 4th February. The coalition is a diverse group – eye health, vision, aging and diabetes focused NGOs, trade associations, and research bodies – united under the common aims of making eye health more equitable and accessible for people in Europe, and promoting the rights of persons with vision impairment.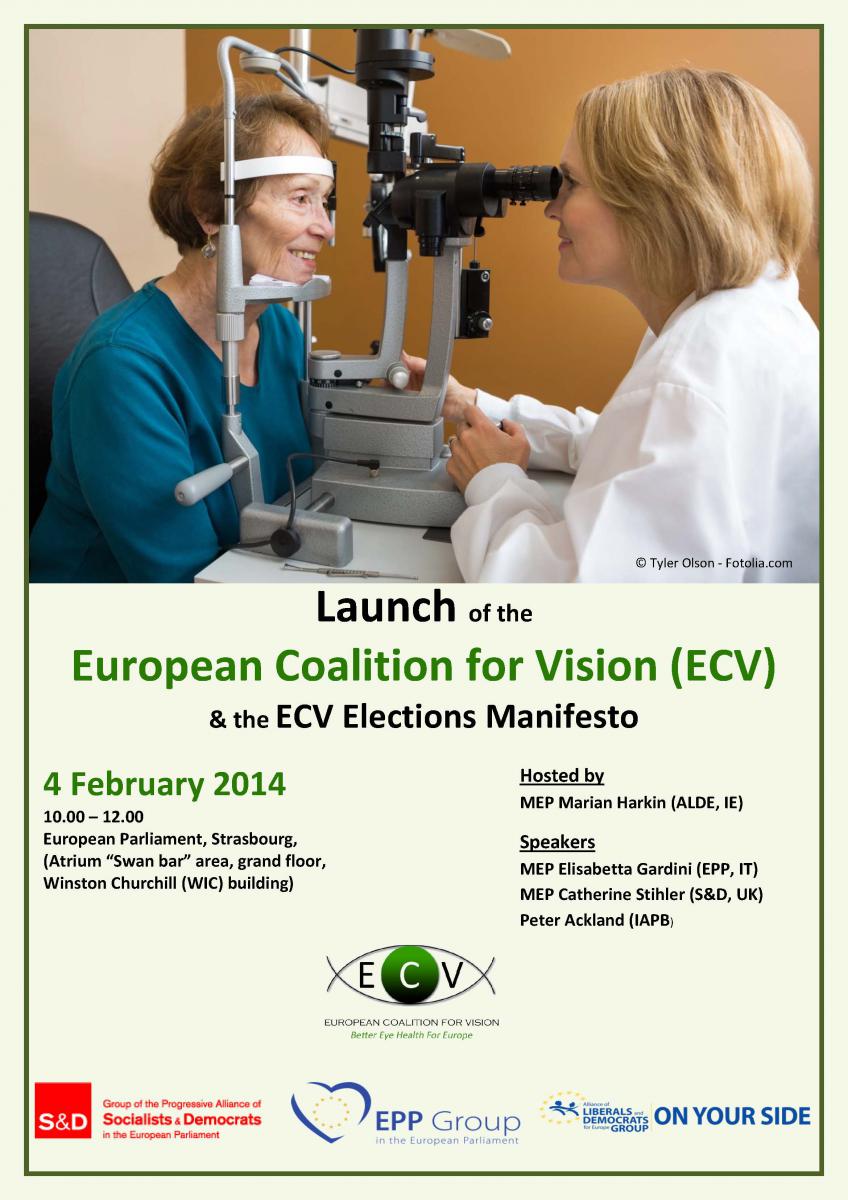 The coalition is urging Members of the European Parliament (MEPs) to sign up to the ECV European Parliament elections manifesto. We are hoping that the MEPs take on board our concerns and support visual impairment-related issues.
What does the ECV want? The ECV recognises that Europe has a crucial and leading role to play in promoting member states' prioritisation of eye health within health strategies and in ensuring all relevant EU legislation promotes access to eye health. The ECV calls on the EU to encourage member states to promote equitable access and provide free sight exams and treatment for the most vulnerable groups.
Further, the EU must adequately promote the rights of persons with vision impairment including encouraging member states to bolster provision of habilitation and rehabilitation, including timely counselling when a person becomes blind, and importantly ensure goods and services are accessible.
IAPB has been working closely with the European Public Health Alliance (EPHA), who have been providing valuable advice and logistical support, and other coalition members to get the launch event up and running. MEP Marian Harkin will be hosting the event and MEPs Elisabetta Gardini and Catherine Stihler will be speaking, alongside IAPB's Peter Ackland.
Over 25 million people experience severe vision impairment in Europe; nearly two-thirds of cases could be treated or prevented in the first place. Further, the rapid rise of diabetes and an aging population in Europe will put more people at risk of vision impairment.
The launch of the ECV and elections manifesto will be the first step in addressing these issues. Going forward the coalition is scoping out the best means to achieve its aims, with a possible Interest group in the offing. We will need to work with consistence and perseverance, to ensure eye health gets the attention it needs.

Zoe Gray,
Advocacy Manager
---
The Trust and IAPB: The next 5 years
A great start to 2014 – a guest blog post from our newest 'corporate member' and an organisation that is poised to play a pivotal role in the eye health sector. Join us in welcoming the Queen Elizabeth Diamond Jubilee Trust to IAPB! Dr Andrew Cooper gives us some insights into the Trust's decision and the role it expects to play in the future.
The beginning of 2014 marks an exciting new phase for The Queen Elizabeth Diamond Jubilee Trust. After working closely with the IAPB for over a year, we have now become members and are very excited about the exchange of ideas and the collaboration that this will bring.
For any new funder, it takes a while to set up the organisation, agree a strategy and then embark upon choosing who to fund and how to go about making change happen. The Trust has been no exception. Peter Ackland and Joanna Conlon at the IAPB have provided a great level of support and guidance as we developed our five-year strategy to tackle avoidable blindness, and connected us to a wealth of experts across the Commonwealth who have impressed us with their capacity to develop high quality programmes with few resources. 

For the Trust, choosing to fund avoidable blindness was a major strategic decision. With a limited lifespan and a Commonwealth-wide remit, we wanted to focus on an issue where we could achieve a major step forward. Avoidable blindness was a natural choice, due to the clear evidence of the problem, in some cases (such as trachoma) an agreed strategy to deal with it, as well as the need to find new ways to speed up progress on the issue. For example, in 2011 there were 366 million people globally living with diabetes and this rate is increasing. As a result, diabetic retinopathy – a condition that occurs when high blood sugar levels damage the cells in the retina – has the potential to become the leading cause of blindness in the next 20 years, affecting the poorest people the most. The Trust can make a significant contribution to tackling this problem and to the search for and implementation of cost effective screening and treatment programmes.
I fondly recall my first few days at the Trust when I converged with Peter Ackland in several meetings. He was always passionate in explaining all about the world of avoidable blindness and who the different stakeholders are within it. I always enjoy his great sense of humour, which always helps when embarking on any partnership between organisations.
Since the early days, the Trust has gained an enormous amount through working with the IAPB, including access to global experts, shared learning and good practice, and excellent events which particularly stand out for their patriotic catering. In the series of meetings that took place in Brighton a few months ago, I remember talking at lunchtime to a group of Americans as we were being served sandwiches and chips. Genius.
Joking aside, we know that we will gain a huge amount from being members of the IAPB. Our own pan-Commonwealth programmes are now being implemented, with a focus on blinding trachoma, retinopathy of prematurity and diabetic retinopathy. We also have an overarching programme which focuses on developing training, fellowships and technology to change the way that eye health care is delivered. We hope to contribute to the IAPB through our commitment to high level advocacy, sharing the learning that emerges from our programmes and helping to develop sustainable solutions to avoidable blindness. Knowing that the organisations and sectors involved are working collaboratively towards a shared goal  provides assurance that our support really will help make a significant step forward, in this case towards eliminating avoidable blindness across the Commonwealth. The excellent cohesion shown by the members of the IAPB gives me confidence that the results shown from our own work will continue to be of use to the IAPB members long after our five-year programmes come to an end.

Andrew Cooper
Director of Programmes
The Queen Elizabeth Diamond Jubilee Trust
---
A great year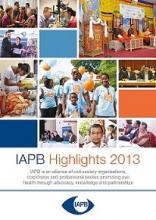 The IAPB office is now closed for the holidays and will be open again in the first week of January 2014. 
2013 has been a fantastic year – a new beginning in some respects – and has set the stage for some crucial developments over the coming years. The WHO Global Action Plan was unanimously approved this year. The Membership, together, worked on and developed the IAPB Strategic framework and shared a fantastic World Sight Day this year.
The 'IAPB Highlights 2013' document (PDF only) gives details about our collective achievements (and more), and sets out key priorities for us to tackle in 2014. Do download the document.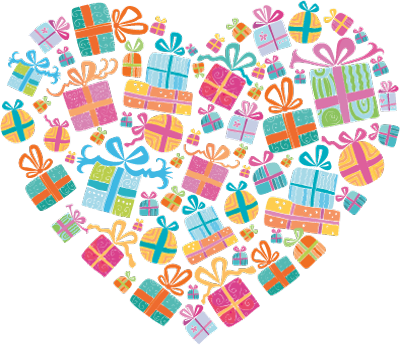 As the year draws to a close, we can look back with some pride at what we achieved collectively in 2013 – all of which would not have come together without our shared commitment and vision. As we look forward to a new year and to the promise of bigger milestones, let's take a moment to celebrate the one thing that makes all our work possible – our partnership.
Thank you and a very happy new year!
---
'Shreveport sees Russia' at AAO
The buzzing city of New Orleans was the backdrop for the American Academy of Ophthalmology annual meeting this year. In the true spirit of "The Big Easy", New Orleans is a melting pot of cultures, people, nationalities and fabulous opportunities to meet up with old and new friends.
It was really great to meet with Alan Richards, an ophthalmologist from Shreveport, Louisiana, USA who has his heart set on helping and making a difference to improve the treatment and management of ROP in Eastern Europe and Russia. Since 2011 Alan Richards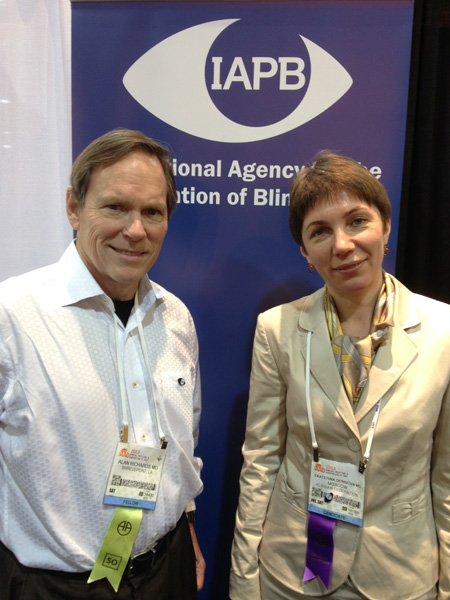 and his wife Rishea have been raising funds from their home town to bring hope to the thousands of premature babies who each year face the risk of childhood blindness. Alan has been working with IAPB and Clare Gilbert from the International Centre for Eye Health, London School of Hygiene and Tropical Medicine to develop a long term strategy to help address this problem and to provide funding for a number of initiatives and programmes in Russia. The programme funds national and regional ROP workshops to support neonatologists and paediatric ophthalmologists to work together to develop national guidelines and polices. It also supports training opportunities for key people to participate in fellowships and observerships plus support to senior ophthalmologists to attend and present papers at international congresses.
As part of this programme, Alan Richards had provided funding for Dr Ekaterina Denisova, a Moscow based ophthalmologist, to undertake an observership in the US at the Associated Retinal Consultants Institute in Michigan, USA. This is the largest retinal subspecialty practice in the USA. (Our thanks also to Graham Quinn for arranging this opportunity).
It was good to meet with Dr Denisova for a coffee and learn more about her amazing work in Russia. Dr Denisova will spend the next month in the US learning  from leading experts and surgeons in VR surgery to not only improve her knowledge and skills in VR surgery and management  but also to transfer this knowledge and skills to Russian ophthalmologists working with ROP at the Helmholtz Moscow Research Institute of Eye Diseases in Moscow.
A big thanks to Allan for his dedication and support for the programme in Russia. It was a great pleasure to say "увидеть вас в следующем году" (See you next year)!
Do visit our ROP pages for more information about the condition and access some useful resources.
In the picture: Dr Alan Richards, Shreveport sees Russia and Dr Ekaterina Denisova.

Christina Sanko,
Development Manager
---
WSD13: How was this year?
One sits back and wonders at the number of International Health Days in a year – a little too many perhaps? What happens – when like this year – the same date is shared by different health issues (World Sight Day and World Mental Health Day)? Are we on the verge of an international health day 'fatigue'?
It is not uncommon to see such discussion on blog posts and twitter feeds online. And so, it's also great to see the support World Sight Day enjoys and to get a glimpse of what it means to people around the world. For example, Stephen Thompson spoke to optometry graduates (and its his post that got me thinking about the other health days) from Universidade Lurio in Mozambique and discovered that participating in WSD celebrations, "…improves morale and gives a sense of belonging to a greater cause".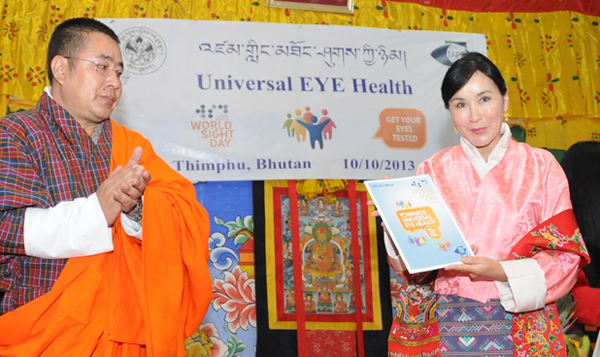 This year's World Sight Day celebrations and the social media 'chatter' have really generated a feeling of kinship and purpose. Hundreds of events – seminars, rallies, walks, screenings, free surgeries – were delivered on World Sight Day. The 'Volunteers for World Sight Day' from Trinidad and Tobago are a fantastic example of what can be done on WSD – from walks in WSD-branded tee-shirts and colour-coordinated balloons to meetings and endorsements from the country's President, it looks like they have done it all! The Lotus School of Optometry in Mumbai, India chose to focus on special 'groups' of the population who would otherwise not get their eyes checked – like taxi drivers, domestic help and children from shelters. The Taiwanese Ophthalmological Society and its partners celebrated the idea of "embracing old age with bright eyes" (along with a host of other activities). The Norwegian Association of the Blind and Partially Sighted (NABP) and its patrons discussed diagnosis and prevention of eye diseases – and celebrated their interventions in the Asia and Africa. The Asia-Pacific Academy of Ophthalmology (APAO) organized its third Asia-Pacific Eye Care Week in conjunction with WSD13, focusing on 'Dysthyroid Eye Diseases' and 'Corneal Diseases and Eye Banking'.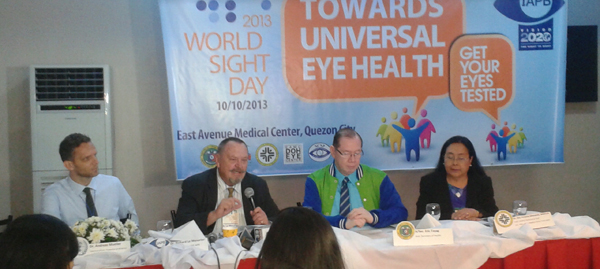 WSD this year also marked a new chapter of partnership, with the Standard Chartered Bank and the Queen Elizabeth Diamond Jubilee trust joining forces to fight avoidable blindness. TOMS' #BeShady campaign was very popular, and it encouraged celebrities like Jamie Foxx to tweet about WSD, doubtless increasing awareness. Alcon shared 'celebration kits' with their partners to mark WSD 13. Key messages included a survey result from Light House International that 8 out of 10 people feared losing their vision, over other senses. Optometry Giving Sight's World Sight Day Challenge, as always, saw great participation from the optical community (Both of them also supported the production and distribution of IAPB's WSD13 Report and material).
It would seem 2013 was the year social media woke up in a big way to World Sight Day. Many partners – and IAPB itself – have notched huge support online, with twitter, Facebook and LinkedIn mentions like never before. We made loads of new friends this year on those pages, and we hope to keep them interested with more!
IAPB too launched the WSD 13 report on Universal Eye Health in Bhutan, Manila and Kigali to much fanfare. In Bhutan, the Crown Princess launched the report in the presence of the Prime Minister and Health Minister. The event marks Bhutan's enhanced commitment to eye health for its people. In Manila, the report helped to cement commitment from the health officials and helped to build upon existing friendly relations. In Kigali, The launch event included a rally with people walking in twos and one person blindfolded. It raised a lot of curiosity!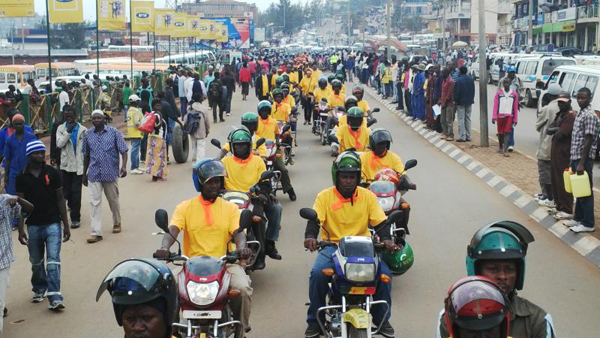 Finally, celebrating World Sight Day fosters a sense of fellowship and togetherness. On one day every year, we take note of the many seemingly small steps we take to restore and protect vision, or to support those who are irreversibly impaired.

B V Tejah,
Communications Manager, IAPB
---
Emergency Appeals in the wake of Typhoon Haiyan/Yolanda
Like many of you, IAPB has been following the devastation wrecked by Typhoon Haiyan/Yolanda (one of the strongest tropical cyclones ever recorded) in the Philippines (and other countries of the Western Pacific) over last week.
"With a storm surge of a 5 meter wall of water, many parts of Leyte and Samar [in the Philippines] where the storm first landed were just flattened. Even sturdy looking buildings were not spared. An estimate of the dead now being circulated is around 10,000 nationally (putting all affected areas together). Other parts affected are provinces of Ilo-ilo, Aklan and northern parts of Palawan and Cebu. The full extent of the devastation is not yet fully known", writes Stephen Alcantara, Coordinator, South East Asia & Islands Secretariat, IAPB Western Pacific region in a communication to the office.
What is needed there? "Just about everything – food, clean water, hygiene kits, blankets, shelter, medicines, wound care, burying the dead, help with finding missing persons, restoring power, restoring communications, restoring airports to facilitate arrival of relief, rescue and rehabilitation teams, etc.", he says. Steve works from Manila, Philippines.
A number of organisations are appealing for support to help with their emergency response in the region: Two IAPB members, CBM Australia and International Rescue Committee, have set up an appeal page on their websites.


Some of the other organisations running an appeal for support are:
IAPB urges all NGOs offering help to coordinate efforts and plans. Steve Alcantara adds that they should work with the national government agencies – NDRRMC (National Disaster Risk Reduction and Management Council), the Department of Social Welfare and Development, and the Department of Health, and also the UN agencies coordinating work on the ground.
---
An IAPB Action Plan for Europe
2013 is the year we adopted the WHO Global Action Plan (GAP) 2014-2019, and its only fitting that we renew IAPB Europe's Business Plan now. The objectives and actions of the GAP were considered when writing our regional action plan for 2013-2017 as our main purpose in the near future is to help the implementation of the GAP at country levels all across Europe. We would also like to encourage the key opinion leaders of European countries to analyse the eye health situation in their country and create a national plan for the prevention of blindness. IAPB Europe is ready to help ophthalmologists advocate, and make plans to organize regional workshops on advocacy in the next few years.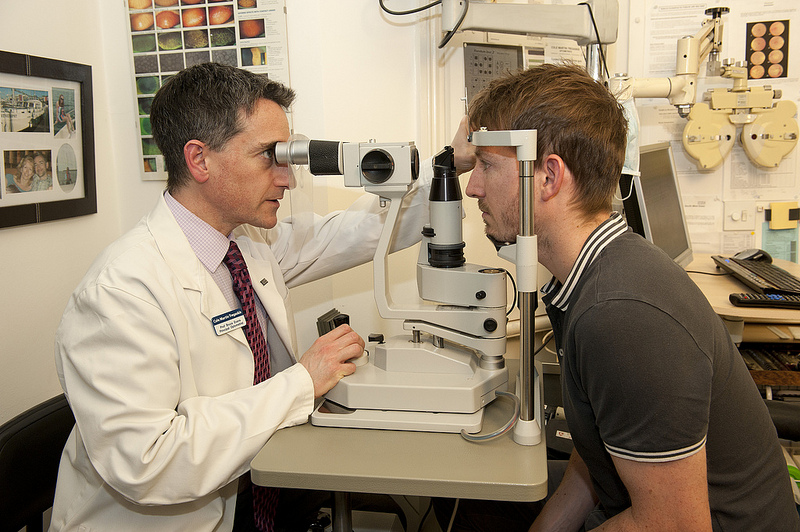 Briefly, our Action Plan is organized around 4 major outcomes we would like to achieve:
Better data – we need improved data in order to construct a valid argument to influence policy; the existing data should be collected and analyzed and RAAB studies should be encouraged where there is no data available.
Effective, evidence-based advocacy – by developing and supporting evidence-based advocacy plans in target countries / by the adoption of eye health plans at national level across prioritised European countries with clear national targets based on new WHO Global Action Plan.
Improved knowledge and skills – to increase knowledge, understanding and replication of effective practice in prevention of sight loss particularly in the areas of retinopathy of prematurity (ROP) and diabetic retinopathy (DR) and also in vision rehabilitation.
Increased resources available to IAPB Europe to develop and deliver the agreed strategy and Action Plan 2013-2017 – by developing a fundraising strategy; we will seek funding for the prioritised projects listed in the Action Plan.
(You can download the full text of the Action Plan here).
The two main target diseases we will focus on are retinopathy of prematurity and diabetic retinopathy; most of our activities are going to be planned around these diseases in the near future.
We would be happy to work with new partners from any part of Europe. Please, feel free to contact us if you believe that we could work together in the future. I hope that we can share some good examples of cooperation soon!

Prof Janos Nemeth
IAPB Chair for Europe
(Image courtesy: UK Vision Strategy)
---
IAPB Council of Members meetings – A Round-up
I am delighted to take you through the key highlights of IAPB's 2013 Council of Members meetings, which took place from 14-17 September in Brighton, UK. With close to 150 delegates from 70 organisations worldwide attending, the event saw a significant increase in participation compared to previous Council meetings.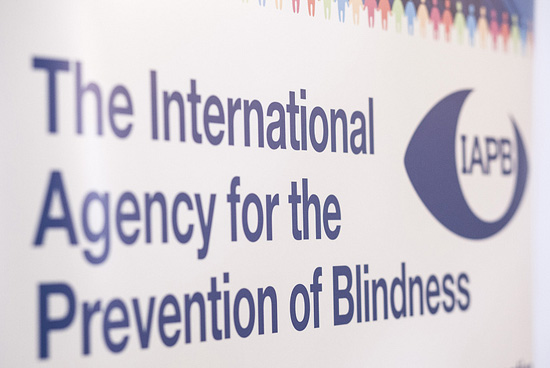 The meetings started with a very successful Diabetic Retinopathy Work Group session, attended by almost 50 delegates, including contributions from WHO, the Queen Elizabeth Diamond Jubilee Trust and the International Diabetes Federation (access the DR meeting presentations here).
Following a Sunday full of IAPB Board Committee meetings, Monday saw themed Workshop sessions covering the new WHO Global Action Plan, World Sight Day, Human Resources, Global Burden of Disease data, Eye Health Systems and Rapid Assessment of Avoidable Blindness methodology. The sessions had been developed by members, for members and their introduction provided an effective platform for sharing and learning from each other. You can access all themed sessions' presentations here.
Finally, the Council of Members plenary session was held on the Tuesday, following the IAPB Board meeting. The Highlights:
The CEO report; Peter Ackland summed up key achievements over the last year and oulined challenges in the future;
The presentation of the new IAPB strategic plan 2013-2017; 'a strategy of and by members';
The launch of a global legal pro bono service for IAPB members in partnership with Thomson Reuters Foundation (learn more); and,
A well-received key note address by Prof. David Molyneux of the Centre for Neglected Tropical Diseases at the Liverpool School of Tropical Medicine.
You can also view videos from the Council plenary here: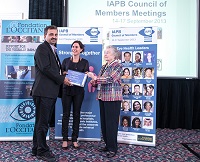 This year's Council of Members also featured celebration of 20 Eye Health Leaders – they had been nominated by member organisations as future leaders of the eye health sector. Seven were able to attend and all were recognised in a small ceremony by Lady Jean Wilson, co-founder of IAPB, and Ms. Marie Bonneaud of L'OCCITANE Foundation, sponsor of the initiative (photos from the ceremony)
The four-day event ended with a drinks reception; a final, informal opportunity for delegates to share impressions from the meetings and plans for the future.
You can access all these links, pictures and videos from the 'CoM 2013 – Brighton' page in the Council Members section of the website also.
IAPB thanks all the participants for making this an engaging and stimulating CoM meetings – proof, once again, of the passion and collaborative spirit of our sector.

Alessandro Di Capua,
Membership Manager
---
IAPB Council of Members meetings – Thank you!
This week it has been a real pleasure to host the 2013 IAPB Council of Members meetings in my home town of Brighton. With nearly 150 participants from over 70 member organisations, this has been the biggest Council meeting ever – a mini Hyderabad, to quote Peter Ackland. We put together breakout sessions, networking opportunities and partnered with the Sightsavers' NTDs conference and mutually benefited from the participation.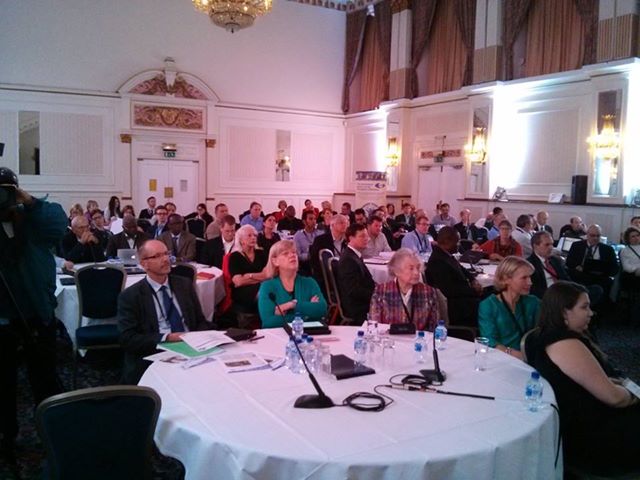 It was fantastic to see so many old friends and to make some new ones over the two days of sessions. The Council meeting focused on the three 'pillars' of IAPB's work – membership, knowledge and advocacy – and how they can all come together in a stimulating programme.
We had put together the workshops sessions for the first time this year, and the feedback we have had has been really encouraging. We will be turning to you all to hear what you would like us to feature next year – do keep those pencils sharpened.
I am sure you will join me in congratulating the Eye Health Leaders and in thanking the L'OCCITANE Foundation for their support.
Keep your eyes on the IAPB website as we will be posting presentations, videos and images of this year's proceedings on the site.
Once again, a big thank you for joining us…

Joanna Conlon,
Director of Development, IAPB
---
Community Eye Health Journal launches new website
The Community Eye Health Journal is delighted to announce the launch of a new website www.cehjournal.org. The new site still delivers the same excellent content as before and we have redesigned and developed the site to make it easier to use and more helpful.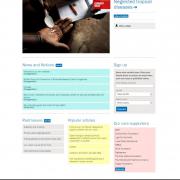 Regular News & notices will keep readers up-to-date with the latest educational opportunities and resources. Our new Topics section will help you find the content you're interested in more easily and an expanded Useful resources section now has links to the teaching and learning materials recommended in each issue of the journal.
Readers who want to write for us or share their stories can find everything they need on the new Get involved page.
Finally, the redeveloped About us section explains the work and impact of the journal in much greater detail than before and we are proud to acknowledge Our core supporters more clearly on the new site, without their generous support there would be no Community Eye Health Journal.
We think the site will give us a fantastic platform to build on in the future as we continue to develop our service to our online readers.
We hope you enjoy the new site. Please tell us what you think! You can email us, web@cehjournal.org, or chat with us on Facebook and Twitter.

Sally Parsley,
IT Support Manager
ICEH, London School of Hygiene and Tropical Medicine
---
Vision Summits put eye health on the agenda in the lead up to Australia's Federal Election
Jennifer Gersbeck, CEO, Vision 2020 Australia, 'guest-blogs' for us this week! The organisation has just concluded TWO enoromously successful vision summits back-to-back. Each summit targeted the ruling party and the opposition party respectively on the eve of Australian federal elections. Needless to say, a must-read…
Australia is in the middle of a pre-election battle as the country prepares to go to the polls on 7 September.
As the two main parties publicly battle it out, Vision 2020 Australia and its members are busily working behind the scenes to ensure that eye health and vision care remains on the agenda of both sides of Australian politics. At this critical time it is more important than ever that the sector works together.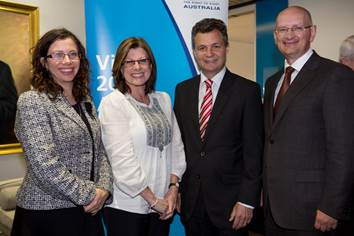 As CEO of Vision 2020 Australia it has been enormously satisfying to assist in bringing the sector together, outlining key eye health and vision care policy requirements and creating a forum for the sector and both sides of politics to talk about the important issues.
The key platform for facilitating this dialogue has been through organising two Vision Summit events. The first was held with the Opposition and the second was with the Government.
The staging of these events has been an enormous milestone for the sector in the lead up to the Federal Election and has allowed members to ask questions and scrutinise policy of federal parliamentarians across health and ageing, disability, Indigenous health and international development, particularly in Asia and the Pacific.
CEOs from leading eye health and vision care organisations across Australia attended each of the events. I am pleased to say that the discussions resulted in recognition on both sides of politics that more needs to be done to improve eye health across Australia's population, Indigenous communities and people living in the Asia/Pacific region.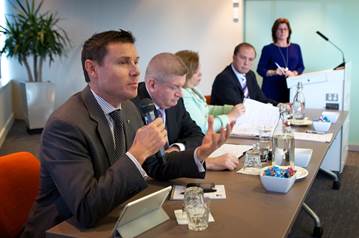 In addition to the Summits, Vision 2020 Australia worked with the sector to develop policy and funding proposals across Australian, Indigenous and global eye health.
These documents which flag the sector's key funding asks have been distributed to every Australian Member of Parliament and I have been attending meetings with key parliamentarians to continue to communicate the asks of the sector.
With just four weeks to go until we learn the outcome of the election I am optimistic that the work which has been done over the past few months will ensure that whichever political party is elected, eye health and vision care is firmly on the agenda.

Jennifer Gersbeck,
CEO, Vision 2020 Australia
---
The Global Action Plan 2014-19: The Road Ahead
In one of his blogs on the Global Action Plan, Peter Ackland urged the eye health sector to focus on "implementation, implementation and implementation". Intrigued, Sridevi Sunderarajan, Communications Officer at VISION 2020 India, interviewed Peter on the implications of the new Action Plan and the road ahead. The full interview can be accessed as part of VISION 2020 India's Quarterly Bulletin. An abridged version is available here:
Sridevi Sunderarajan: The global action plan 2014-2019 towards universal health is a big achievement for the eye care fraternity. What is its importance?
Peter Ackland: The new Global Action Plan (GAP) is now the most important strategic document that we have in the field of eye health at global level. It builds upon and replaces previous VISION 2020 and 2009 – 2013 Action Plans. It is important because it keeps eye health and the elimination of avoidable blindness and visual impairment on the radar of health policy makers. With so much current international interest in the Neglected Tropical Diseases and the four priority non-communicable diseases (cancer, respiratory diseases, heart diseases and diabetes) we have to fight for attention for our cause of better eye health.
SS: What are the unique features of this action plan?
PA: The GAP has an overall target – which is to reduce the prevalence of avoidable visual impairment by 25% by the year 2019 from the baseline of 2010. This is important as once achieved it will continue the downward trend we have seen in the age standardised prevalence rate of both blindness and moderate & severe visual impairment in the period 1990 to 2010.
The GAP is structured around three clear objectives:
The first objective focuses upon generating evidence on the magnitude and causes of visual impairment and on the state of eye health services and using this evidence to advocate for greater political and financial commitment by national governments to eye health.
Objective two encourages the development of policies, plans and programmes to enhance universal eye health. It refers to the need for integration of eye health into strengthened health systems.
Objective three stress the need for multisectoral engagements and effective partnerships.
Overall the GAP summarises current thinking within IAPB and its' Members as to how we are most likely to raise the profile of eye health, vision impairment and rehabilitation and establish the services required to bring eye health to the most marginalised and poorest groups in society.
SS: The preparation involved several stakeholders. Were there any challenges that you faced while the proposal was being drafted?
PA: The key challenge was to ensure that the process to develop and promote the new GAP was driven by Member States … Accordingly our advocacy strategy was to build relationships with Member States and encourage them to promote the GAP at the meetings. At this point I should pay tribute to the work of Lesley Podesta, the Chair of the IAPB work group, and Sanjeev Commar, a consultant engaged to help with the work in Geneva … VISION 2020 India arranged for us to meet senior Indian government officials and we were able to talk about the new GAP. Likewise we met the high level Chinese delegation that attended the 9GA. Getting the support of these countries and the leadership displayed by Australia, Mexico and Saudi Arabia in particular was the key to success.
SS: So what are the next steps? How will this plan be implemented universally?
PA: Important though the new GAP is it will only add value if it is now taken up seriously at country levels and national governments take responsibility for implementing the GAP in their country. Future IAPB advocacy work will now shift to country level – though we would hope all countries will take action the reality is that if we are to make impact on the global prevalence of blindness and visual impairment some big countries just have to succeed … Part of IAPB's future role will be to help establish strong local capacity to advocate for change.
We have been discussing with WHO how we can catalyse local interest in the new GAP. One thing we have thought of is to encourage the development of an approved WHO eye health service assessment tool which can be used in each country as a situational analysis of current provision and identify areas that need strengthening. Another proven approach has been to encourage localised prevalence surveys, such as RAABs. Global data or even national level data can easily seem distant to policy makers and politicians whilst a local survey that identifies the size and causes of blindness and visual impairment is harder to ignore and more likely to interest people to want to do something about the situation.
Ultimately it is local action that will win the day for us. These are exciting times and the new GAP provides us with the opportunity to make a lasting impact – I hope everyone reading this will feel they have something to offer to make this all happen – because you all do!
---
The Book Famine and the Marrakech Treaty
One more Guest post! Dan Pescod from the World Blind Union writes about the treaty's importance in ensuring that the blind and those with low vision can now access published books in formats that match their needs. Other IAPB members also played a key role in this success; congratulations and a big hurray! (Image courtesy WIPO)
I write as Vice Chair of the World Blind Union's Right to Read Campaign, (R to R) a role which has given me the privilege these past five years to work with many colleagues including the R to R Chairs Chris Friend and subsequently Maryanne Diamond,  to coordinate WBU's push for what will now be called the Marrakech Treaty. This endeavour culminated in the successful two-week Marrakech Diplomatic Conference in June this year, which agreed the treaty. This new law will help us end the book famine in which the vast majority of published books are never made into accessible formats that visually impaired people can read.
The Marrakech Diplomatic Conference was momentous, historic, emotional, and indeed scarcely believable! Our campaign faced a great deal of opposition from big business, and so success was never at all guaranteed. Just four days before the treaty was concluded, failure looked the most likely outcome.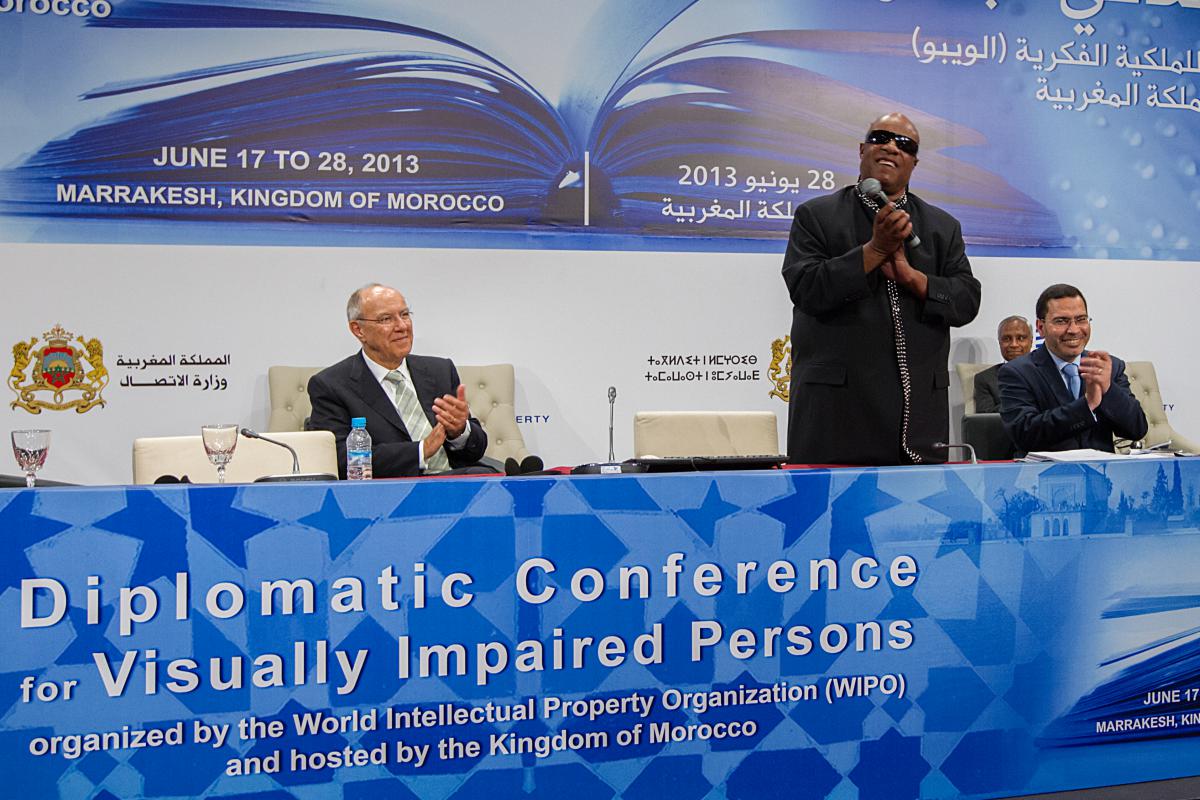 WBU feels we came away from Morocco not just with a treaty, but with the type of treaty we sought: one that will really make a practical difference to the lives of millions of blind and print disabled people.
The treaty requires countries which ratify it to provide exceptions to their national copyright law so that accessible books can be made available to print disabled people in formats they need, without the need for prior authorisation from copyright holders. Currently, only around a third of the world's countries have such a law.
The treaty will also allow organisations serving blind people to send accessible format books from one country to another, thus pooling scant resources. Currently copyright law prevents that from happening. For instance, Spanish blind organisation ONCE has more than 100,000 titles in its collection, and Tiflolibros in Argentina has at least 50,000. However, many Spanish-speaking countries have just a few thousand accessible titles. This treaty will allow Spain and Argentina to share these books with Latin America's other 19 Spanish-speaking countries- something copyright law currently prevents.
In developing countries especially, where the vast majority of the world's visually impaired people live, the treaty should allow us to transform lives by providing access to books for such vital needs as education. WBU's Right to Read Campaign continues, however. We need to ensure ratification not just by 20 countries to bring the treaty into force, but by all the world's countries so that accessible books no longer have any borders. We need to explain to blind and print disabled people, and their organisations, what the treaty means for them, as well as help build their capacity to make use of the treaty.
Not least, we need to work with publishers and others in the publishing and software industries, to help them publish accessibly from the word "go", which must be the ultimate aim of the Right to Read campaign. We have some more years of hard work in front of us, therefore, before the right to read of blind and print disabled people is achieved in full. The treaty may not be the end of the book famine, but it is a big step forward.
At Marrakech the international community also sent a strong message that now is the time to take clear action to really, truly end the book famine. What a wonderful thing to be part of!!

Dan Pescod,
Vice-Chair, Right to Read campaign, World Blind Union
---
The Fred Hollows Foundation wins kudos from Australian business
Brian Doolan, CEO, the Fred Hollows Foundation blogs about the ethos and culture that drives this remarkable organisation towards excellence.  The Foundation was the winner of The Australian Charity of the Year 2013, a partner programme to the Australian Business Awards.
As CEO of The Fred Hollows Foundation, I continue to be inspired by the 'can do' attitude the much admired Australian eye surgeon and humanitarian Professor Fred Hollows took to eliminating avoidable blindness.
Fred was a stickler for doing things properly and getting maximum results, whether he was surveying and treating trachoma in remote Indigenous communities in Australia or teaching Eritrean doctors modern cataract surgery techniques in war-time bunkers. He often said "Don't ever 'half do' a job, don't ever compromise. Slog away until you get the job done."
So when The Foundation was named The Australian Charity of the Year 2013 last week, we all felt extremely proud.
It is always an honour to win awards, but this one is especially important as it is the Australian business community saying they can see we are getting the job done and they value way we conduct the business of our organisation.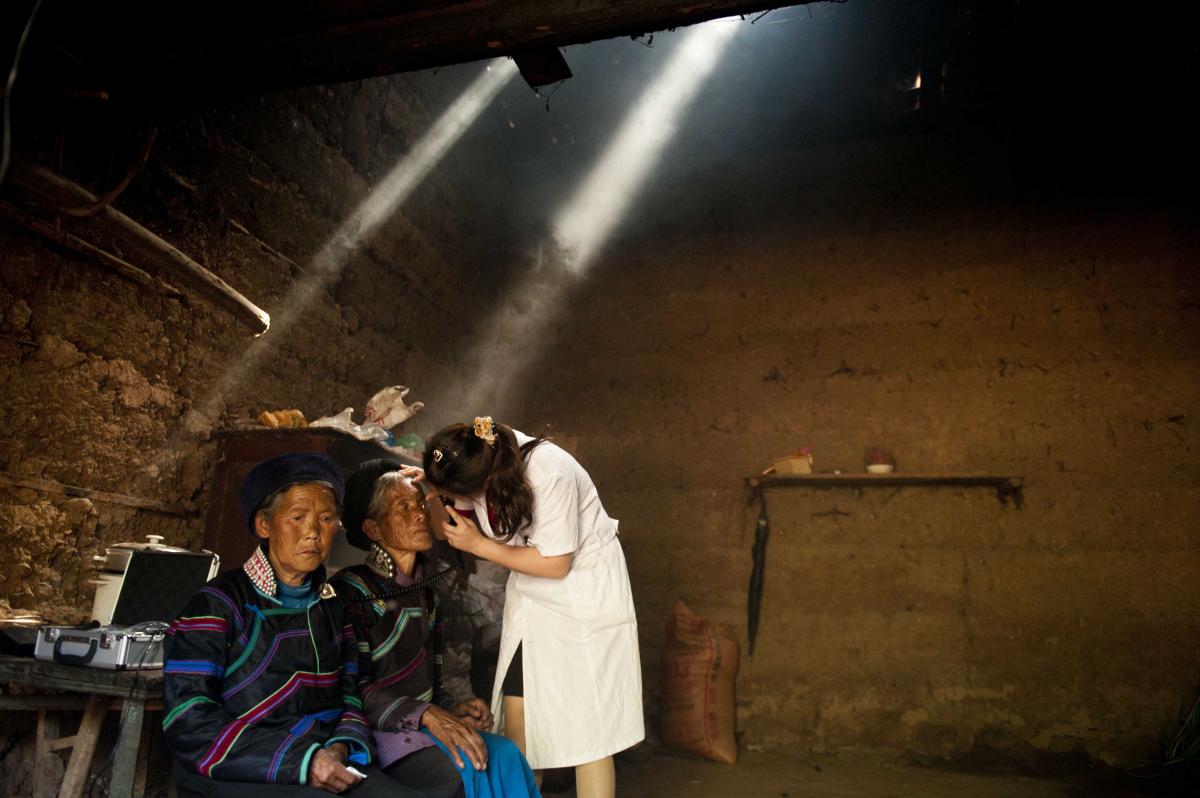 Since The Foundation was started by Fred and Gabi Hollows and friends in their home around 20 years ago, it has grown into a significant employer of over 200 people and manages donations from over 150,000 Australians each year. We also receive substantial support from the Australian Government and international initiatives such as Standard Chartered Bank's Seeing is Believing program.
Last year alone, that support enabled us and our local partners to deliver over eight million eye operations, treatments and procedures.
At an operational level, The Foundation's business systems for international accounting and reporting, people and employment, information and IT, all have to be focused on ensuring maximum impact around delivering on our business goal of ending avoidable blindness.
Our number one principle for doing this is about clarity of purpose. For us that is about staying true to Fred's dream and continually driving to achieve this goal. If our public messaging, our country level outputs, our internal processes are not contributing to that goal, then we know we are probably drifting and need to get back on course.
We could not achieve anything without our partners including those we are working with through The International Agency for the Prevention of Blindness VISION 2020 initiative. At the national and international level, there are significant challenges in determining what needs to be done to end avoidable blindness by 2020 and they can only be addressed if we do it together.
What's more, we now have strong evidence that ending avoidable blindness makes great economic sense. Earlier this year we worked closely with PwC on a report that concluded that for every $1 we spend on treating avoidable blindness in the developing world, at least $4 is returned to those economies. What an amazing investment in humanity and a motivation to keep Fred's dream alive.

Brian Doolan,
CEO, The Fred Hollows Foundation
---
Four insights into health innovation and a call to all innovators in eye health
Our second guest blogger! Stefan Chojnicki from the Seeing is Believing team has kindly contributed this blog post on the initiative exciting Innovation Fund. This post originally appeared here.
I wanted to share some lessons from a recent event that Seeing is Believing sponsored at the London School of Hygiene and Tropical Medicine entitled 'Investing in Health Innovation – What lessons for Eye Health?'
Four fantastic speakers got right to the heart of the growth and scale of health innovation.  I've highlighted four key lessons from four speakers:
Professor Clare Gilbert of the International Centre for Eye Health said that innovators need to get 'under the hood' of health systems. She likened it to Gordon Ramsey's approach.  Innovators need to understand the kitchen staff and waiters (the nurses and community health workers) as well as the owners and managers (high level management and surgeons) in order to identify where innovation is really needed.
Dr R.D. Ravindran, Chairman of Aravind Eye Care System, talked about organisations designing services for non-customers as well as customers.  Aravind doesn't just look at how it treats its walk-in customers, but also looks at how it can effectively turn non-customers into customers.  This requires collecting data beyond hospital walls (e.g. % of people in need of care successfully reached through outreach programmes) in order to identify opportunities for innovation.
Professor David Molyneux highlighted the importance of engaging the grassroots to understand what the drivers and constraints of health behaviour and the importance of this for innovation.  He cited a range of different examples of how this has led to successful innovations for treating neglected tropical diseases (NTDs).  River blindness is being effectively treated through community directed distribution – a technique in which communities are empowered to direct their own treatment.  Guinea worm can be effectively controlled through a simple drinking pipe for contaminated water such as the one Jimmy Carter holds up here.
Jimmy Whitworth, Head of International Activities at the Wellcome Trust, also highlighted the importance of innovators understanding the user point of view.  Innovators fail to pay sufficient attention to user perceptions at their own cost.  Encouraging people to come for cataract surgery, where the impact on vision is immediate, is very different to encouraging people to be screened for glaucoma as patients may not even be aware of the impact of the condition on their vision until it is too late.  Both conditions end up severely affecting visual impairment but the marketing strategy needs to be very different.  He also highlighted that scaling up innovation requires a very different set of skills to innovating in the first place and funders can be of great help by connecting innovators to people with those skills.
Calling all eye health innovators
Seeing is Believing has now launched its $3million fund to support innovation in eye health.  Full details for anyone interested in applying are available on www.seeingisbelieving.org/InnovationFund.  Please feel free to circulate the link to individuals or organisations who may be interested in applying for funding.  The deadline for applications is 22 July.
You can also listen to the event recording here: https://soundcloud.com/iapb-ngo/seeing-is-believing-innovation

Stefan Chojnicki
Programme Manager, Seeing is Believing
Group Sustainability
---
Support to ROP Programmes in the Black Sea Region
Professor Clare Gilbert and I attended the Black Sea Ophthalmological Society Meeting in Tbilisi, Georgia,  24th – 26th May  http://bs-os.org/next-meetings/ where IAPB sponsored an afternoon session on ROP  and the participation of nine ophthalmologists from the region who had been identified as leading the screening and treatment of ROP in their respective countries.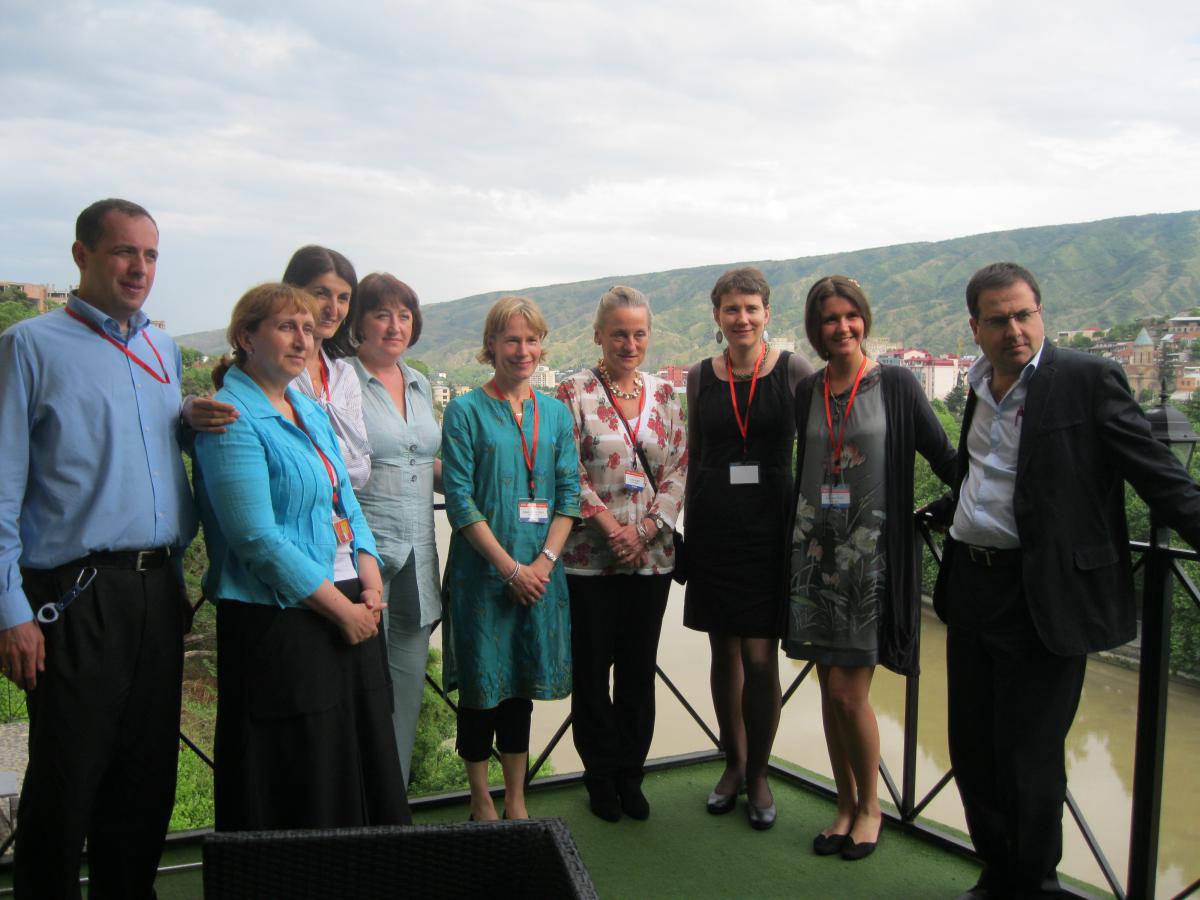 Clare's course on ROP was well attended with over 60 participants, she gave a global overview of the ROP situation, highlighting some emerging trends and, using case studies, she illustrated the benefits of implementing a national ROP programme in partnership with neonatologists and NICU nurses. Part of the course looked at recent research and developments in the ROP field. Following Clare's course Dr Svetla Nikolova gave a presentation on ROP in Bulgaria, focussing on the data she had from the ROP programme she had developed in the Eastern region of Varna, which showed the impact of having a screening and treatment programme in place. Our next speaker was Erika Maka from Hungry who gave a very interesting presentation on a pilot project using  telemedicine for ROP treatment, this was followed by speakers from Turkey, Dr Taylan Ozturk and Georgia, Dr Irakli Abuladze who presented data on ROP from their countries.
After the conference IAPB held an informal meeting with key ROP practitioners from the Black Sea countries, the purpose being to establish contacts in this region, to determine the needs and look at ways to provide support for the development of ROP programmes. We were 12 altogether with representation from Ukraine, Hungary, Georgia, Romania, Turkey and Bulgaria.  Much of the time was spent discussing common challenges and using the opportunity to ask Clare for her ideas and advice. The group were very enthusiastic, highly motivated and keen to establish an ROP group for the region, the next step agreed on was to hold a joint  workshop with neonatologists from the region in 2014.
It was a flying visit, made shorter by flight delays, but we did manage to experience the legendary Georgian hospitality at a beautiful restaurant over looking the river Kura …..lots of singing (not ours) and dancing (a few of us!) before we caught our flight home.

Robin Heber Percy
VISION 2020 Workshop Programme Manager
---
National Eye Day in China
Leshan Tan and Alecia Duke write about China's National Eye Day celebrations. The original blog post appeared on the IAPB western pacific blog here.
China celebrated its 18th National Eye Day on 6 June 2013. The theme this year was "Bring together our dream, eliminating blinding trachoma before 2016". The theme reflects the MoH's current key program in preventing avoidable blindness and visual impairment.
Recognizing the gravity of blindness in the country and the importance of raising public awareness on eye health issues, the Chinese Ministry of Health, together with 12 other Ministries, officially declared 6 June as "National Eye Day" in 1996. Since then China has celebrated its National Eye Day on 6 June consecutively for 18 years.
Each year in May, the MoH issues a notice to all provinces with a particular theme for the National Eye Day. Hospitals conduct free eye checks for the public; schools hold educational activities on eye health for students, and communities organize free lectures on prevention and treatment of eye diseases for residents.
A hospital in Jiujiang, Jiangxi Province, gives volunteer medical consultations on eye problems for the public on 6 June 2013
Free eye checks are offered to the general public in a park in Jiujiang, Jiangxi Province
Free eye consultations, eye checks, and lectures were held on National Eye Day

Government official of Health Bureau was interviewed by media
IEC materials on eye health are distributed among the public
---
Dominican Republic: Workshop for the Development of a National Blindness Prevention Plan
June 2-5, 2013
I have been in Santo Domingo for the past 3 days, participating in a workshop for the development of a national blindness prevention plan for the Dominican Republic. More than 120 stakeholders and representatives from the eye care community in the Dominican Republic including government, industry, insurance companies and the national society of ophthalmology have gathered to realise the development of a national blindness prevention plan for their country.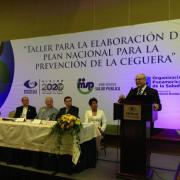 Mobilised and facilitated by the IAPB Latin American Chair Dr Juan Batlle, this much-anticipated workshop has been a real eye-opener. Presentations from a wide range of authorities from the blindness prevention and VISION 2020 movement in Latin America including Dr Juan Carlos Silver from PAHO, Dr Rainald Duerksen, Dr Filipe Chiriboga and Dr Van Lansingh, provided up-to-date overviews of the situation in Latin America. Joan McLeod-Omawale from ORBIS International also contributed to the programme with a presentation about ORBIS' international and regional work in Latin America. Presentations from locally based organisations and key individuals brought an interesting insight into the local situation here.
I was particularly impressed with the visit to the Dr. Elias Santana community hospital located on the outskirts of Santo Domingo that has been serving the poorest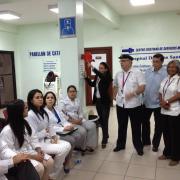 communities for the last 20 years. This clinic has developed into a full-fledged eye hospital as the result of the sheer determination and beliefs of the founders, Dr Juan Batlle and Willie Hunter. Today this hospital not only serves more than 500 patients from the local community daily, where 60% of the patients are subsidised by government support, but also runs a residency programme with 30 regional and international residents and fellows and has implemented a community outreach programme where patients are identified locally and brought to the clinic for treatment.
A dream
'This country has a dream': Over the last 3 days, I have heard these words many times from the many presenters and participants here – a dream to help the people with no access to eye care in the Dominican Republic; a dream that no one is unnecessarily blind and a dream to facilitate change locally.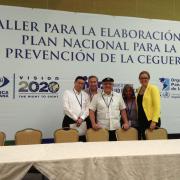 This workshop has brought together and united the eye care community in realising their dream to develop a new plan for the Dominican Republic. Initially this will focus on modifying criteria for reimbursement and coverage of cataract surgery which is currently restricted to only 40% of the population.
Currently, the Dominica Republic has a back-log of 32,000 cataract cases.
Christina Sanko,
Fundraising and Development Manager
---
Updating IAPB's 'What is Avoidable Blindness' Section of the website
I have been working with members to update IAPB's 'What is Avoidable Blindness' section of the website as this section still reflected the information from the last WHO Action Plan and was in need of updating and refreshing.  We have taken a bit by bit approach starting off with the Refractive Error; Gender and Blindness and Diabetic Retinopathy pages.
By doing this we hope to provide members and others with a 'one stop shop' for information on a  particular topic – a covering page highlighting the current situation and some of the key successes and challenges and then alongside this a list of top ten references and key resources – e.g. guidelines, tool kits, awareness materials.
Initially this looked like it might take a bit of time to gather the information, to verify that we had the right information, and to avoid ending up with reams of references and links. Now a couple of months in I can say that thanks to members contributions we are making great progress – The Brien Holden Vision Institute developed the information for the Refractive Error page and Paul Courtright and Susan Lewallen of KCCO provided  the information for the gender and blindness pages.  Laura Healy of the Fred Hollows Foundation helped immensely by building the page on Diabetic Retinopathy.
I also wanted to mention that during the 9GA we managed to squeeze in some video interviews covering a range of topics and many of these are now up for viewing , with CSR panel members and with the IAPB eye health heroes – please take a look.
There is more to come – the trachoma page is on its way with thanks to ITI , closely followed by the Vitamin A page with help from Sight and Life, not to mention ROP a little further down the road.
The response from members to my requests to help with this has been overwhelmingly positive so I'd like to use this as an opportunity to say thank you to all those who are helping with this…

Robin Heber Percy
VISION 2020 Workshop Programme Manager
---
Blindness Prevention and NCDs at the World Health Assembly
This is our first guest blog! Sam Byfield has kindly offered us a blog, writing on avoidable blindness and the NCDs. 
The 66th World Health Assembly was highly significant for both the blindness prevention and non communicable disease (NCD) communities, with endorsement of the Action Plans for the Prevention of Blindness and Vision Impairment, and for the Prevention and Control of NCDs. These milestones represent the culmination of years of advocacy, and provide important foundations for mobilising resources and underpinning national efforts. They also highlight scope for collaboration in efforts to address NCDs, and blindness and vision impairment.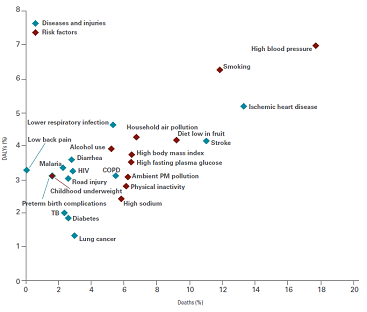 The recently-released Global Burden of Disease (GBD) Report indicates that NCDs account for 65.5% of all deaths, and 54% of disability adjusted life years. It also highlights the relationship between NCDs and blindness –stroke and diabetes, in particular, are major causes of blindness and vision impairment. The graph below, from GBD, highlights that hypertension and smoking – both major causes of blindness – are the two primary risk factors driving global mortality, and two of the three primary risk factors of DALYs.
The Blindness Prevention and NCDs Action Plans emphasise the relationship between NCDs and blindness. The Blindness and Vision Impairment Action Plan notes that 'elimination of avoidable blindness depends on progress in other global health and development agendas', and 'eye health should be included in broader noncommunicable and communicable disease frameworks.' Likewise, the NCDs Action Plan notes that 'it has close conceptual and strategic links' to the Blindness and Vision Impairment Action Plan, and highlights that to address vision loss, 'rehabilitation needs to be a central health strategy in noncommunicable disease programmes'.
Opportunities for engagement exist at multiple levels. For instance, within health ministries and elsewhere in governments, there's a need for collaboration and coordination – to maximise programmatic effectiveness, and ensure that evaluation data is effectively captured and shared. This is particularly significant in the context of the WHA's endorsement of the NCDs Monitoring Framework, and likely inclusion of NCDs in the post 2015 development framework. In many countries, governance is a major challenge in NCDs programming, particularly multisectoral engagement, and it's important that respective NCD, blindness prevention and disability focal points coordinate effectively.
Given that the vast bulk of NCDs, blindness and vision impairment is preventable, there's also scope to enhance preventative links. An example might include incorporation of 'healthy living' messages (for instance around tobacco use, alcohol abuse, and exercise) in education programs aimed at behaviour change to prevent eye disease like trachoma; and vice versa.
By increasingly addressing such linkages, the global public health community will be more able to achieve the aims of the Action Plans endorsed at WHA 66.

Sam Byfield,
Coordinator, Non Communicable Diseases
Nossal Institute for Global Health
---
WHA Update: Saudi Arabia's Opening Statement at the WHA
The Chair of the Eastern Mediterranean Region (EMR), His Royal Highness Prince Abdulaziz Bin Ahmad Bin Abdulaziz Al Saud gave the opening statement supporting the passage of the new Action Plan on Universal Eye Health at the 66th World Health Assembly (see below). The statement was made for Saudi Arabia, on behalf of the EMR, urging member states to adopt the new action plan. The following is the transcript of his statement. 
Saudi Arabia is making this statement on behalf of the Eastern Mediterranean Region.
We would like to thank most sincerely the secretariat, for the development of the new Prevention of Blindness Action Plan: 'Towards universal eye health: a global action plan 2014–2019'.
In the last 2 decades, significant progress has been made in reducing the burden of avoidable blindness globally. Previous World Health Assembly resolutions contributed to the decline of the estimated number of blind people in the world, currently reported at 39 million down from 45 million, a decade ago. However, serous challenges remain with increasing life expectancy in many countries.
This new Global Action Plan 2014-2019 builds on lessons learned and represents a significant improvement over the expiring plan of 2009-2013. Indeed, because of the confidence the EMR members have in this new action plan some of the EMR countries had already commenced development of national eye health policies and action plans in line with this new Global plan.
Therefore, Saudi Arabia and countries of the EMR region support the adoption of the proposed "Toward Universal eye health: global action plan 2014-2019" and urge the other members to support it.
---
WHA Update: Action Plan for Universal Eye Health Adopted by the WHA!
We have just witnessed an overwhelmingly enthusiastic passage of the new global Action Plan for universal eye health 2014-2019 through the World Health Assembly. Fittingly, His Royal Highness Prince Abdulaziz Bin Ahmad Bin Abdulaziz Al Saud made the opening supporting statement on behalf of Saudia Arabia and the member States of the Eastern Mediterranean region. This was followed by interventions from Congo (on behalf of Africa region); Sri Lanka (speaking on behalf of S.E Asia region); Vietnam; USA; Indonesia, Zambia, India; Iran; Malaysia; Iraq; Bangladesh; Thailand; Italy; Barbados; Japan; Bahrain; Maldives; Surinam; Pakistan and the long term champions of the new Plan – Australia and Mexico.
In all a total of 22 countries spoke and all very positively. Not a single amendment to the resolution was suggested (unlike most of the other items on the agenda) which is testament to the fantastic work done leading up to the Action Plan. I don't want to do a Hollywood style Oscar thank you speech but let us say thank you to the many people involved in getting us to this place but particularly Aziz (Dr Abdulaziz Al Rajhi), Lesley [Podesta] and Sanjeev [Commar] – GREAT JOB. And let's not forget the WHO PBD team – what a fine job they did in writing the Action Plan.
OK so today, 22 May 2013,  is the time for celebration. From tomorrow I have three words to say – implementation, implementation and implementation.


Peter Ackland
Chief Executive officer
---
WHA Update – Day 1: Dr Chan Mentions Action Plan on Avoidable Blindness and VI
In her address to the World Health Assembly yesterday, Dr Margaret Chan, Director-General of the WHO mentioned the three global Action Plans that will be placed before the Assembly. In her speech, she says,
"…Ladies and gentlemen,

You will be considering three draft global action plans, for noncommunicable diseases, mental health, and the prevention of avoidable blindness and visual impairment.

All three plans call for a life-course approach, aim to achieve equity through universal health coverage, and stress the importance of prevention. All three give major emphasis to the benefits of integrated service delivery.

Global strategies and action plans make an important contribution to international coordination and promote a unified approach to shared problems.

But sound health policies at the national level matter most."
You can read the full text of her inaugural address here, For more updates, do follow us on Twitter, and watch this space!
---
IAPB Standard List – Phil Hoare's Update
Philip Hoare runs the IAPB Standard List – the world's only online procurement portal for essential eye care products and devices. In his first blog, Phil writes about his meetings in Australia – and reveals plans for a forthcoming blog.
I have just recently returned from a personal trip to Sydney, and whilst there I took the opportunity to visit and meet a few of our IAPB member organisations, namely The Fred Hollows Foundation (FHF), Brien Holden Vision Institute (BHVI), Scanoptics and The Royal Australian and New Zealand College of Ophthalmologists (RANZCO). It was such a pleasure to meet new and old contacts during the visit, all of whom made me extremely welcome. During my meetings with them I was able to update them all on the current activities and future plans for the IAPB Standard List, which I will expand upon in a later blog.
I would like to individually thank Amanda Davis (BHVI) for agreeing to support the Standard List content by the inclusion of the BHVI Durban Global Resource Centre range of spectacles which will feature in full very shortly, Stephanie O'Connell (BHVI) for her contribution to the 9GA, Katrin O'Sullivan (FHF) and Tanya Harris (FHF) for the continued collaboration in the consortium and my offer of procurement consultancy support, Bronya Fraser-Hills (FHF) with regard to the ARCLIGHT Ophthalmoscope project, Gerhard Schlenther (RANZCO) for his offer of support via their various publications and Anjula Thaper (SCANOPTICS) for travelling from Adelaide to meet me at the Fred Hollows office to discuss their range of products which currently feature on the Standard List and to introduce her to the Fred Hollows Foundation.
The Online IAPB Standard List continues to welcome new registrants with free access for all member organisations and their partners. The Standard List, as you know, is the world's first online procurement platform for eye care providers in developing countries. Those interested, can register here:-
http://iapb.standardlist.org/registration/register.aspx 

Philip Hoare,
Procurement Coalition Manager (IAPB Standard List), IAPB
---
Western Pacific Member States draft a regional plan for eye health
Damian Facciolo, Regional Program Manager, Western Pacific, IAPB, writes on a regional consultation to develop a regional action plan in line with the Global Action Plan, likely to be adopted  soon at the World Health Assembly.
The World Health Organization (WHO) hosted a regional consultation this week to develop a Regional Action Plan (RAP) on Blindness and Visual Impairment for the Western Pacific Region. Held in Manila, the three-day meeting determined regional priorities for efforts to prevent avoidable blindness, and was the first meeting of its kind for the Region.
WHO's Regional Director for the Western Pacific, Dr Shin Young-Soo opened the consultation, saying that good vision is often taken for granted and that eye care needed to be integrated into health systems. Dr Shin also acknowledged the Australian Government's support for WHO's blindness prevention program in the region.
Representatives from the governments of Japan, Malaysia, Papua New Guinea, Mongolia, the Philippines, Australia, the Solomon Islands, Samoa, Vanuatu, Cambodia, China, Lao PDR, the Federated States of Micronesia and Vietnam came to Manila for the consultation. Observers and technical advisers from IAPB Western Pacific Region, CBM, Peking Union Medical Hospital, the Fred Hollows Foundation, Pacific Eye Institute and Vision 2020 Australia also contributed to discussions.
Participants heard presentations from IAPB, Vision 2020 Australia and the Fred Hollows Foundation, as well as advice from WHO experts on nutrition, health systems, non-communicable disease and disability. Country representatives were divided into two groups to discuss national strengths and weaknesses and workshop actions and indicators.
Critically, Western Pacific representatives had a unique opportunity to reflect on how activities will be implemented at a national level and work through challenges and barriers. Many participants now see the RAP and global plan as 'road maps' for national action to prevent avoidable blindness and will be important for advocacy and aligning work of health ministries, WHO and NGOs in the future.
Participants from Samoa, Viet Nam and the Federated States of Micronesia used discussion on the RAP to further work on their national plans. For Lao PDR, the Consultation helped to guide the re-establishment of that country's national committee.
The RAP is a response to the draft global action plan, which will be tabled at the World Health Assembly later in May. The RAP will be presented at WHO's Western Pacific Regional Committee Meeting in October. To view a copy of the draft RAP or find out more, please contact IAPB Western Pacific.

Damian Facciolo,
Regional Program Manager, IAPB Western Pacific
---
Barcelona Breakthrough: Vision & Ageing
Peter Ackland writes from a conference on Ageing and Vision loss.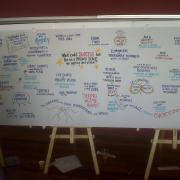 I have just spent two excellent days with representatives of organisations of the blind, older people's groups and vision groups, who met to discuss the importance of vision and ageing and the merits of collaborating together. The meeting was organised by the International Federation of Ageing and  the Macular Disease Foundation Australia and was attended by representatives of 12 countries, including China and Brazil plus North America and European countries.
I think there is a very strong case for establishing close links between organisations of older people and vision groups particularly in the higher income countries, and potentially some of the BRICS countries, to pursue a joint advocacy and public awareness effort to improve eye health in the older population. Not so sure about the poorer countries, where I think the issues are very different.
The new Action Plan for universal eye health 2014-2019 which we all anticipate will be adopted at the World Health Assembly in May 2013, will propose actions for all Member States – so an alliance of older persons' organisations and vision groups would be a timely way of pressing for implementation at country level. With the ageing global population I am sure more representative groups of older people will emerge in many countries and they have the potential to become great allies to further better eye health messages.
Really interesting work presented by Dr Ian Philp, a gerontologist, on the Easy Care  Assessment tool http://www.easycare.org.uk/instruments designed to enable older people themselves (or with support) to identify their own health and  social priority concerns – good section on vision – and something I am sure the vision professions should engage with.


Peter Ackland
Chief Executive officer
---
Prof Clare Gilbert: Plans for the Future
Alessandro Di Capua (with support from B V Tejah) interviews Prof Clare Gilbert after she announces her retirement plans…
Before 1990, information on the causes and magnitude of visual impairment and blindness in children was fragmented or non-existent. In fact, there was no agreed system for classifying the causes of blindness in children.
In 1993, Clare Gilbert and other staff at the International Centre for Eye Health (ICEH) worked with the World Health Organization to develop a system of classification which is now widely used , providing data on almost  40,000 blind children from a large number of countries.  Clare collected much of the early data, visiting over 20 countries in Latin America, Asia and Africa.  She also realized that there was an association between under-5 mortality rates and the prevalence and pattern of causes of blindness in children, allowing estimates to be made of the likely magnitude of blindness and causes in different regions. Blindness in children was included in VISION 2020: The Right to Sight, on the basis of this realization and that strategies for control are different for children than for adults.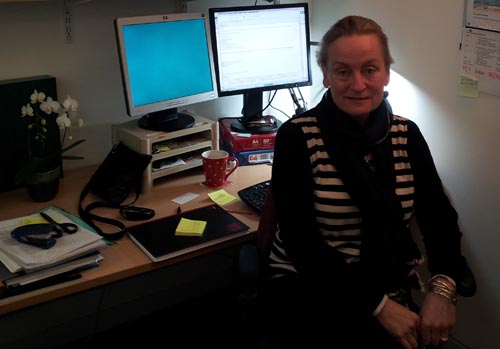 "My own personal interest is in blindness in children and what can be done about that. I always try to keep some threads of that going on", Clare says. Sitting in her office, it is easy to see how she increased awareness of the need to specifically consider the eye health needs of children in planning and service delivery. Papers, charts, pictures and books line her busy room. As she talks animatedly about her numerous projects it is hard to imagine that she plans to retire in 5 years.  As she says, she has "a busy in-tray"!
As part of the process of describing the differing pattern of causes of blindness in children, Clare was instrumental in identifying the growing incidence of blindness from retinopathy of prematurity (ROP) in middle-income countries. Through numerous workshops in Latin America and Eastern Europe she has raised awareness of the problem, and the need for programmes of control. Indeed, ROP has been one of PAHO's main priorities in Latin America and is an increasing focus of IAPB in Eastern Europe.  This is timely, as the challenge of ROP is likely to dramatically increase, as neonatal care expands in the future (see WHO:  "Born too Soon", 2012).
Over the next five years, Clare has three issues on her wish-list:
The inclusion of eye care for children into primary health care for children in Africa. If this can be achieved, then eye care will become part of the usual care of children attending Maternal Child Health services, reaching a very high proportion of mothers and their young children
To develop models of service delivery for glaucoma in Africa, "because we can't simply wave our hands and say it is too complicated".
To help achieve a shift in emphasis with regards to ROP, "with the responsibility for detecting infants needing laser treatment shifting from visiting ophthalmologists to the neonatal team". This approach has the potential to greatly increase the coverage of screening and treatment.
It is easy to be worried about the future of eye health, as the looming epidemic of diabetes retinopathy and the continuing challenge of glaucoma will need different approaches and mindsets. Clare though remains resolutely optimistic. She sees a strong role for IAPB, by not just linking together expert-groups in eye care with the wider NCD groups but by also identifying and nurturing a new generation of eye health leaders.  "If we support the undoubted talent out there to develop their leadership, managerial and research skills the future of eye health will be in safe hands", she signs off.

Alessandro Di Capua,
Membership Manager
---
IAPB BoT meeting, Bangkok: What to Expect?
IAPB Board meetings are an important part of our calendar. Alessandro Di Capua, IAPB's Membership Manager, gives us a peek into the preparations for the next board meeting in April…
The IAPB's Board of Trustees will be meeting for the first time in 2013 during 8 and 9 April in Bangkok.
The location was chosen, I must admit, for purely logistical reasons – the board used to meet following a rota system among regions, meaning that often board members (busy CEOs and Presidents with brimming travel schedules) had to literally fly around the world to reach the host country. About a year ago the practical decision was taken to hold board meetings (when not coinciding with the Council) wherever it was most convenient to do so: in places easy to reach, without challenging visa requirements and with good business facilities. Bangkok ticked all the boxes (plus a fourth one probably relevant only to me – I haven't been there yet!). In the end, the impact of a board meeting is really about the quality of the decisions made in the meeting room. And better these decisions are likely to be when those taking them are not fuzzy with jetlag or worn down by travel and logistics…
The key discussion topic at this meeting will be the new IAPB Strategic Plan for 2013-17. A draft is already in place following extensive consultation with the wider membership and the trustees will have the opportunity to refine and sharpen our strategic aims and objectives for almost half of the meeting. Another interesting item on the agenda will be a presentation from Astrid Bonfield, CEO of the Queen Elizabeth Diamond Jubilee Trust on their plan to make avoidable blindness a key priority. The Trust is looking to invest substantial funds in eye health projects, with particular focus on trachoma, glaucoma and diabetic retinopathy in commonwealth countries.
This is the first time the board meets in full with the new officers and regional chairs elected in September at the 9th General Assembly (a total of 5 new trustees, 20% of the board). It will be a great opportunity for the newcomers to join in, as well as for the board as a whole to find new and healthy dynamics. This is key, as the board's decisions do ultimately have an impact on eye health around the world. The fact then that the new IAPB strategy is top of the agenda is therefore ideal to stimulate conversations and create constructive dialogue.
Personally, attending board meetings is always a very insightful experience and I am often impressed by the commitment and dedication of our trustees to the cause of eye health. I can really feel that we are all working towards the same goal, even if at times we may have differing opinions on how to get there. In the end, it is from the plurality of differing points of view and approaches coming together over two days inside a meeting room (and often outside it, at breakfast, over a drink or dinner), that the best strategic plans and decisions gets made.
The sort of plans that do not settle for a minimum common denominator, but that aim high, to achieve the sort of change that none of the organisations represented at the table would have achieved on their own. And this is what IAPB is all about.


Alessandro Di Capua
Membership Manager
---
Post 2015 Consultation in Bonn – Part 2
Day 2 of the post 2015 conference in Bonn.
Centrepiece of the day was the key note address from Homi Kharas – the lead author of the High level Panel's report. Homi had to be rather careful about what he said as the report will not be written till after the Bali meeting scheduled for this week-end and obviously he could not be seen to be predicting what the HLP report would contain. What he did say was that HLP believes that we need to speed up developments and that business as usual is not going to be acceptable.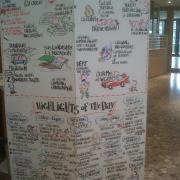 The key themes of environmental sustainability and the creation of prosperity are not seen as dichotomous and that ending poverty is a central aim. Big emphasis on gender; he mentioned ageing but not disability. He stressed that the HLP was just one of many inputs to the process and that the main arena of debate would now shift to country level and that the views of the Member States of the UN would ultimately decide. He saw influencing the thinking of states as a key role for CSOs going forward.
Later, there were a number of thematic group discussions – only 7 of the 290 delegates showed up to the ageing & disability workshop and these were all the "usual suspects". Disability is just not on the radar of any of the big CSO players….we have lots to do to make sure we get included post 2015….


Peter Ackland
Chief Executive officer
---
Post 2015 Consultation in Bonn
I am one of 290 representatives of civil society organisations gathered at the very modern but slightly austere Bonn World Conference Centre to discuss the post -2015 and Sustainable Development Agenda – part of the very wide consultation process around what happens after the MDGs.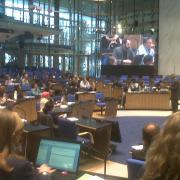 When all this started apparently the UN Secretary General asked people to think 'Boldly but Practically'. On day 1 there was no shortage of bold, including challenging the hegemony of neo-liberalism i.e. market-led economies – I am reminded fondly of my student days.
Lots of talk about rights – I attended a workshop on health and rights – universal health coverage discussed a lot and I expressed my view that Healthy Life Expectancy (HALE) as an overall indicator has a lot of potential to highlight inequalities if when collected it is disaggregated by gender, wealth quintiles etc. Got a fair few nods…
Slightly odd being a "vision focussed" organisation in a sea of more general development NGOs – I find myself talking about disabilities in general and stressing the importance of vision within it. No one from hearing organisations (I think) – maybe there should be a Hearing & Vision alliance – there would be 500m+ of us…
Tomorrow we will be addressed by Homi Kharas, Executive Secretary to the High Level Panel – looking forward to that.


Peter Ackland
Chief Executive officer
---
Visual Impairment and "Post 2015"
In the Millennium Development Goals (MDGs) there is not one mention of disability. As the major global framework aimed at poverty reduction, the MDGs created momentum amongst donors and government, but often didn't reach those most in need, including the disabled.
This is in spite of the fact that about 15% of the world's population or one billion people have disabilities and that disabled people are disproportionally represented amongst the poor. People who are disabled are more likely to be unemployed, not go to school, and be socially isolated than people without disabilities. Further, for a huge 80% of people living with visual impairment, their condition is avoidable – it could be prevented or if treated their sight could be restored – which means that 4 out of 5 blind people are needlessly impaired.
Whereas MDGs seemed to come out of nowhere, more or less, "Post 2015" – the process to decide what comes next – is a different story. This time there is a major effort to hear the voices of the poor and the marginalised. This time it should be possible to do things better.
IAPB is pitching in with the vast mix: how can we get the best possible development framework so that visually impaired persons' lives can be improved and those at risk of visual impairment can best be helped. With seemingly endless discussions, consultations and drafts – countless NGOs and activists around the world are trying to get heard; trying to identify entry points; using the formal processes; and where possible, lobbying crucial targets.
To push our key messages, and combine strengths, IAPB has set up a Work Group with our members, chaired by Johannes Trimmel. In a nutshell, IAPB's efforts are focused on strengthening health systems, addressing the causes of ill-health, ensuring equal access to health care for all people, and explicitly addressing disability rights across the framework.
We know that Post 2015, whatever its final form, cannot attend to everything. But to really improve the lives of the poor and the marginalised, it is absolutely crucial that the rights of the disabled and those at risk of visual impairment are accounted for.

Zoe Gray,
Advocacy Manager
---
Budapest hosts IAPB Europe Regional Meet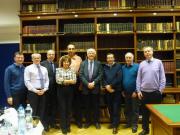 A great meeting in the cold but beautiful Budapest, hosted by IAPB's new Chairman for IAPB Europe – Professor Janos Nemeth. Janos is in the middle of the picture taken in the library at the Dept. of Ophthalmology, Semmelweis University – an illustrious and historic centre of ophthalmology in Hungary.
A small group met to identify strategic priorities for the Europe region – this is a very diverse region with 53 countries stretching from the far east of Russia through to Iceland – not surprisingly eye health issues also vary enormously. The group came up with three main areas for future focus:
Data collection – we will make available on the new IAPB website page for Europe all the data we have for the region and also stimulate the capacity to conduct RAAB surveys in the region
A focus on raising awareness and capacity to deliver Retinopathy of Prematurity (ROP) programmes in Eastern Europe – building upon the support we are getting from Shreveport Sees Russia.
Facilitation and support for the coalition that has been created to promote better eye health in the 27 countries of the European Union.
I am confident that with the leadership of Janos, who will be supported administratively by Erika Tátrai, and with the co-chairs for the region we have a strong team that will make real progress in the region.
ROP has got to be one of the worst nightmares of all parents – imagine having a premature baby, the joy at your child surviving, but then to find out that the very treatment that saved your baby's life made her blind. This is a growing concern in Eastern Europe and the urban centres of many emerging economies – it's something we can solve – no child needs to be blinded from ROP.


Peter Ackland
Chief Executive officer
---
Feedback on our IAPB Latin American Operational Planning meeting – Miami
(14-15 February 2013)
IAPB's regional team from Latin America met with our newly elected Chair for Latin America, Dr. Juan Batlle, in the amazing melting pot of Miami. With its Latin influence and multicultural complexion, Miami was the perfect backdrop for focusing our minds and to articulate our aspiration for IAPB's work in Latin America over the next three years.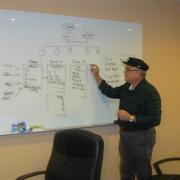 We now have a growing presence in the region: we welcome our new chair Dr Juan Battle, Medical Director, Centro Laser, Santo Domingo, Dominican Republic; Dr Van Lansingh, our long-standing regional coordinator was joined in January 2012 by Cristina Sanchez, our representative in Bolivia and Christina Sanko, now located in Mexico, IAPB's Development Manager for Latin America.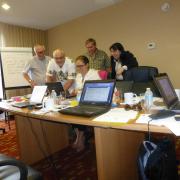 We focused on how we most effectively can contribute to the newly developed VISION 2020 Latin American Strategic Plan for 2013-2016 that was developed in Lima (2012) in consultation with members and stakeholders including PAHO, PAAO and national VISION 2020 members. We focused around five key pillars from the Plan: advocacy, communications, capacity building, research and resource management.
We had very positive discussions of how IAPB can most effectively work to contribute to the Strategic Plan and make a difference for eye health in the region. We also discussed ways that IAPB can improve our communications on our key eye health messages. In line with this we have recently published three editions of the Community Eye Health Journal in Spanish that cover subjects of Diabetic Retinopathy, Instruments and supplies and Low Vision. If you work in the field and would like to receive future editions please contact us
During our meeting we also recognised that it is very important to raise awareness of public eye health within the ophthalmological community. One way to achieve this can be a dedicated Latin American IAPB award to recognise prevention of blindness efforts. To help promote eye health messages amongst the general public we are planning new initiatives around World Sight Day and will have more on this later

John Trevelyan
Fundraising and Partnerships Manager
---
Pacific Elimination of Trachoma Programme in Fiji
(21 February 2013)
Komal Ram, Regional Project Manager for the International Agency for the Prevention of Blindness (IAPB) Western Pacific Region, blogs about her recent trip to Fiji where she visited and accompanied a surveillance team as part of the Pacific Elimination of Trachoma Programme. The original blog post appeared on the IAPB WPR blog and is re-produced with permission.
In early August the Pacific Elimination of Trachoma Program (PacET) team surveyed 20 clusters for trachoma in the Northern Division of Fiji, on the island of Vanua Levu. Trachoma is the result of infection of the eye with Chlamydia trachomatis. Infection spreads from person to person, especially where there are shortages of water, many flies, and crowded living conditions. Infection often begins during infancy or childhood and can become chronic. If left untreated, the infection eventually causes the eyelid to turn inwards, which in turn causes the eyelashes to rub on the eyeball, resulting in intense pain and scarring the eye. This ultimately leads to irreversible blindness, most commonly between 30 and 40 years of age.
The PacET team was headed by the National Trachoma Coordinator and made up of a local Ophthalmologist, eye health nurses, and public and village community nurses. We were based in the main township of Labasa, but surveyed a number of areas on the island. The terrain outside of the main township of Labasa in the North is a mix of village communities and houses in the sugar cane belts. The team worked tirelessly to screen children between the ages of one to nine starting their survey walk at 9am and finishing at 6pm. In some areas of the North, the survey team screened children who had active trachoma, especially in the older age group.
Formal analysis of the data commenced in October for all divisions surveyed in Fiji and will be presented to key stakeholders to inform implementation of the second stage of PacET.
One of the first survey areas about 40kms out from the main township Labasa. This village was identified by the local public health nurse as lacking in basic facilities and a proper rubbish disposal area.
Dr Vara screens an 8 year old for active trachoma.
9 year old child screened for trachoma. Trachoma follicles (TF) were detected.
Children from the community school arriving for their screening and educational talk on Trachoma. The talk is based on the SAFE strategy and features components F and E. The SAFE Strategy is an innovative public health approach designed to treat and prevent trachoma. Endorsed by the World Health Organization, the components of SAFE are: S for Surgery for in-turned eyelids; A for Antibiotics to treat and prevent active infection; F for Facial cleanliness to prevent disease transmission; and E for Environmental change to increase access to water and sanitation.
The team conducting surveys in one of the clusters in the sugar cane belt. With houses quite spread out, this meant a lot of walking around with equipment.
Pacific Elimination of Trachoma Program (PacET) data forms.
At each village we entered there was the ceremonial sevusevu, which is an official Fijian ceremony for meeting and greeting visitors by the Chief or the head person of the village. The sevusevu is a ritual which allowed the survey team to ask permission and show appreciation for screening kids in the village. Kava is usually offered to drink in a sevusevu. Komal Ram drinking ceremonial kava.
All photos courtesy of the Fiji Ministry of Health and the PacET Project.

Komal Ram,
Regional Project Manager,
IAPB WPR
---
WHO EB Passes Resolution on Blindness!
(24 January 2013)
Geneva in January is always a spectacular and beautiful place to be with the mountains covered in snow and the lake gleaming in the bright winter sunshine. But two days ago, the Executive Board meeting room deep in the heart of WHO was an even sunnier place to be for those of us interested in the prevention of avoidable blindness. The 34 Member States that make up the EB were discussing the proposed new Action Plan 2014 – 2019 "Towards Universal Eye Health" and an accompanying resolution to go to the World Health Assembly for adoption in May.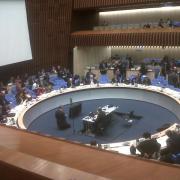 The plan received fulsome report – the resolution was proposed by Mexico, Costa Rica and Saudi Arabia and in the discussion Panama, USA, PNG, Australia and Yemen all expressed their co-sponsorship. All countries that spoke in support of the plan and resolution , did so extremely positively and all stressed just how important the issue of avoidable blindness and visual impairment is – In total 18 countries spoke including Mexico, Lithuania, Panama, Seychelles (on behalf of all 46 African countries), Cuba, USA, PNG, Myanmar, Morocco, China, Australia, Iran, Yemen, Nigeria, Venezuela, Italy, Thailand and Saudi Arabia
The contents of the Action Plan and the indicators and global target were commended with just a couple of comments about areas that might be stressed further (onchocerciasis, trachoma, glaucoma, AMD and DR plus Childhood Blindness and affordable medicines). The resolution was passed with just a few "friendly" amendments, though the commitment to increasing resources was, not un-expectedly given the current financial climate in WHO, slightly watered down.
At the end Dr Chan the Director General was effusive in her support – noting how 50% of the people in the room had a visual impairment but were lucky enough to have these corrected – but that many people living in poorer countries were not so lucky. She stressed the value of low cost cataract surgery in India, China and Cuba; how ageing and diabetes were factors likely to contribute to an increase in eye health problems and spoke about the importance of school health programmes including eye health reminiscing on her own experience in Hong Kong of providing glasses to school children that needed them.
Overall we left with the winds in our sails and confident about receiving very positive support in May at the WHA. I have to say so much of this is down to the inside knowledge of Lesley and Sanjeev – they seem to know everyone who represents the country delegations plus the excellent work done by our regional staff and Members in making contact with key countries and winning their support. The IAPB work group has really been effective – a blue print for other advocacy objectives I feel.


Peter Ackland
Chief Executive officer
---
IAPB South East Asia Regional Meet in Hyderabad
(24 January 2013)
The very successful 9GA saw greater focus on the many successes of the South East Asia region. The region's new regional chair, Dr Tara Prasad Das (TPD), is an indefatigable champion of blindness prevention and has years of experience in the field.
I have always known Dr Das to be a hands-on manager. His contributions at many eye hospitals – including the two big South Indian ones, Aravind and LVPEI – are testimony to his passion and attention to detail. TPD has an infectious enthusiasm and deep understanding of the eye care issues of the region – a great choice for the Regional Chair!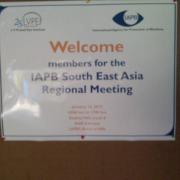 TPD had called for a fresh assessment meeting on the eve of the giant APAO-AIOS 2013 conference in Hyderabad, India. The group was to see how best IAPB could support and promote avoidable blindness efforts in the 11 countries of the S E Asia region, without duplicating the many ongoing efforts in the region with the highest prevalence of vision loss in the world. The attendees included heads of major eye care NGOs active in the region, and representatives from India, Nepal, Thailand, Indonesia and reports sent in from Bangladesh. Peter Ackland, CEO and John Trevelyan, Fundraising and Partnership Development Manager, IAPB and I joined the group with inputs about work in other regions.
The stress at the meeting was to ensure that there was follow-up from this meeting; that things don't quieten after people go away from here. Everybody felt that a regional coordinator would be great help in ensuring the momentum is sustained, and IAPB hopes to seek funding to support this position. I was impressed to note the years of experience and friendship among the group; though they worked in different countries and settings, they were quick to note novel ideas that worked – and were politely dismissive of systemic issues that throttled change in the region.
In the first year, the group decided to focus initial efforts on 3 countries – Indonesia, Myanmar and Bangladesh and to also develop a regional theme, by focusing on key issues across the region such as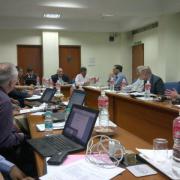 primary eye care or the  increasing incidence of diabetic retinopathy. IAPB will be hosting a region-focused webpage on the IAPB website to help promote exchange of data and information, and I will be working TPD in making it live over the next few weeks.
John Trevelyan came away from the meeting with a sense of purpose and opportunities to support this fledgling group. He noted, "It was valuable to identify the key priorities and programmes needed in the region. I look forward to working with the regional team in developing fund-raising opportunities so that there is measurable progress".
Peter Ackland too is enthusiastic about the group's focus on outcomes and plans for the future. Signing off after a long but fruitful day, he said, "It was great to see a knowledgeable and highly-experienced group coming together. I came away with the feeling that we have a tangible way forward. I hope this will go on to positively impact the people of this region".

B V Tejah,
Communications Manager