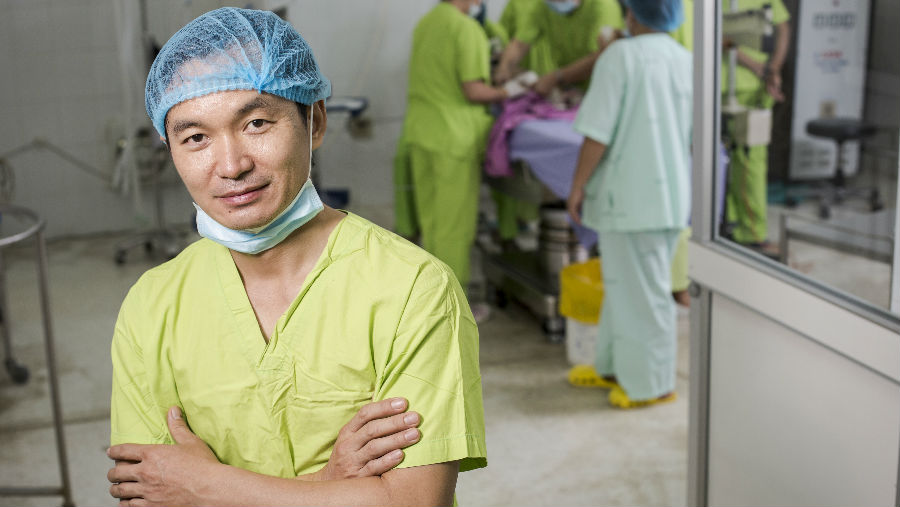 Phetsamone Indara is an ophthalmologist who started his career in 2002. He has been the Head of Oudomxay Eye Unit since 2005. By that time there was an Ophthalmologist or eye health workers in the four northern provinces in Laos, so Dr. Phetsamone started to save and improve people's vision by mobile cataract surgery and providing primary eye care for the community.
In parallel to the above, Dr. Phetsamone initiated and hugely contributed to the development of human resources for eye health to insure his country has enough resources to improve health. Specifically, he initiated training materials and conducted a lot of trainings, e.g. primary eye care, special four months. ophthalmic nurse courses. He also taught on certain subject for students at nurse college in Oudomxay. Approximately since 2002 – 2007, Dr. Phetsamone has:
Conducted 3,069 cataract surgeries
Conducted eye screenings, with 35,325 cases since
Conducted 76 complicated eye operations
Assisted doctor teams from overseas institutes, e.g. Russell J. Leavitt, M.D from Valley Medical Center, Califonia, and Michel Gelinas from Midwestern University were teaching Lao Ophthalmologist (Phetsamone M.D) Surgical methods step by step by phacoemulsification
Conducted 8 ON training courses
Taught 256 nursing students
Taught 178 ToT on PEC
Taught 389 teachers on PEC
Took lead in producing the 1st hand book for primary eye care (Lao version) to use for ToT training and the training for volunteer health worker (VHWs) on primary eye care.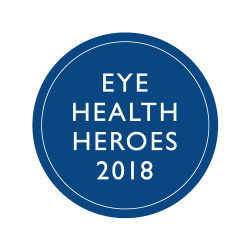 Until 2006, when the Fred Hollows Foundation (FHF) started operations in Laos, Dr. Phetsamone supported FHF a lot and took on the role of comprehensive eye care project Manager. He stepped down when FHF could appoint more staff and became an Advisor (formal and informal) for FHF to extend their work to 10 provinces in 2014. There are many outstanding cases that were dedicatedly handled by Dr. Phetsamone: the twin Sintham Samlan, Hao, Man, Darvin and many others. Some stories are attached.
In 2008, Dr. Phetsamone was appointed as the secretary of Lao Ophthalmology Society. His achievements under this role are:
Influence to assemble all Lao ophthalmologists and the function of PBL in Laos. Facilitate the technical support from other countries to Laos. Influencing the surgery quality and eye health care improvement.
Influence the conduction of annual meeting of Lao Ophthalmology Society
There are numerous research reports for eye care to his credit that have been published and presented locally and internationally. For example:
"Country Report on Prevention of Blindness in Laos and Glaucoma in Laos"
"Rapid "Assessment of Avoidable Blindness in Laos"
"Mobile Eye Care in Remote Areas in 4 Northern Provinces for Under Limitations Field Resources"
"Management and Outcome of Cataract Surgery in Oudomxay Province"
"Congenital Cataract Surgery for Twin Infant Boys"
"Results of student vision screenings at primary schools in Oudomxay provinces, Lao PDR." on the EyeSEA Journal
TV on Laostar & Lao National Chenel, Australia TV, Public of Korean TV
Website:
http://lao-foundation.org/wp-content/uploads/2011/12/Report-of-Health-Care-in-Remote-Area-June-July-2011.pdf
https://www.youtube.com/watch?v=dRZfbtH6qJc
http://lao-foundation.org/wp-content/uploads/2011/12/laoFoundation_developingEyeCareNorthernProvincesLaosOctober2016.pdf
Not only FHF, Dr. Phetsamone also works with many international organisations and government medical agencies. He has mobilised huge funds used for upgrading eye care in Laos. For example:
"Mobile Health Care for Dental, Ear, Nose and Throat, (E.N.T.), Eye, Internal Medicine, Expectant Mothers and Pediatric Service in the Remote Areas"
The fist in Laos for mobile cataract surgery in remote arease by phacoemulsification technique for ophthalmic equipment and general medical equipment provision in 4 Northern provinces of Laos.
Dr. Phetsamone is very active and takes the lead in strengthening eye care in Laos through a number of advocacy campaigns and to enable more opportunities for Lao people to have the appropriate and equal right to sight restoration and not being blind unnecessary. For example:
Curruculum on Primary Eye Care and ophthalmic nurse course to National Ophthalmology Center
Primary eye care to join with primary health care to MOH
Promotion of eye care and health care to WHO
IAPB
APAO
"I'd love to see people are empowered and have ability to lead their lives. I am very happy to be a partner to join and help the poor and treat people who are blind, to improve their vision and their lives."