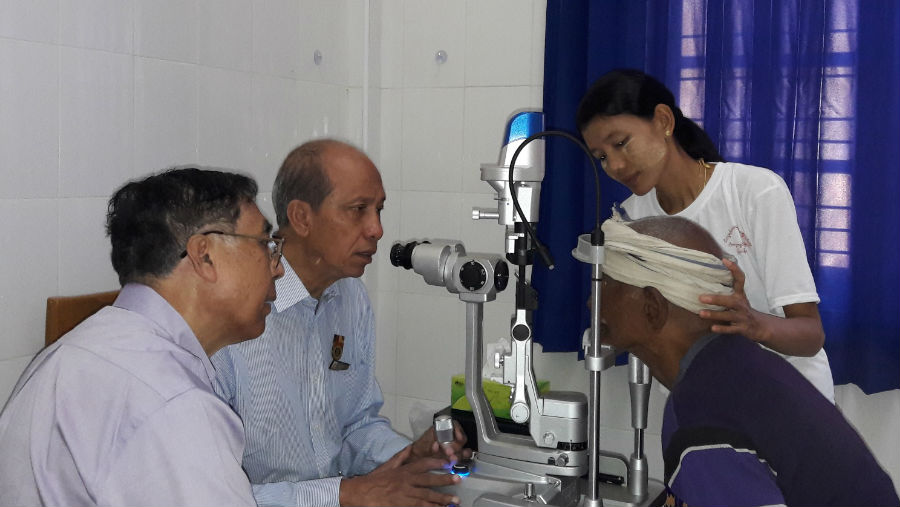 Professor Mya Aung has been a leader in Myanmar's eye health community for over four decades. He did his M.B.B.S from the Institute of Medicine (1) in Yangon. He then obtained three advanced degrees in ophthalmology. In 1972 , he entered public service, focusing extensively on clinical duties including eye surgery for various eye diseases.
In 1992, Professor Mya Aung joined the Department of Ophthalmology at Yangon's University of Medicine 1, which is one of the few public options for eye health care for poor patients. As his career progressed, he became more engaged in the training of Myanmar's future ophthalmologists. First as a lecturer in 2000 and later as an Associate Professor of Department of Ophthalmology in 2002. One of his key achievements was the establishment of the Department of Ophthalmology at the University of Medicine 2 in 2000. This became fully functional with the financial assistance of Helen Keller International and the Japanese Grass Root Grant Assistance.
Beginning in 2008, Professor Mya Aung began moving his work outside hospital walls to reach the poorest, most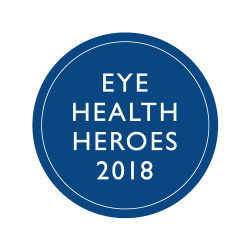 remote patients in Myanmar. Professor Mya Aung volunteered primarily through the Sitagu Special Eye Care Programme. This programme started 1993 with the objective of preventing blindness and restoring vision in Myanmar's rural poor. It was upgraded over time, much to the credit of the Sitagu Saydaw (Abbot), an important Buddhist spiritual leader based in central Myanmar. Under his guidance, Professor Mya Aung has played a leading role to ensure this programme flourished and grew over the years. It became active in all seven states and seven regions of Myanmar to provide cataract, glaucoma, eye lid surgery and laser treatment. Under the leadership of Professor Mya Aung, the programme has screened a total of 552,464 patients for various eye diseases and performed 102,464 operations at 167 outreach clinics.
Additionally, beginning in 2013, Professor Mya Aung organized and participated in Charity Eye Care services. Under this, a total of 8,066 patients have been screened and 1,468 eye operations through eight outreach programmes have been supported.
Currently, Professor Mya Aung is a Honorary Professor at the University of Medicine (2). He is also a member of both the Myanmar Medical Council and Prevention of Blindness Programme in Myanmar. Due to his untiring efforts, new ophthalmologists continue to gain valuable knowledge, thus strengthening the eye health care system of Myanmar.
"Doing for others is an invaluable pleasure. When the patients are happy with their postoperative vision after they have been in darkness, living as outcasts from the society and in loneliness- often due to poverty.
People in Myanmar's remote, hard-to-reach areas like Rakhine, Chin and Kayah States the regions cannot access eye care services. It is those we aim to serve with our outreach Sitagu charity mobile team.
The satisfaction from my role in preventing blindness for our people is immeasurable- not only in this present life but also the meritorious deeds carried for attainment of peaceful wisdom."