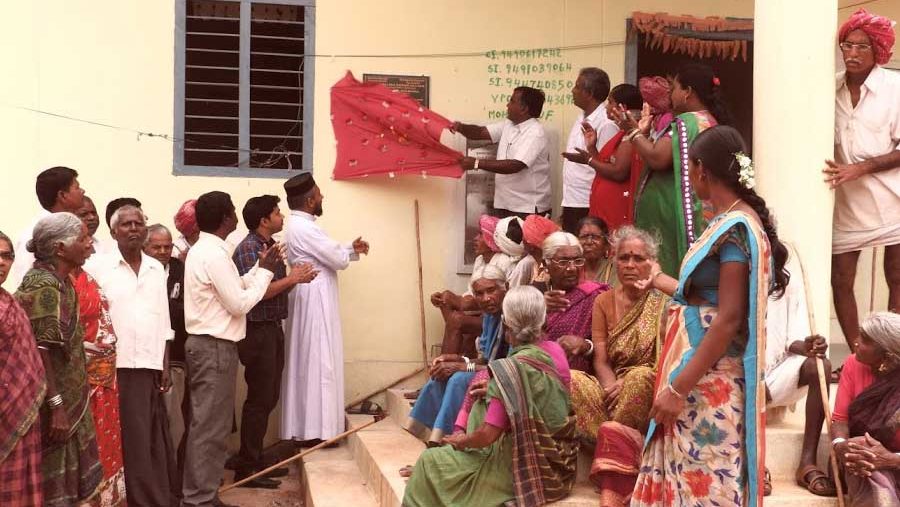 OEU Community Tours
Operation Eyesight Universal (OEU) invites IAPB Council delegates to participate in the celebrations of declaring a village "avoidable blindness free" on 17 September 2018. Delegates can visit the project intervention area and interact with the community and hospital team to learn more about the work Operation Eyesight is doing to eliminate avoidable blindness in India.
OEU is implementing a HBCEHP project (see below) in a drought affected region only 60 kilometres from Hyderabad. This project has reduced the prevalence of blindness from 1.16% at the end of 2013 to 0.25% in July 2018. 50 of the 80 villages in the project area have been declared "avoidable blindness free", with the remaining set to be declared by World Sight Day 2018.
The Hospital-Based Community Eye Health Programme
Since OEU announced their first avoidable blindness-free village in 2014, it's no secret that Operation Eyesight's work takes place at the community level. That's where ending avoidable blindness begins, as part of their approach to improving eye health seeking behaviour and create lasting eye health care services.
Through a pilot project implemented from 2009 to 2013 in southern India, OEU learned that hospitals could significantly contribute to the elimination of avoidable blindness on a sustainable basis, while continuing to deliver quality eye care services by empowering people living in the hospital's service area and improving their eye health-seeking behaviour.
This insight led us to develop and successfully scale up a model, named Hospital-Based Community Eye Health Programme (HBCEHP). This model aims to:
Clear the backlog of avoidable blindness cases, and thereby eliminate avoidable blindness from the service area of a hospital or vision centre;
Empower target communities and community health workers so that they can address the incidence of blindness and visual impairment.
The projects based on the model are comprehensive and include strengthening hospitals to ensure delivery of quality services; improving primary health services, including primary eye care services; and empowering target communities to take ownership and responsibility for their eye health needs.
Join the tour
Delegates interested in visiting the project area can do so, by writing to Santosh Moses and Kashinath Bhoosnurmath before 31 August 2018.
Schedule: 17 September 2018
Time
Activity
7:30 am
Departure from Park Hyatt to Yacharam Town, Ibrahimpatinam Mandal
9:30 am to 11:00 am
• Visit to St. Gregorios Eye Hospital, Yacharam
• Overview of Avoidable Blindness Free Villages on a Sustainable Basis – Partner's experience
11:00 am to 11:30 am
Travel to village community being declared avoidable blindness free
11:30 am to 1:00 pm
Participate in the declaration event and interact with community members and beneficiaries
1:00 pm to 2:00 pm
Return to Hyderabad
Photos