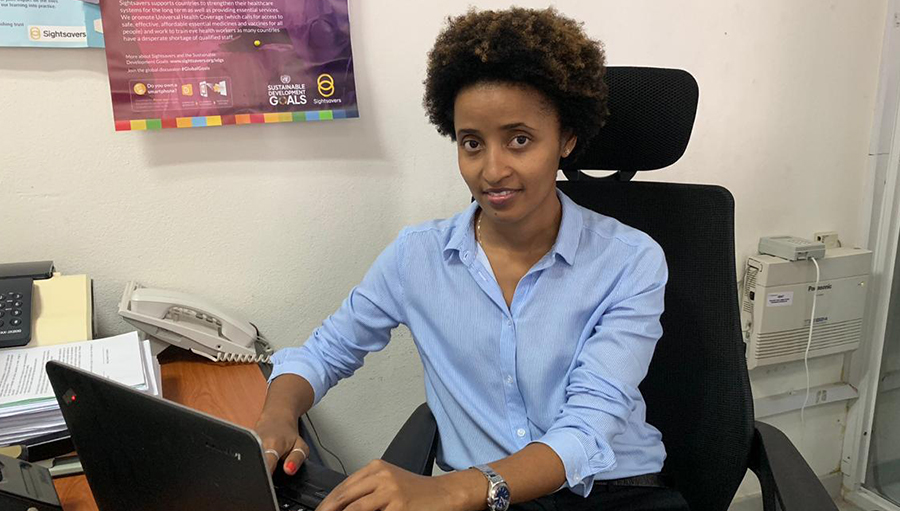 Mercia Cumaio, is the Programme Manager for the Nampula Eye care programme in Mozambique, and has had a positive influence on eye health staff, government personnel and communities in her province and beyond. She has been working in eye health for nine years and has been a strong advocate for access to quality eye care services in Nampula.
Working in trachoma elimination, Mercia has successfully overseen the prevalence fall in three trachoma endemic districts, taking Mozambique closer to elimination thresholds. Additionally, Mercia took it upon herself to put strategies in place to ensure more women had access to eye health services. To do so she worked with women's groups and facilitated radio talk shows. This effort led to a rise in ratio of men to women accessing services from 70:30 to 60:40 within two years. Mercia also initiated a partnership with the University of Lurio, leading to some of their staff and students volunteering to support eye health programmes. And she has lobbied for additional training of Ophthalmic Technicians, increasing the number of adequate eye health personnel in the region.
Mercia has been an active, leading member of the Mozambique Eye Care Coalition, which is the top advisory on eye health in Mozambique. Under her leadership, the coalition successfully advocated for the inclusion of two critical cadres for eye health in the National Human Resource for Health Plan. This integration of human resource for eye health by the Mozambique Ministry of Health is critical in ensuring that eye health is prioritised. She has advocated for additional indicators for eye heath within the Health Management Information System, therefore generating the required evidence for planning and decision making in eye health.
Mercia has used her bilingual skills as a fluent speaker of Portuguese and English to translate and review many critical documents. Notable among these are the Eye Health System Assessment, technical document reviewed by an English speaking team that is then feedback to a Portuguese speaking team. Mercia also supported the Rapid Assessment of Avoidable Blindness, where she not only supported in the translation of documents but was key in the actual data collection.
Mercia is an exceptional and dedicated eye health worker who has demonstrated a personal commitment towards the elimination of trachoma as a public health problem and the promotion of eye health in Mozambique. Her continued efforts are worthy of recognition through an Eye Health Hero Award.
Nominating Organisation: Sightsavers
"I love to see the joy of patients once they have their sight restored and the hope they have to improve their lives. The hope that children, who were their carers, will be able to return to school and that the life of all the family members will change positively. I also love the fact that our work is towards provision of adequate eye care services to everyone (women, people with disabilities and other marginalized groups) and how all of this contributes to the fight against poverty, and a brighter future for everyone."