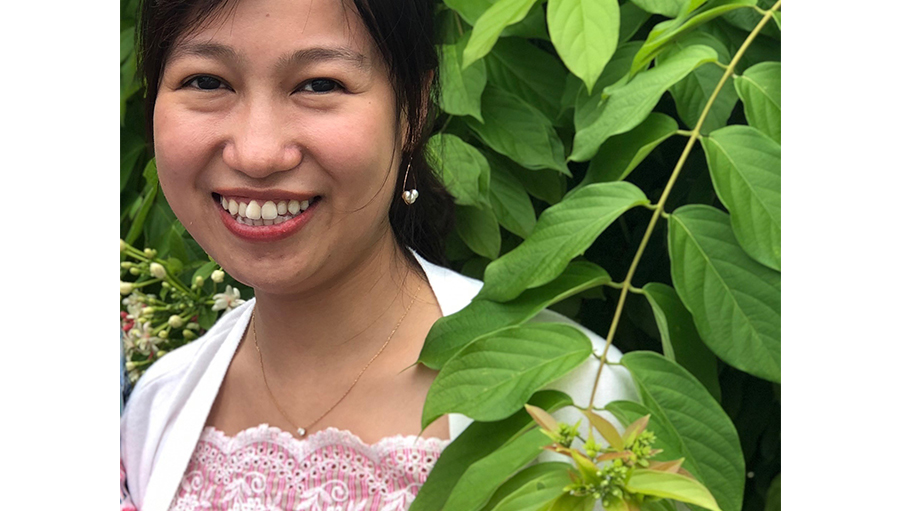 Minh Anh's youthful appearance and welcoming disposition belies her powerful conviction to help establish and progress the optometry profession in Vietnam. Her verve for life burns through her warm smile and seems to ignite and transform the emerging setting she exists in daily at Hanoi Medical University (HMU), where she heads up the new school of optometry, established by the Brien Holden Vision Institute Foundation in collaboration with local partners. The first cohort of 43 optometrists graduated this year in August 2019.
Passion fuels her drive to develop critical relationships within the ophthalmology community and advocate for optometry to be accepted within the fabric of eye health care in Vietnam. Recently, she completed an Advocacy for Eye Health course to help inform her efforts of encouraging the Vietnamese Government to ratify the job code for optometry in Vietnam.
Minh Anh explained, "Optometry is a new profession for Vietnam, so we need this recognition to ensure the profession is sustainable and grows within the public and private health care systems."
Despite her smiling eyes and accepting explanations, Minh Anh's professional journey so far has not been easy. Being the pioneer of a new profession, she well understands the challenging context of working towards solving the inequities in the trained workforce and eye care service delivery in Vietnam.
In 2009, there were no optometry schools in Vietnam, so Minh Anh studied her optometry degree in India assisted by Brien Holden Vision Institute Foundation and partners. Since then, she has completed her Masters in Clinical Optometry at the University of Melbourne, Australia, specifically to enable her to teach the optometry students.
When asked to recall her motivation to study optometry, Minh Anh spoke positively about her choice. "These days I feel optometry is not just a career but a deeper mission for me. Almost like life vision. I am committed to making a difference and I actively enjoy being a part of the optometry development program," she said.
In 2013, there were only three qualified optometrists practising in Vietnam to serve a population of 90 million. Today the population has grown to 94 million, but the difference is there are more than 300 optometry students enrolled in two pioneer optometry schools, HMU in Hanoi and University of Medicine Pham Ngoc Thach in Ho Chi Minh City. Both are training the first generation of Vietnamese-trained optometrists and Minh Anh is a big part of this change happening.
Dr S May Ho, Director of Education and Development, Brien Holden Vision Institute Foundation praised the young optometrist. "Minh Anh's level of commitment and dedication to both provide care to patients and teach new optometry students, while struggling at the same time to get the optometry profession recognised, is nothing short of extraordinary. I am in awe of her energy, tenacity and unrelenting strength for forging the course of a new profession."
"I have never regretted a day while being an optometrist. I feel thankful to work in this field, and to be able to contribute to the development of optometry in Vietnam. Every journey starts with one small step, and we hope that we will overcome the challenges facing us now and in the future. I am determined to take this inspiration and pass it on to our first generation of Vietnamese-trained optometrists, helping them develop great skills and excellent attitudes."
Optometry is an inspiring profession and I believe it can fill the current gap in eye care now prevalent in Vietnam. I trust optometry will soon be ratified, and then we can work within our full scope of practice, together with the current eye health system in Vietnam for the betterment of all Vietnamese people."
I am very grateful to all individuals, institutions, funders and colleagues for their support for I could not have achieved anything without them."