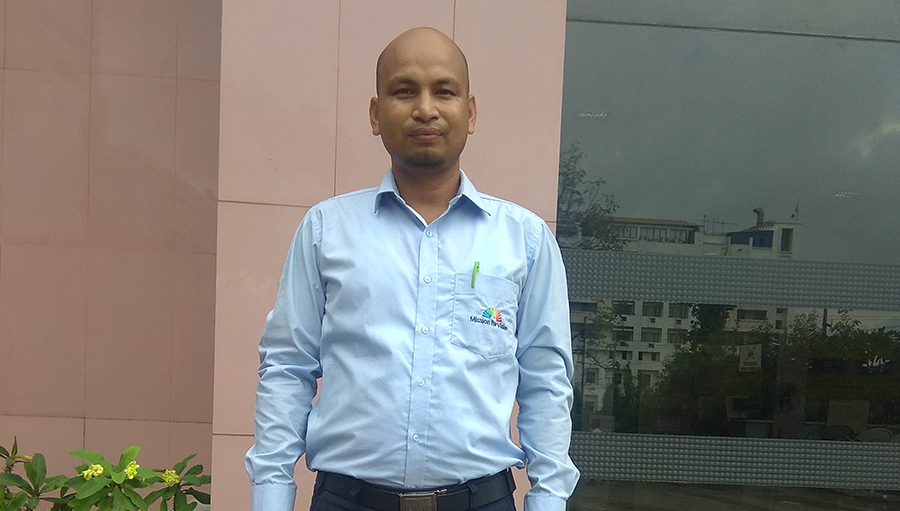 Historically, the North East of India is known to be a challenging region in terms of accessibility and availability of quality eye-care. Our Eye-Health Hero – Pranjal plays a key role in the field investigation process and assessing Mission for Vision's programme effectiveness in these challenging terrains of Assam, Meghalaya, Arunachal Pradesh and Mizoram.
He has over 5 years of experience in the eye health sector. His work involves meeting the socio-economically challenged communities at the ground level, assessing visual outcomes, patient satisfaction, quality of services offered at screening camps and eye hospitals; and the impact of services on quality of life of beneficiaries.
During his tenure with Mission for Vision, he has visited over 3500 households and assessed 65+ eye screening camps. Pranjal spends most of his time on the field and has to often visit hard-to-reach locations of North East India (often on foot) to understand the requirements and to also conduct research. During his field visits, he also counsels patients at the camp sites and refers them either to a nearby vision centre or eye hospital to ensure that the patient can access timely treatment.
A much respected member of the Mission for Vision team, Pranjal's colleagues also appreciate that he never leaves any stone unturned and ensures that he follows up via the vision centre or hospital records to check whether the patient has taken the necessary treatment to restore their vision. His presence provides comfort and hope to the visually challenged communities seeking eye health care. Pranjal bridges the gap between patients and eye-care service providers (eye hospitals, vision centres, etc.) and his contributions towards eye-health has often been appreciated by both the patients and the partnering hospitals.
"After a successful cataract surgery when people appreciate my work and the support offered by my organization, I feel immensely proud and satisfied. This encouragement from the field is what keeps me motivated to do a lot more and improve the lives of people."