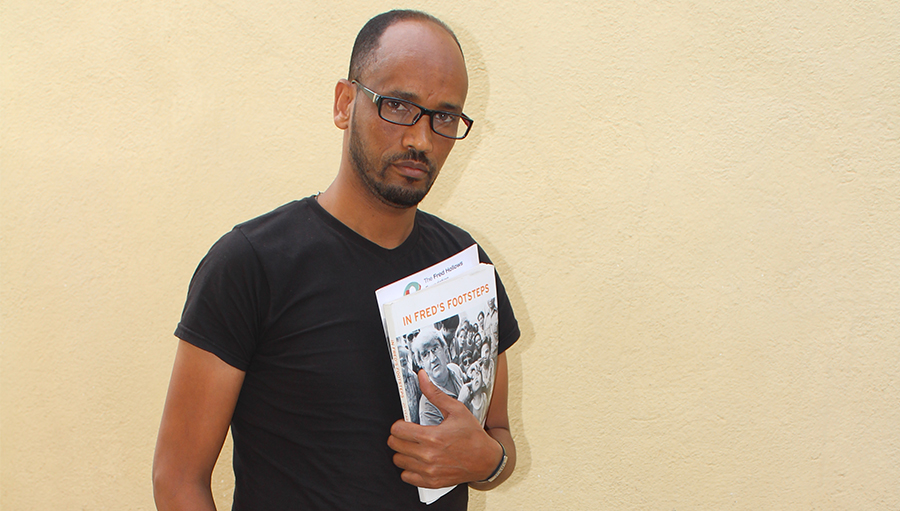 Solomon is a Program officer at Eritrea national blindness prevention office. He is a committed and self-driven young man that has navigated many challenges to ensure that blindness prevention interventions are implemented.
He has taught himself and learnt so much about all there is in eye care. He is the pillar of the national blindness prevention activities in Eritrea. He not only supports the Eritrea Trachoma elimination activities but also overseas the comprehensive eye care programme implementation as well as the operations of the programme in the country.
Solomon is a trainer of Graders and recorders for Trachoma impact surveys and recently undertook a Tropical data training where he was certified as such. Before that he coordinated Global Trachoma mapping project in Eritrea supporting data entry in a country where access to internet is a huge challenge.. Solomon successfully coordinated the Eritrea national RAAB and over 35 district based Trachoma surveys. Despite limited professional development opportunities Solomon has not been deterred in his quest to advance blindness prevention.
His dedication, hard work, commitment, and teamwork approach has earned his exceptional respect among the key stakeholders in the country. Solomon has a Masters Degree in Global Health and is the future of eye health and blindness prevention in Eritrea
"The role has allowed me to serve his country in the elimination of avoidable blindness. I started in this role as part of my national youth service. From the time I was assigned this role and got to understand the prevalence of blindness in my country, I was greatly motivated to do more to ensure that no Eritrean is blind from preventable causes. I have taught myself about Trachoma elimination and comprehensive eye care considering that in my country we have dire gaps in human resources for eye health. I have been able to lead teams of ophthalmic nurses to multi task across different projects since we do not have the luxuries of various eye care positions in the country. I feel motivated that despite the challenges the country faces, we are on track to eliminate trachoma and reduce the barriers to access comprehensive eye care services for all Eritreans."