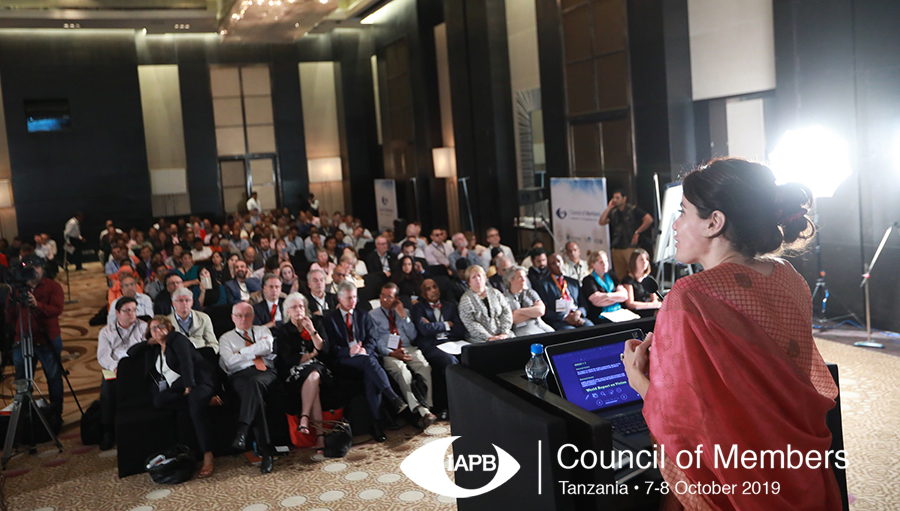 The IAPB Council of Members offers great opportunities for everyone to access and benefit from valuable learning, eye health KOLs and discover more about the alliance. IAPB members get complimentary delegate passes (you can purchase more). Non-member organisations are welcome to attend as well. Non-members have the opportunity to purchase delegate passes to attend the Council.
Com 2019: registrations will be open in June.
Complimentary codes for Member Organisations
The complimentary codes will be sent out to the main contact for each IAPB member organisation early May, just when the registration opening is announced. Please keep an eye open for our mails on these codes and share them with your delegates as soon as possible.
IAPB Members receive complimentary passes as below:
| | |
| --- | --- |
| Group A | 4 complimentary passes |
| Group B | 2 complimentary passes |
| Group C | 2 complimentary passes |
Member organisations who would like to bring more delegates can benefit from special discounted rates for the purchase of additional tickets.
Rates for CoM 2019
Additional passes for member organisations or non-member passes are at the following rates:
| | | |
| --- | --- | --- |
| | 1 day | 2 days |
| Member International | GBP 50 | GBP 70 |
| Member Local | GBP 15 | GBP 22 |
| Non-member International | GBP 133 | GBP 266 |
| Non-member Local | GBP 19 | GBP 29 |
IAPB Members' fee applies only to authorised staff/delegates/representatives of a fully paid IAPB member organisation.
Local Delegates' fee applies to all those who are permanently employed or whose employment in the African continent covers the period between registration and the event itself, whether they work for a local organisation/institution, or in the local office of an international organisation. 
Access
Member delegates will have full access to the programme, social events and specific Member sessions. Non-members and member-affiliates will have access to the programme and social events, except where a session is marked for Members only.
---
* Member-affiliates (organisations that are not IAPB Members but work with a member) are not entitled to take up complimentary delegate passes. Non-members can purchase a maximum of five delegate passes. Our venue has a maximum capacity of 300 delegates and therefore purchasable delegate passes will be on a first-come first-serve basis.