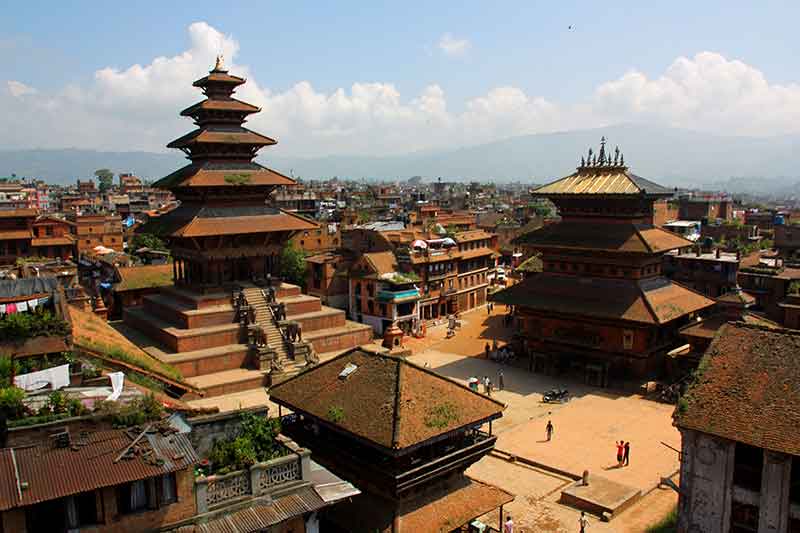 Kathmandu is the capital city of the Federal Democratic Republic of Nepal.  It is the second largest metropolis in Nepal, with a population of 1.4 million and is at an elevation of approximately 1,400 metres above sea level. Interestingly, the elevation of the country ranges from 60m above sea level to the highest point on earth, Mt. Everest at 8,848 m, all within a distance of 150 km resulting in sub-tropical to Arctic climates. Rich in history, Nepal is a great place to visit all through the year.
Visa Information
All delegates require a Visa to enter Nepal. Please visit our visa pages for information relevant to different nationalities.
Airline Options
Nepal Airlines is the national flag carrier of Nepal with flights to/from Delhi, Kuala Lumpur, Dubai, Bangkok, Hong Kong, Shanghai and Osaka. Other international airlines operating from/to Kathmandu are:
Air Arabia (Sharjah)
Air China (Lhasa, Chengdu)
Biman Bangladesh (Dhaka)
China Southern Airlines (Guanzhou)
Dragon Air (Hong Kong)
Druk Air (Delhi, Paro)
Etihad Airways (Abu Dhabi)
GMG Airlines (Dhaka)
Gulf Air (Bahrain, Muscat)
Air India (Delhi, Kolkotta, Varanasi)
Jet Airways (Delhi, Mumbai), Jet Lite (Delhi)
Korean Air (Seoul)
Qatar Airways (Doha)
Silk Air (Singapore)
Thai Airways (Bangkok)
Nepal Airlines (Dubai, Kuala Lumpur, Delhi, Bengaluru, Mumbai, Bangkok, Doha, Hong Kong)
Himalayan Airlines (Dubai, Kuala Lumpur, Yangon, Colombo, Doha)
Fly Dubai (Dubai)
Malaysian Airlines (Kuala Lumpur)
Malingo Airlines (Kuala Lumpur)
By Land
All visitors coming to Nepal by land must enter only through one of these entry points:
Kakarbhitta
Birgunj
Belhiya
Bhairahawa
Nepalgunj
Dhangadi and
Mahendranagar in the Nepal-India border and
Kodari in the Nepal-China border.
Overland tourists entering the country with their vehicles must possess an international carnet or complete customs formalities.
Vaccinations & Health Advice
The risks to health whilst travelling will vary between individuals and many issues need to be taken into account, e.g. activities abroad, length of stay and general health of the traveller. It is recommended that you consult with your General Practitioner or Practice Nurse 6-8 weeks in advance of travel. They will assess your particular health risks before recommending vaccines.
For more information & health advice please visit the Centres for Disease Control and Prevention Traveller's Health page, NHS Fit For Travel pages and Travel Health Pro. On these websites you will also find various other advice on eat & drink safety,  personal security etc.
Foreign Exchange
Foreign currencies must be exchanged only through the banks or authorized foreign exchange dealers. The receipts from such transaction are to be obtained and retained. Visitors can exchange money at the foreign exchange counter at the airport upon arrival also. Indian currency Rs. 500/- and Rs. 1,000/- notes are not allowed to be brought into Nepal, will not be exchanged and will not be accepted for transaction of any kind.
Getting Around
Metered taxis are easily recognizable by the taxi sign and black number plates and can be hailed off the street. Micro buses and battery-run EV tempos cheaper than taxis are also available. No tip is expected. There are regular bus services within the three cities of the Kathmandu valley operating from old bus terminal Ratna Park. Similarly, scheduled bus services for outside the valley operate from the Gongabu Bus Terminal. It is also possible to hire mountain or motor bikes at nominal rates.
Quick Facts
Location: Situated between China in the north and India in the south, east and west
Capital: Kathmandu
Population: 26.5 Million (Census 2011)
People: Nepal has more than 101 ethnic groups and 92 spoken languages.
Language: Nepali is the national language; traveltrade people understand and speak English as well.
Religion: Nepal is a secular state with a predominance of Hindu and Buddhist population.
Currency: Nepali Rupee (US$ 1 equals 103 NRS approximately)
Climate: Nepal has four major seasons and during event dates fall in the autumn.
What to Wear: Light weight clothing is recommended from May through October. An umbrella or a raincoat is a must for the rainy season.