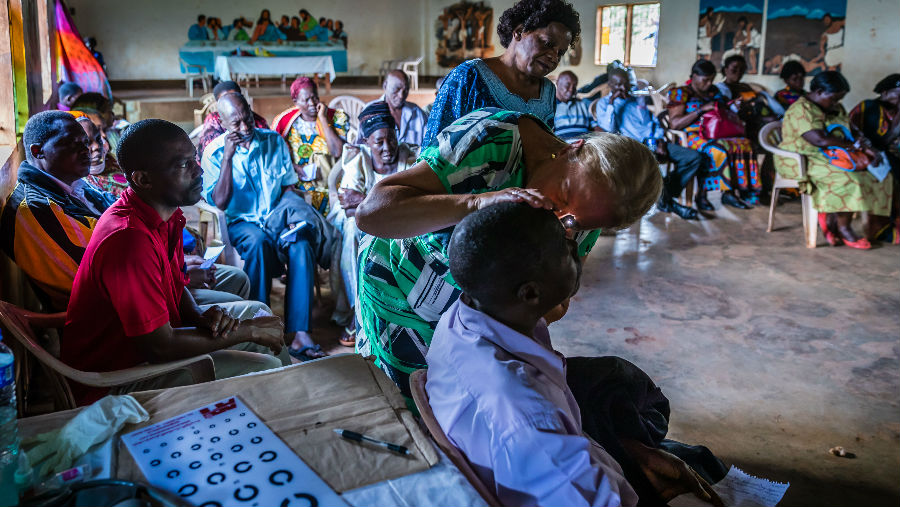 In Africa in 2010 it was estimated that 4.8 million people were blind and further 16.6 million had severe to moderate visual impairment. This is not a challenge that can be overcome by the NGO sector alone and it is clear that a paradigm shift is needed in how eye health services are planned, coordinated and resourced at all levels.
One of the biggest barriers to this transformation and achieving progress in wider health goals is the critical shortage of health workers, the heart and soul of the health system. The eye health sector in Africa is not impervious to the larger health worker crisis and is in fact part of it. The shortage of eye health workers at all levels in SSA is particularly alarming. For example, the Region has less than 50% of the minimum number of ophthalmologists required to meet needs. Without rectifying this, reaching WHO Global Action Plan targets and achieving universal eye health coverage will be impossible.
The interventions to address the crisis take place in complex and changing political, geographic and social contexts and the crisis in the eye health work force extends far beyond numerical shortfalls. Even if we can successfully address this gap much more remains to be done in terms of training and development, deployment and distribution, supervision and support, standards of practice and performance and productivity for all eye health service providers.
The consultation and planning process for the IAPB Africa HReH strategy has been extensive, involving all member agencies in Africa and 38 countries who participated in a series of sub-regional and regional planning events between 2009 and 2013.  It is therefore the strategy for the members of IAPB, when acting together and is not a strategy for individual members acting in their own capacity. The strategy does however suggest how member agencies can work individually and collaboratively to address the eye health work force crisis in Africa.
The IAPB Africa HReH strategy:
Vision:
All people in Africa have access to the highest possible standard of eye health care.
Mission:
To ensure, through collective action, that everyone in Africa has access to skilled and motivated eye health providers.
Goal:
Eye health workers are integrated at all levels as part of an efficent and effective heath system.
Immediate Objectives:
Integrate eye health work force planning into broader HRH planning processes.
Develop competency frameworks for the five different levels of the eye health workforce.
Stregthening of the eye health training institutions across Africa ii
 Members of IAPB and Ministries of Health have been investing in strengthening the eye health work force in SSA for many years with success invariably built around strong and sustainable partnerships between Government, WHO, professional bodies, civil society and international funding partners. The success of this strategy is therefore highly dependent on an enhanced level of coordination and a greater synergy between our member agencies and strategic partners.
While this cannot be taken as given, IAPB Africa is confident that sufficient commitment and mutual understanding exists in Africa to make this happen.
Image on top: Screening for diabetic eye disease at an outreach clinic in Naguru District of Kampala, Uganda/ Terry Copper