Prioritising vision and eye health and rights of persons with vision impairment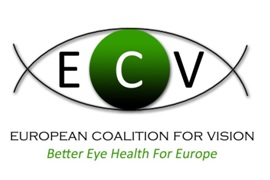 There are about 25 million with visual impairment (2,736,000 blind + 22,176,000 Low Vision) in all of Europe (1). Many more people (estimated number more than 70 million) have eye diseases that are in the early stages – which if left untreated will cause disabling impairment.
Approximately two-thirds of cases could be treated or prevented in the first place. Further, the rapid rise of diabetes and an aging population in Europe will put more people at risk of avoidable blindness. Inadequate and inequitable services mean 8.5m people in Western Europe live with a disabling vision problem.
People living with sight loss have the same rights as those without a disability but often these rights are not fulfilled as they can face financial, physical sensory and attitudinal barriers to accessing health services, education, social support and employment.
The European Coalition for Vision (ECV) was launched in February 2014. It is a diverse group which includes eye health and vision, ageing, and diabetes focused NGOs, disabled people's organisations, associations of health technology providers, and research bodies.
The ECV has come together to call on the European Union institutions to use their power and influence to support our work in addressing these challenges. We urge  MEPs and MEP candidates to show their support to the following manifesto you can sign on here and view the list of supporters on http://www.ecvision.eu/manifesto/.