Situation in Brief
Australia ensures universal access to health though Medicare (a public insurance scheme), subsidies through the pharmaceutical benefits scheme and incentives for those on higher incomes to take out private cover.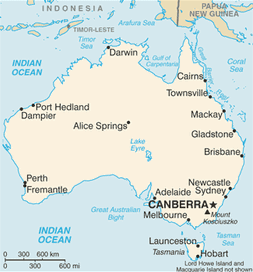 In 2013, trials of a new national insurance scheme for people with a disability commenced, which will increase the access and availability of rehabilitation services and supports for people with unavoidable blindness and low vision. Australia has a well-trained workforce for eye health with optometry, ophthalmology and allied cadres at sufficient levels. About 1 in 30 Australian hospitalisations are eye related.
Blinding trachoma remains a concern for Aboriginal and Torres Strait Islander people in remote areas and blindness (mainly from cataract) rates among Aboriginal and Torres Strait Islander people are six times those of other Australians. Programs targeting populations with higher needs, such as rural and remote, Aboriginal and Torres Strait Islander people, people with disabilities and older Australians are often funded by government and delivered by NGOs and professional groups. Programs to manage diabetes and end trachoma are also being developed and funded. Awareness and referral pathways need to be strengthened to ensure eye health checks for those at risk in all population groups.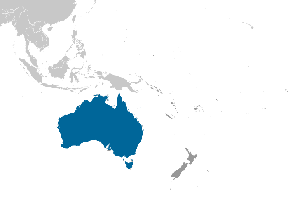 Findings from the first national survey to determine the prevalence and major causes of vision impairment and blindness in Australia were released in 2016. Australia adopted a national policy framework for blindness prevention (in response to World Health Assembly resolutions) in 2004. An implementation plan was developed following consultation in 2014.
An active NGO sector assists people whose vision cannot be restored and prevents vision loss domestically and overseas. Australia has supported several resolutions on eye health at the World Health Assembly.
Country Statistics
| Indicator | Value |
| --- | --- |
| Population: | 23,050,000 |
| Human development index value: | 0.933 |
| National Prevention of Blindness Committee active: | Yes |
| National Eye Health Plan Developed: | Yes (Implementation plan in development) |
| Cataract surgical rate: | 8,000 |
| Number of ophthalmologists: | 895 |
| Blindness prevalence: | 1.2% of those over 55 (2005 estimate) |
| Main causes of blindness: | Macular degeneration, cataract, glaucoma, diabetic retinopathy, refractive error |
| Total expenditure on health as percentage of total government expenditure: | 17.2 |
| Diabetes prevalence: | 10% |
| Improved drinking water coverage: | 100 |
| Improved sanitation coverage: | 100 |
| Endemic areas for trachoma: | Yes (in remote areas, among Aboriginal and Torres Strait Islands populations) |