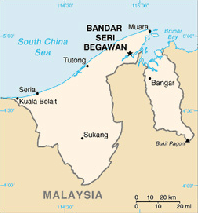 Resource-rich, Brunei has a well-to-do economy that can provide medical services and free education through to university level. Brunei has a well-functioning eye care program provided primarily through the Eye Department of the Rajah Isteri Pengiran Anak Saleha (RIPAS) Hospital in the capital. They have well-equipped eye care facilities at national and state level with comprehensive eye care services provided to all four administrative areas (states), and supplemented with flying eye care teams to remote areas.
Brunei has made progress in implementing VISION 2020 priorities and there is virtually no cataract backlog. Current challenges for the program now include diabetic retinopathy, glaucoma and age-related macular degeneration, as well as vision loss in children and services for low vision.

A VISION 2020 National Eye Health Committee was first established following advocacy by IAPB in 2007, with eye doctors and staff at RIPAS Hospital. The first National Eye Health plan was also formulated that year. In 2011, a total of 700 cataract surgeries were conducted (giving a CSR of 1,750). While there is currently no committee, the eye health program is managed through the office of the Director General for Medical Services in the Ministry of Health. IAPB visited Brunei in December 2012.
Country Statistics
| Indicator | Value |
| --- | --- |
| Population: | 412,000 |
| Human development index value: | 0.852 |
| National Prevention of Blindness Committee active: | No |
| National Eye Health Plan Developed: | No |
| Cataract surgical rate: | 1,750 |
| Number of ophthalmologists: | 16 |
| Blindness prevalence: | less than 2% (estimated) |
| Main causes of blindness: | Diabetic retinopathy (estimate 50%), glaucoma, macular degeneration |
| Total expenditure on health as percentage of total government expenditure: | 6.2 |
| Diabetes prevalence: | 8% |
| Improved drinking water coverage: | N/A |
| Improved sanitation coverage: | N/A |
| Endemic areas for trachoma: | No |