Situation in Brief
The Federated States of Micronesia (FSM) is a constitutional federation of four politically independent states. The country has a small population spread over more than 600 islands and atolls in the northern Pacific. Non-communicable diseases, including diabetes, have been on the rise for more than 24 years. According to a 2011 profile published by WHO, FSM enjoys a high level of health care in comparison to the rest of the Pacific. A medical doctor, Dr Padwick Gallen, is undergoing ophthalmology training with the Pacific Eye Institute in Fiji and returned to practice in 2016.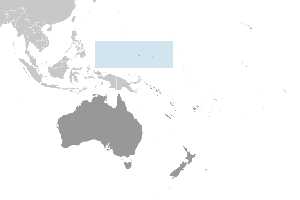 Nurses will be identified for ophthalmic training too. Teams from the US, Japan, Israel and Australia (mostly coordinated and approved by the Foreign Ministry) visit to reduce cataract backlogs. Patients with complications from glaucoma and diabetes are referred to Hawaii or the Philippines, and must pay for their own travel and procedures. Government health insurance is limited and does not cover illnesses from diabetes. IAPB has visited Pohnpei and Chuuk and is working with the health department to coordinate targeted visits based on need.
The Health Department coordinates visiting teams and for the first time in 2013, contracted visiting teams to provide specialist services in cardiology, ear, nose, throat, ophthalmology, optometry, urology, gynecology, orthopedics and dentistry. In December 2013 a team visited from the Philippines and in March 2014 a team came from the Pacific Eye Institute, with assistance from IAPB. The Cataract Surgical Rate cannot be estimated since visits by external mission teams are sporadic and outputs are not systematically recorded. IAPB provided assistance in the purchase and installation of ophthalmic equipment and instruments for the Pohnpei State Hospital. The Department of Health is looking to extend eye care services to the outer islands of each state that are largely unreached by basic medical services.
Country Statistics
| Indicator | Value |
| --- | --- |
| Population: | 103,000 |
| Human development index value: | 0.630 |
| National Prevention of Blindness Committee active: | No |
| National Eye Health Plan Developed: | Drafted |
| Cataract surgical rate: | N/A |
| Number of ophthalmologists: | 1 |
| Blindness prevalence: | 0.5% |
| Main causes of blindness: | Diabetic retinopathy, cataract |
| Total expenditure on health as percentage of total government expenditure: | 19.1 |
| Diabetes prevalence: | 29.8% |
| Improved drinking water coverage: | 89 |
| Improved sanitation coverage: | 57 |
| Endemic areas for trachoma: | Unknown |