Historically eye care has been seen as separate from the rest of health system but there is now widespread recognition that those planning and delivering eye care need to engage with the wider health system in order to develop effective and sustainable eye care interventions.
The new
WHO Global Action Plan
for the Prevention of Avoidable Blindness and Visual Impairment 2014-2019, states its purpose as:
to achieve Universal Eye Health by improving access to comprehensive eye care services that are integrated into health systems.
Today health systems have become part of the everyday language when talking about any aspect of health care provision including eye care but what is a health system and what does it mean for those of us working in eye care?
WHO in 2000 defined a health system as all the activities whose primary purpose is to promote, restore and/or maintain health.
Taking the definition a step further WHO has broken down the health system into six building blocks, all of which need to be in place and functioning efficiently for the health system to be effective. These blocks are shown below:
Building Blocks of a Health System (WHO, 2007)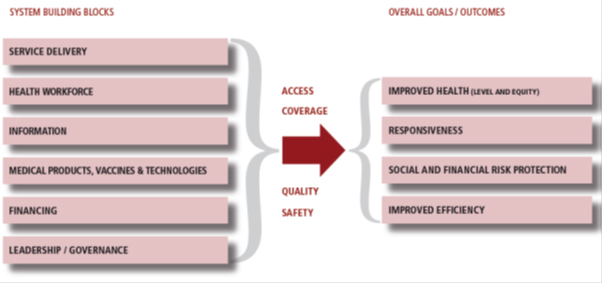 A good health system delivers quality services to all people, when and where they need them. The exact configuration of services varies from country to country, but in all cases requires a robust financing mechanism; a well-trained and adequately paid workforce; reliable information on which to base decisions and policies; well maintained facilities and logistics to deliver quality medicines and technologies.
WHO: Health Systems
.
For policy makers and planners of eye health programmes the first step is to understand how eye care fits into the national health system, this information will then provide the basis of future planning for national eye care plans. ICEH has developed an
EHSA tool
which does exactly this – it is a guide which allows those involved in eye care to assess the strengths and weaknesses of the eye health system. The results of the assessment can then be used for planning and advocacy. It will be these plans that take account of each of the components of the health system that will be well positioned to develop and implement strong eye care programmes and work towards achieving Universal Eye Health.
References:
Blanchet, K. and R. Lindfield (2010). Health systems and eye care: a way forward. IAPB Briefing Paper. London, International Agency for the Prevention of Blindness
The World Health Report 2000: health systems: improving performance. Geneva, World Health Organization, 2000.
World Health Organization (2007). Everybody's business: health systems strengthening to improve health outcomes. WHO's framework for action. Geneva, World Health Organization.
Blanchet K, Gilbert C, de Savigny D. Rethinking eye health systems to achieve universal coverage: the role of research. Br J Ophthalmol. 2014 Oct;98(10):1325-8.
Resources: