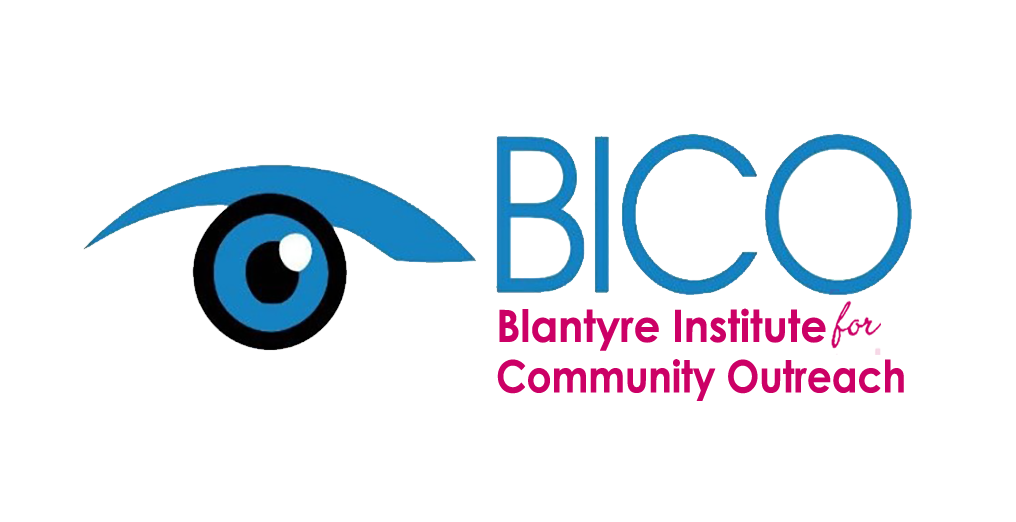 Blantyre Institute for Community Outreach (BICO) is a local Malawian NGO that exists to champion community eye health program and research in Malawi and the region (Southern Africa) in order to achieve extraordinary improvements in eye care service delivery, for the prevention and control of avoidable blindness in Malawi and the region.
BICOs Vision is to provide: 'Quality and affordable eye care services for everyone'
BICOs mission is to improve the quality of lives of people through facilitation and or the provision of quality and affordable eye care services, eye care operational research, capacity building in community eye health, advocacy and partnership.
BICO has reached 10 years of supporting eye care in Malawi, with the climax being financial and program support  for Trachoma surveys from the Queen Elizabeth Diamond Jubilee Trust (UK) to the Malawi ministry of Health channeled through BICO, and used for  completing the Trachoma surveys and implementation work  between 2008 and 2018.
BICO is a member of the International Coalition for Trachoma Control (ICTC).
BICO is involved in  all areas of community eye service  delivery and research projects , the main ones being Childhood blindness, Low Vision and refractive errors, Trachoma and Cataract programs.
BICO is proud to be a member of IAPB.
Main Contact person: Dr Khumbo Kalua, Director BICO
Email: director@bicomalawi.org
Communications: Rose Wilson, BICO Projects assistant
Email: rosewilson@bicomalawi.org
Physical adress:
No 37 Chinyonga Road,
Blantyre Institute for Community Outreach – BICO,
Lions Sight First Eye Hospital,
O. Box E180,
Post Dot Net.
Blantyre, Malawi.
Tel: +265 1 875 377/   +265 999 958 176
Email: director@bicomalawi.org / khumbokalua@yahoo.com
Website: www.bicomalawi.org
 Registered charity (CONGOMA) No: C627/2013
Certificate of Incorporation -Company Registration (2008) :9008