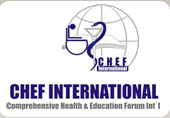 Comprehensive Health and Education Forum (CHEF) International is registered in Pakistan under the society registration Act 1860 and also registered with Pakistan Center of Philanthropy. The organisation was founded in 2007, with inspiration to provide quality inclusive health care services and educational opportunities to the underprivileged population especially people with disabilities.
As a member of the disability movement in Pakistan, CHEF International therefore, has established Pakistan Institute of Rehabilitation Sciences (PIRS) to bridge the gap of Allied human resources in the field of cross disability including Eye health. Besides this, CHEF International has also established inclusive health centers to address the medical and rehabilitation challenges especially for persons with disabilities. These units/centers include Hearing Care Units, District Community Vision Centers, Tehsil eye care centers, District Medical & Rehabilitation Center (House of blessing) and Physical rehabilitation workshops and Physiotherapy Units across Pakistan.
CHEF International started its eye care services in 2007. In the initial phase, the organisation was engaged with Pilot National Trachoma Control Programme. In the programme, the tools related to SAFE strategy were developed and tested in the selected priority districts of each province of Pakistan. Besides this, the similar programme was also initiated in Afghanistan.
Besides this, the organisation has established tehsil eye care centers in selected districts of Punjab, KPK and Northern Areas provinces through support of international partners. The projects are focused on screening, detection, diagnosis, and referral eye patients.
CHEF International has also piloted community vision centers for provision of primary level eye care services to locals in target areas. The programme was duly evaluated by an external evaluator. The National committee on eye health has also recognized the need of such services and integrated a similar programme in National Eye Health plan.
CHEF international has also implemented School Eye health programme in collaboration of Education Department KPK. In the programme, almost 0.23 million children have been screened of age 5 to 12 for refractive error and other causes of blindness. Almost 1500 school teachers has been trained to screen and identify children for eye care services.
CHEF International team is very thankful to all its donors and partners especially Government of Pakistan, Provincial departments, CBM, LIGHT FOR THE WORLD, SEVA and local partners for supporting the organisation activities.
Chairman of the Organization: Prof. Dr. Muhammad Daud Khan
Chief Executive officer: Muhammad Sohail Ayaz Khan
Contact Details:
C.H.E.F.
Office # 9, Ground Floor, Khudadad Heights, E 11, Main Margalla Road Islamabad, (b) HOB (Hospital)- Shaikh Kaly Peshwar Charssad Road.  (c) PIRS – Al – Nafeess Medical Hospital, Farash Town,  Islamabad
Tel: +92 51 8351852
Fax: +92 51 8313215
Email: info@chef.org.pk
Website: www.chef.org.pk; http://www.pirs.org.pk/ ; http://hob.chef.org.pk/