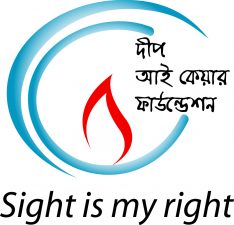 Mission: To be a center of excellence in eye care through which people of all classes will be ensured of optimum level of eye care facilities.
Deep Eye Care Foundation (DECF) commenced its strenuous journey on 9th October, 2008 at Akkelpur, Darshona, Rangpur, Bangladesh, as a non profitable, non-governmental, community based organization. Since its inception, it has always been a matter of special emphasis to us to reach the unreached people where the impact of needless avoidable blindness is most damaging. DECF also express its true commitment towards the 'VISION 2020'. It has been providing services for Cataract, Refraction, Paediatric Ophthalmology, Orbit & Oculoplasty, Vitreo Retina, Glaucoma, Low vision, Biomedical & Training facilities for Human Resource development.
Objectives:
1.     Ensure qualitative and quantitative eye care services for all.
2.     Work with community people's participation.
3.     Human resource development in eye care sector.
4.     Research to intervene both the prevalence and incidence of eye diseases.