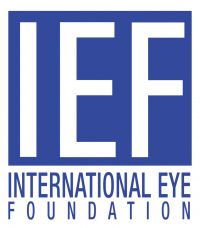 IEF's mission is to eliminate preventable and treatable blindness by increasing affordability and access to quality, comprehensive and sustainable eye care services worldwide. We change how eye care is delivered by changing clinical and management systems at eye hospitals and clinics by transforming existing resources toward quality care through greater efficiency, productivity, and sustainability leading to greater numbers of patients receiving sight-saving treatment and surgery.
Founded in 1961 by corneal transplant pioneer John Harry King Jr., MD and Thomas A. Dooley, MD as the International Eye Bank, an arm of CARE/Medico, IEF changed its focus from corneal transplantation to prevention of blinding diseases in 1965 and changed its name to the International Eye Foundation to focus on developing and delivering eye care to underserved communities throughout the developing world.  Programs focused on building national eye care services, and the public health causes of blindness such as vitamin A deficiency, trachoma, and onchocerciasis.  In 1985, IEF was the first eye care NGO to be accepted into "official relations" with the WHO.
In 1999, programming was reoriented toward sustainability of eye hospitals in under-developed countries.  SightReach® Management, IEF's flagship program, invests in and provides technical assistance to private, charity, and government eye hospitals to transform how they deliver eye care. The goal is to achieve a level of financial self-sufficiency and reduce dependence on donations, yet still serve the poorest individuals in need of care.  IEF's approach focuses on building management capacity, financial resources, cost reduction, and creative pricing structures enabling revenue to cross-subsidize services for the poor.  A key component is monitoring data and quality of care.  Since 2014, IEF has worked closely with PAHO to address capacity issues at government eye units in 5 countries in Latin America.  IEF is a thought leader in sustainability programming, was the first organization to adapt the successful Indian models outside the Indian sub-continent, and has assisted 55 eye hospitals and clinics in 22 countries since 1999.
IEF continues to support onchocerciasis control having pioneered community-based Mectizan® distribution programs in Nigeria (with Africare) and Guatemala in 1990, and in Cameroon and Malawi in 1992.  IEF continues to distribute Mectizan® and, in collaboration with HKI, addresses NTDs in two provinces in Cameroon.  As the Technical Advisor to the US Agency for International Development's (USAID) Child Blindness Program (CBP), IEF is a key partner in the distribution of grants to pediatric eye care programs around the world.
Contact Details:
IEF Headquarters
10801 Connecticut Avenue
Kensington, MD 20895
Tel: +1240-290-0263
Fax: +1240-290-0269
Email: contact@iefusa.org