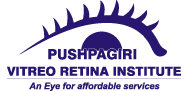 Pushpagiri Vitreo Retina Institute(PVRI) is a not-for-profit super specialty eye hospital which aims to deliver quality eye care to the society. The group comprises of three centers located at Secunderabad, Vizianagaram and Hyderabad. Standing by our motto "An Eye For Affordable Service", we at PVRI focus on providing the finest in eye care to the common man at an affordable price.
PVRI, under the leadership of Dr.K.Viswanath, specializes in the realm of Medical and Surgical Retinal Services with special onus on Diabetic Retinopathy. Modern Cataract Surgery, Corneal Transplantation, Glaucoma Services ,treatment of crossed eyes (squint), Pediatric Ophthalmology and Retinopathy of Prematurity are the other major specialties we deal with. PVRI also serves as a pre-eminent provider of routine eye care, optical, cosmetic, and eye trauma services. PVRI is recognized as a leader in research and in the training of medical students, fellows, and ophthalmic technicians.
We are well-equipped with cutting edge technology such as the SD OCT and Fundus Flourescein Angiography to help us in our clinical management. We also posses 5 operating theatres with state-of-the-art equipment. Our services include a formidable combination of an expert medical team, modern technology and an efficient health management system.
PVRI strongly advocates the practice of pledging and donating eyes to its patrons and the people of this society and we have been involved in multiple activities promoting the same including the yearly eye donation fortnight. Our institute is empanelled with health schemes at state and central levels such as the Rajiv Arogyasri Health Trust, Central Government Health Scheme(CGHS) and Employees Health Scheme(EHS), ESI and most of the private insurers.
PVRI is a centre for higher education in Ophthalmology and provides multiple courses ranging from post graduate education to paramedical training. We strongly believe in the positive role of research in today's medicine and have been involved in multiple research projects in collaboration with institutes like National Institute of Nutrition (NIN), Indian Institute of Public Health and London School of Hygiene and Tropical Medicine. We also reach the underserved populations with geographic and economic barriers by means of our community out-reach programs for general public, school children, diabetics and disadvantaged section of population.
Vision
Pushpagiri Eye Institute is committed to emerge as a pioneer in service excellence by fulfilling the Eye Care needs of the community with provision of quality Eye Care through quality management system.
Mission
To provide affordable High Quality Eye Care to All WITH A NOT-FOR-PROFIT FOCUS.
In next 5 years PVRI targets:
| | |
| --- | --- |
| Screen | 1,000,000 people |
| Perform | 100,000 surgeries |
| Screen | 1,000,000 school children |