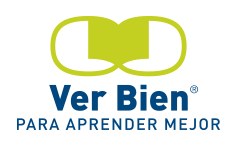 In 1977, a study was carried out by the Ministry of Public Education, which showed that approximately 12.7% of school enrollment in public primary and secondary schools had visual acuity problems.
The Programme Ver Bien para Aprender Mejor arises from the Secretariat's interest in dealing with the problem, so it met with a group of entrepreneurs and together they decided to face the problem, which affects the learning and the school dropout of the students. Ver Bien Para Aprender Mejor aims to cater to Mexican children presenting visual acuity deficiencies, such as nearsightedness, farsightedness, amblyopia and astigmatism. These problems can be corrected with a pair of glasses.
Our mission is to provide optometric care and endow high quality eyeglasses to all children of elementary public schools in Mexico who have visual acuity problems (myopia, farsightedness and astigmatism), to promote equal opportunities in the Mexican population, contributing to reduce under achievement, high failure and the number of school drop-outs. Our goal is to help reduce the school dropout rate by addressing problems of visual acuity, one of its three main causes.
Our Vision is to be the permanent, vanguard visual health programme that is most effectively focused on the vision problems of Mexican schoolchildren. For 2018, to have performed optometric exams on all the children attending public elementary schools in the country and to have provided eyeglasses to all that need them.
We have worked with a methodology, which has been refined year after year, seeking to provide the best service; entrusting the visual health of our children and young people only to qualified optometrists and donating them the highest quality lenses and frames.
We keep on searching for new alternatives and initiatives with the sole objective of offering the best and latest in the field of refractive errors. 
More than 50 million kids have been screened, more than 13 million kids received optometric exams and more than 5.3 million children have received a pair of eyeglasses in 20 years.
We are an implementing partner of Our Children´s Vision, a campaign that has as its purpose to upscale, accelerate and expand access to eye health services to more children in more locations trough and we are IAPB member since 2013.
 Contact Details:
Insurgentes Sur #2387, Piso 5
Col. San Angel, C.P.01000
Del. Álvaro Obregón
Mexico
Email: conypalos@verbien.org.mx
www.verbien.org.mx