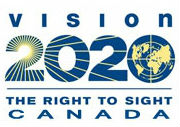 Part of a global coalition that seeks to eliminate avoidable blindness and vision loss by the year 2020.

VISION 2020 Canada is a network of organisations focused on fostering greater collaboration and education among organizations and governments in Canada and around the world on key issues related to vision loss.
VISION 2020 Canada's goal is to create a vision health strategy that includes:
Prevention and early intervention
Access to rehabilitation services
Vision health research that contributes to a better understanding of the causes of blindness and vision loss, and potential treatment
Public education and awareness
We initiate and facilitate opportunities for member collaboration, undertake awareness raising activities and lead advocacy efforts on behalf our members and associates.
Visit VISION 2020 Canada website: www.VISION2020Canada.ca