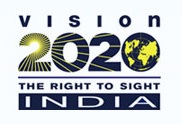 VISION 2020: The Right to Sight – India is a national forum for eliminating avoidable blindness by year 2020. It is a key driver of the World Health Organisation (WHO) and International Agency for the Prevention of Blindness (IAPB) joint global initiative for eliminating avoidable blindness.
It is a collaborative effort of INGOs, NGOs, eye care organisations in India and the Government to coordinate and advocate for improved eye care programs; gaining and sharing knowledge and think solutions together to achieve quality, comprehensive and equitable eye care.
VISION 2020: The Right to Sight – India's programs and actions plans are aligned with government's programme of National Programme for Control of Blindness. Our programmes are focused on developing all the departments in our member organisations' eye hospitals.
We enjoy a large member base of eye care organisations across the country.
Our key strengths are our leadership, passion, knowledge, skills, experience and commitment brought together by like-minded member organizations to fulfill our vision and mission.
80% of blindness in India is because of cataract and uncorrected refractive errors. History has provided us (VISION 2020 INDIA Forum) with a unique privilege and opportunity to work as a team in mission mode with a laser sharp focus – to eliminate avoidable blindness to a level that it ceases to be a public health problem for our citizens residing in our 626 districts in India.
We are doing this by focusing on six key strategic areas to produce an impact, i.e.,
Advocacy for Eye Health
Policy & Program Development
Quality in Eye Care
Resource Mobilization & Sustainability
Resource Center
Organizational Development
Website
http://www.vision2020india.org/index.php