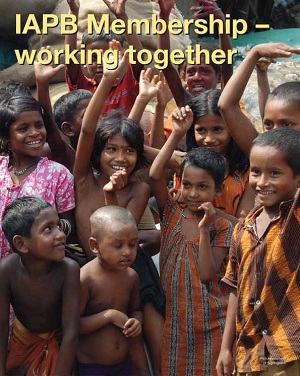 To ensure we have the necessary impact and influence on eye health policies and practice worldwide we must all work together. There is no better way of fostering cooperation than by becoming a member of IAPB.
IAPB members receive a wide range of benefits, and in particular you can expect to –
Advocacy and Representation
Drive the global eye health agenda through participation and voting at the IAPB Council of Members and Annual General Meeting.
Gain access to global fora and institutions such as the World Health Assembly, UN Economic and Social Council, World Bank, G20 as well as other global and regional key stakeholders in eye health.
Build capacity and drive collaboration on specific themes at global level through issue-oriented, member-driven work groups.
Broaden your partnership potential through IAPB's cross-sector collaborations.
Networking, Learning and Collaboration
Benefit from unique opportunities to network with peers from organisations and institutions worldwide at IAPB global and regional meetings, workshops and seminars.
Access a central hub of key documents and information, including global data, IAPB briefing papers, manuals, tool kits and reports on a wide range of emerging issues in eye health.
Learn, collaborate and help set global and regional priorities at VISION 2020 and global strategic workshops.
Access expert advice from IAPB staff and approved consultants including governance, strategic planning, partnerships, income generation and project management.
Keep on top of developments and news via regular IAPB and VISION 2020 newsletters.
Visibility, Recognition and Global Profile
Leverage the global recognition of the IAPB and VISION 2020 logos.
Feature stories, achievements and news in IAPB regular newsletters and website.
Increase visibility of your brand and channel traffic to your website through the IAPB membership directory online.
Resources
Access specially negotiated prices and procurement support on the new online IAPB Standard List.
Benefit from preferential rates at IAPB General Assemblies.
Promote job opportunities and disseminate requests through the IAPB online noticeboard.