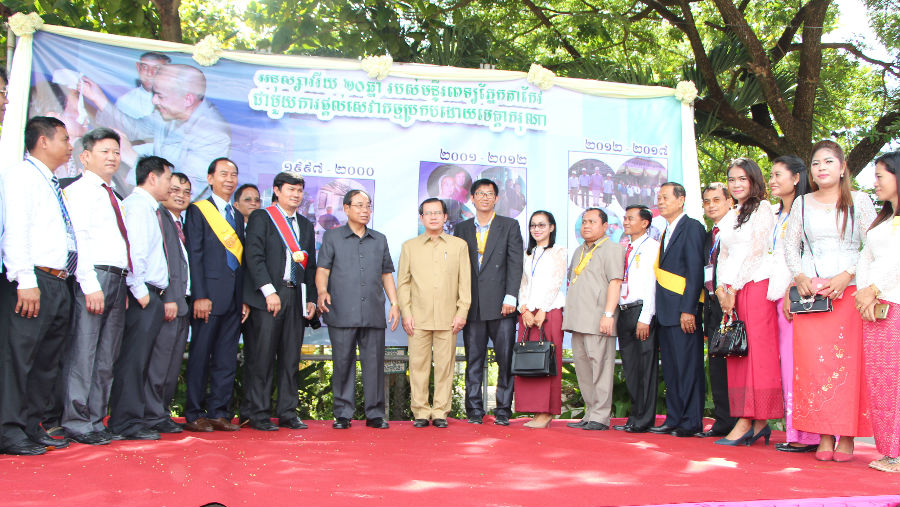 To fulfil the mission of poverty reduction through reducing avoidable visual impairment and facilitating rehabilitation for people with unavoidable visual impairment in Cambodia. Caritas Takeo Eye Hospital (CTEH), has been working for 20 years to improve community awareness of eye health issues and to advocate to policy makers for implementation of the national strategic plan for prevention of visual impairment. CTEH is an IAPB member and operates from an environmentally sustainable facility. On World Sight Day 2017, CTEH launched the official 20th Anniversary. Nearly 2,000 people participated in this event.
The celebration was presided over by H.E Bin Chhin, the Deputy Prime Minister and Acting Minister in Charge of Office of Council of Ministers accompanied by H.E Sok Pheng, the Secretary of State of the Ministry of Health (MoH), H.E Lay Vannak, the Takeo Governor and other all government departments plus development partners and private sectors. H.E Lay Vannak gave a brief development report regarding the involvement of Takeo government in the eye health programme.
Te Serey Bonn, the programme director of CTEH, gave a summary report on the achievements of the last 20 years , Dr. Mörchen Manfred CBM, who was formerly based at Takeo, highlighted the dedicated service of the local ophthalmologists, eye nurses and management. H.E Sok Pheng, illustrated that the MoH has been supported eye health to reduce the prevalence of blindness in Cambodia and the last speech of H.E Bin Chhin, warmly praised the cooperation of the Cambodian government with the eye health providers and committed to reduce avoidable blindness in Cambodia.
During the World Sight Day and consecutive days, free services were offered. All together, 852 patients (61 Children and 791 adults) received eye consultations and 268 patients were operated, including 193 cataract surgeries.
Congratulations Takeo!
http://www.caritascambodia.org/teh/
By Te Serey Bonn, the programme director of Caritas Takeo Eye Hospital with Drew Keys