Raising funds to support ophthalmic nurse training is never easy, but perhaps, one step at a time – we can do something about it.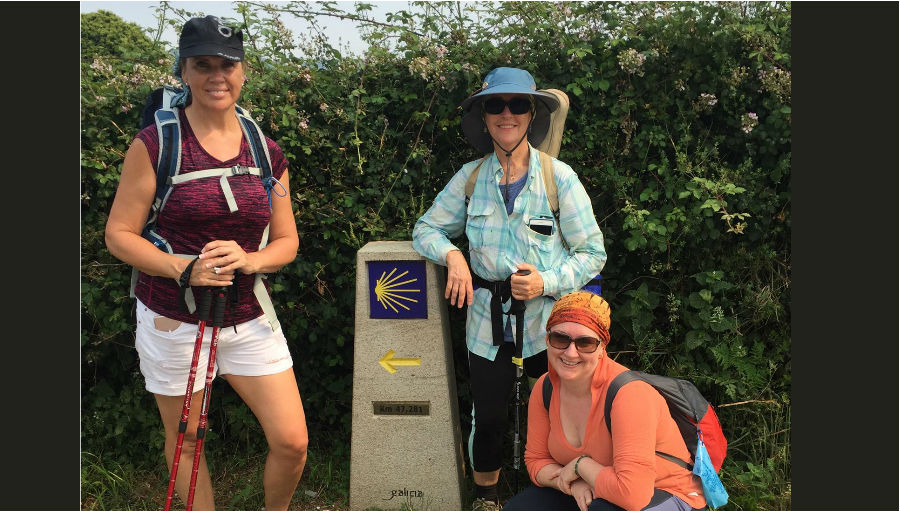 In June, alongside nursing colleagues Sandy Burnett, USA (ORBIS volunteer and FHFNZ) and Lisa Buckland, AU (Eye Bank of Western Australia) we did exactly that, one-step at a time, joining thousands of pilgrims on the Spanish Camino Way – a world heritage walk in the north of the country.
Some people walk for religious and spiritual reasons, others for nature and fresh air. We did it, perhaps for a little of everything, but mostly to help raise funds for the Community Eye Health Journal (CEHJ); to translate their second edition 'Operating Theatre text for nurses and technicians' to other languages. This is a free online resource.
The Operating Theatre is a unique area – requiring highly skilled and trained professionals. Sadly, there were very few resources available for those in lower-resources settings,  especially written sources to meet their unique needs. This text helps bridge that gap. It was developed by an army of global operating theatre and clinical management experts who worked together to develop an edition that reflects today's modern collaborative approach to practice. It emphasises responsible practice, unity and equitable input. While also aiming to truly reflect team integration, empowerment and progression, and the degree of success needed in health systems of today.
It also leads directly into the International Council of Nurses and the WHO Global Strategy on Human Resources for Health: Workforce 2030, to primarily strengthen human resources for health (HRH) capabilities – which remain a fundamental aspect of the Sustainable Development Goals and those of the International Agency for the Prevention of Blindness.
Through a personal campaign to family, friends, and colleagues we raised just under AU$5000.00!
This donation has gone a long way, and the CEHJ, with the Rosetta Foundation-Dublin and volunteer language specialists, are already working on Chinese, Vietnamese and Portuguese versions.
My thanks and praise goes to those in our community who were able to donate, spread the message, assist with the text development and who continue to support the needs of ophthalmic nurses. My walk, was perhaps symbolic of the collective walk we are all taking on our quest to support eye care and our communities.
Gracias & Buen Camino!
Heather
Heather Machin RN MBA
President: Australian Ophthalmic Nurses Association – VIC (and National Secretary) / Project Officer: Lions Eye Donation Service, Centre for Eye Research Australia / Developer: Global Alliance of Eye Bank Associations / Nurse Consultant: Fred Hollows Foundation NZ
About:
Photo: left to right: Lisa Buckland, Sandy Burnett & Heather Machin (front).