与上海市眼病防治中心的一段公园漫步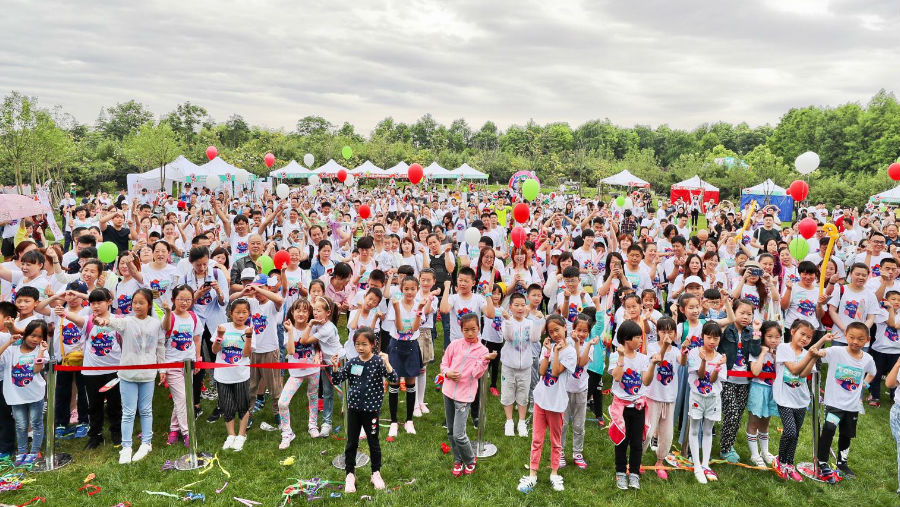 IAPB is delighted that the Shanghai Eye Disease Prevention and Treatment Centre (SEDPTC), our strong partner in China, invited us to attend "Get Sunny for Sight". Held last Sunday, it was the perfect introduction to a week of awareness raising. In line with the theme of June 6 – Correct Myopia Scientifically, Care for Children's Eye Health – SEDPTC invited over 1000 children and their families to participate in a series of outdoor activities at the Gulf National Forest Park on the outskirts of Shanghai. The event was attended by a host of local dignitaries as well as representatives from IAPB members Brien Holden Vision Institute and Orbis. Guests included Associate Director Zhao Dandan from Shanghai Municipal Commission of Health and Family Planning, Associate Director Ni Minjing from Shanghai Municipal Education Commission and Deputy District Head Hua Yuan from Fengxin Government.
IAPB很高兴收到来自我们在中国的强大合作伙伴——上海市眼病防治中心(SEDPTC)的邀请,参加了于上周日举行的"目"浴阳光系列青少年健康促进活动。该活动为接下来这一周的主题开启了完美的第一篇章。为响应今年6月6日中国爱眼日的主题——"科学防控近视,关爱孩子眼健康",SEDPTC组织了超过1000名儿童及其家人到上海郊区的奉贤海湾国家森林公园参加了一系列户外活动。当地政府要员以及来自IAPB,Brien Holden Vision Institute和Orbis的成员代表出席了此次活动。当日嘉宾包括上海市卫生计生委副主任赵丹丹,上海市教委副主任倪闽景和奉贤区区长华源。
Those of you unfamiliar with the increasing public health issue of myopia may be asking yourselves why is it so important for SEDPTC to promote outdoor activity?
对近视导致的公共健康问题不太熟悉的人可能会问:"为什么SEDPTC要如此积极地推广户外活动?"
Well, according to SEDPTC monitoring data, the rate of poor sight in Shanghai primary and secondary students in the 2016-2017 school year was 57.7%. To break it down further, that's 47.2%  of students in primary school, 75.8% in junior high school and 89.3% in senior high school. This reflects statistics across the region, which show among the economically developed cities in East Asia, myopic students account for 80% to 90% of high school graduates.
根据SEDPTC的监测数据,2016-2017学年上海中小学生视力不良率为57.7%。其中,小学生为47.2%,初中生为75.8%,高中生则达到89.3%。这些数据反映了该地区的整体情况,同时也表明在东亚地区经济发达的城市中,有80%至90%的高中毕业生都患有近视。
Professors Haidong Zhou and Jiangfeng Zhu, from SEDPTC, explain that myopia is due to genetic and environmental factors. Scientific evidence shows that too little outdoor activity and too much near work are the most important environmental factors that lead to myopia in children. Daily outdoor activities for 2 hours or more, enjoyed in natural lighting, can effectively reduce the risk of myopia. Professor Xu Xun, Vice President of Chinese Ophthalmological Society & Head of Myopia Intervention Project addressed the gathered crowd, telling parents and children that they should rest the eyes for 10 minutes after reading, after learning for 30-40 minutes, and limit the use of electronic products as much as possible.
来自SEDPTC的邹海东教授和朱剑锋教授解释说,近视是由于遗传和环境因素造成的。科学证据表明,缺乏户外活动和过多的近距离用眼是导致儿童近视的最重要的环境因素。每天在自然光照环境下进行2小时以上的户外活动可有效降低近视风险。中华医学会眼科分会副主任委员兼青少年近视干预项目负责人许迅教授在致辞中指出,家长和孩子们需要注意,每阅读、学习30-40分钟后就应该休息10分钟,并尽量减少使用电子产品的时间。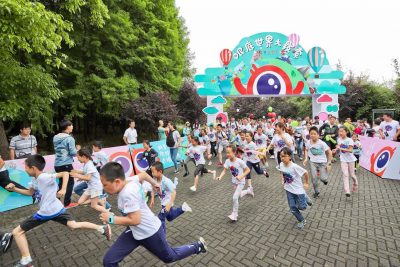 All very good reasons why it was so important to have 1000 kids outside, enjoying the park as they rambled around the gardens to see who would be first to complete the treasure hunt (each clue included a fundus-fun fact and all who completed their puzzle received a medallion)
所有理由都充分地说明了为什么要鼓励和号召这1000多名孩子走到户外,让他们在森林公园里漫步的同时参与眼底世界大搜索游戏,看谁会最先完成这个寻宝游戏(每个寻宝线索都包含一个关于眼底的有趣知识,找到所有线索完成游戏的孩子将被授予奖章)。
For those who were feeling less active, but still wanted to enjoy the outdoors, SEDPTC set-up a garden-gallery of artwork. These paintings, the best entries from a children's art competition, highlight healthy activity as part of myopia control. Some have even been included in a mobile "classroom" – a converted shipping container replete with fundus images and graphics to educate children on healthy sight as well as the effects of various common eye diseases. This innovative unit – "Mobile Big Eye" – took centre-stage at the starting line for the treasure hunt – but from today heads off on a journey of its own around the schools of Shanghai.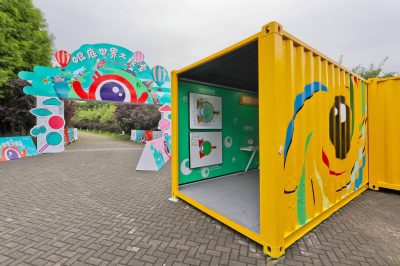 针对那些对运动缺乏兴趣但仍然喜欢户外的孩子,SEDPTC还设立了一个花园画廊。这些画作是儿童艺术大赛的最佳作品,以防控近视的健康活动为主题。有一些还被放在了一个移动的"教室"里——由一个内部贴满眼底照片和图像的集装箱改造而成,用于科普儿童健康视力以及各种常见眼部疾病的影响。这个被重点放置在在寻宝的起跑线上的创新科普单元—— "移动的大眼睛"——将从今天开始启程,前往上海各地的学校中进行巡回展览。
The day would not have been complete without the attendance of "Big Eye", the playful mascot for SEDPTC June 6 activities, who leads the children as they hunt through the forest for their clues. Big Eye is indicative of the fun that SEDPTC brings to June 6 – an understanding that with commitment and passion and fun they have the right tools to make an impact. Its working: in his speech, Associate Director Ni Minjing from Shanghai Municipal Education Commission stressed that eye health is a very important part of the comprehensive quality of the students. On this basis, the Shanghai Municipal Education Commission will strengthen communication with the relevant units of the health and family planning department and integrate scientific ideas and measures about healthy eye protection into school education.
SEDPTC 6月6日活动的卡通吉祥物"大眼仔"带领着孩子们在森林中寻找宝藏线索,为这个活动增加了更多的趣味性。"大眼仔"也象征着SEDPTC对爱眼日主题的诠释——通过对眼健康事业的热爱和全身心投入,再结合有趣的方法,就能对公众健康产生积极影响。确实如此,上海市教委倪闽景副主任在致辞中强调,眼健康是学生综合素质的重要组成部分。在此基础上,上海市教委将加强与卫生计生部门等有关单位的沟通,将科学的健康护眼观念和措施融入学校教育之中。
Well done SEDPTC, happy China National Sight Day to all our members, friends and colleagues in China and remember, in the words of Big Eye, "go sunny for sight!"
恭喜上海市眼病防治中心的这次活动取得了圆满成功,祝我们在中国的所有会员、伙伴和同事们爱眼日快乐,用"大眼仔"的话说:"让我们一起'目'浴阳光吧!"
Also read: