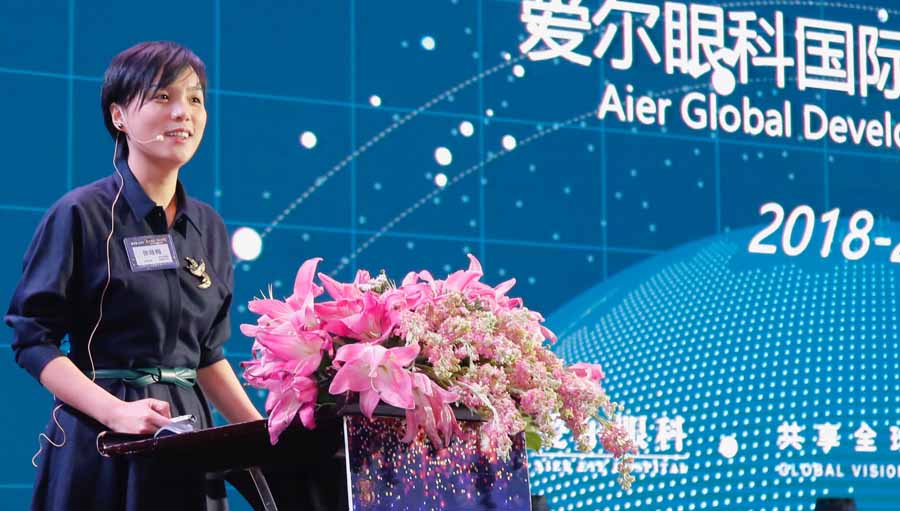 As AIER Group makes great strides in China we take the opportunity of International Women's Day to speak with Elaine Zhang, a key AIER executive, to get her perspective…

Elaine, tell us a little bit about AIER Group and its work; and about your role in the company?
AIER Group is a China-based professional ophthalmic medical chain institution. It has 300+ hospitals in China and branches in Hong Kong, Europe, United States and other countries. Our mission is to ensure everyone in the world gets access to eye health by providing eye disease diagnosis and treatment, surgical services and medical optometry. Mr. Chen Bang and Mr. Li Li are the founders of AIER Group and with their leadership AIER has made an unprecedented move to become a global eyecare giant.
In my role as the director of AIER's Global Strategy and Development Department, my responsibilities include global business network expansion, international collaborations and strategic project launching. I also take care of the hospital development in eastern China region and am in charge of Innovation and sourcing of New Technology in Ophthalmology.
I joined AIER in the middle of 2014, which was great timing, as AIER began to fast-track its business expansion.
Elaine, you come from a business background, tell us how your experience fits into the work you do in the eye health sector. Do you think having a business background helps you assess and achieve sustainability in projects?
My experiences are my precious assets. My prior experience in Pricewaterhouse Coopers (PwC) and IMS Health provided me with knowledge on the healthcare industry including regulations, provider business and especially from a strategy and deals point of view.
They also gave me an international perspective for the healthcare industry, which fits into what AIER needs: a professional investor, as well as an international project manager and communicator. During my four years with AIER, I have successfully led several global M&A deals. During my four-year with AIER, I have successfully led several global M&A deals, examples like the acquisition of Clinica Baviera SA of Spain, a 80 eye centre group for EUR152 million.
I am sure that together with the fast expansion of AIER Group globally, I can continue to make significant contributions.
Every country in the world has gender issues when it comes to accessing health – for example two thirds of the world's visually impaired are women. Is there anything specific to gender, positive or negative, you have noticed in the eye health sector in China? Is there an example from the AIER Group of a project addressing gender issues?
AIER is aware of the gender issues in access to care. Within the eye health sector, China has done quite well, as eye care screening technology and practice has been well developed in the country. AIER organises frequent visits to  villages and remote areas to help those people who cannot access eye care services. A relatively large portion of the patients are women as they are not in a position to pay for the services. For example, AIER worked with a regional Women's Federation to sponsor women who needed funding for eye surgeries. Such activities have covered quite a few provinces, and have helped hundreds of women. AIER is also proposing a programme on International Women's Day, to call on other institutions to help female patients away from vision impairment and therefore, have a better life.
What is your vision for the future and the impact your work with AIER can make in eye health?
AIER is building a strong health-provider network globally, and improving our presence in research, education and quality management of industry.
Since its founding, AIER has always committed to its mission of "Enabling everyone, whether rich or poor, has the right to eye health."
I know this may take time and also that tremendous work needs to be done to achieve the goal, but Rome was not built in a day.  We will continue our journey without any doubt.