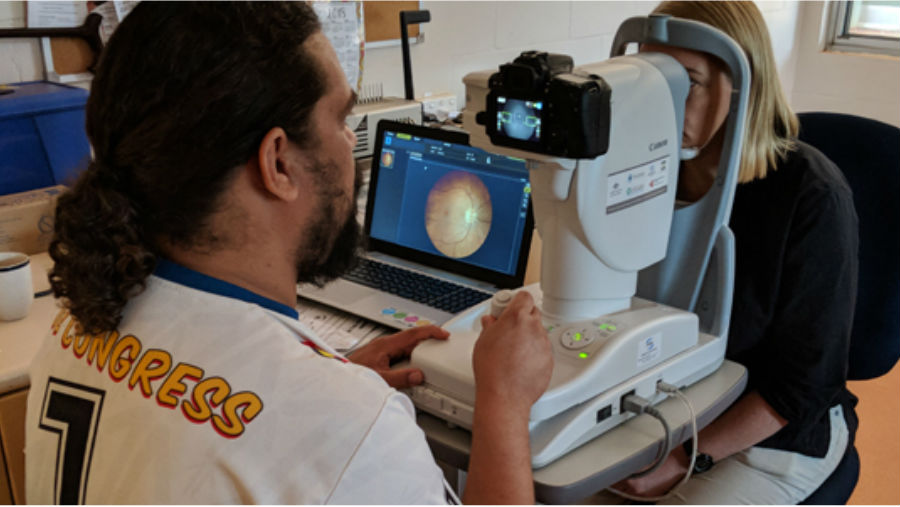 Press release: 1 August 2018, Sydney, Australia: The Australian Government has provided a further $2.5 million for retinal cameras and training. The national programme provides eye health testing equipment, and also training and support for the health services using the equipment.
The programme is co-led by Brien Holden Vision Institute and the Australian College of Optometry, working with the Aboriginal Health Council of South Australia, Centre for Eye Health, and Optometry Australia. It is currently rolling out retinal cameras, training and support for the health services in a total of 105 sites across Australia, and the programme's expansion will enable close to 150 cameras to be rolled out by June 2020.
This is wonderful news for Indigenous eye health as it means many more communities, across all states and territories in Australia will receive this helpful equipment, as well as training and mentoring for primary health care professionals who will be using the equipment, to support basic screening for diabetic retinopathy within primary care settings.
The project aims to increase rates of annual retinal checks for Aboriginal and Torres Strait Islander people with diabetes, via the MBS item 12325 Retinal photography with a non-mydriatic retinal camera.
The programme extension also will fund the design and delivery of a new educational course aimed at embedding the retinal cameras into existing health services. This will include workshops with General Practitioners, health service managers and other associated staff playing a role in integrating the new process into their practice.
Mitasha Yu, Regional Director for Asia Pacific, Brien Holden Vision Institute spoke on the benefits of the programme and the Government's continued commitment. "We are greatly pleased we have an extended opportunity to make further inroads towards addressing the inequalities in eye care that exist within Australia. At community level, our focus is firmly on ensuring the provision of cameras and our training is translating into skill uptake, enabling greater empowerment for participants to work more effectively on the ground," she said.
Maureen O'Keefe, Chief Executive Officer of the Australian College of Optometry also welcomed the additional support. "The commitment of the Australian Government to improving equity of eye health access and outcomes for Aboriginal and Torres Strait Islander people can clearly be seen in this funding extension for the Provision of Eye Health Equipment and Training programme, with the total funding of $7.3M enabling provision of retinal cameras and training across Australia. The embedding of this programme in a sustainable way at community level continues to be the highest priority as the program is implemented."
To view the interactive map or more information on the progress of the Provision of Eye Health Equipment and Training programme, please visit:  https://www.brienholdenvision.org/provision-of-eye-health-equipment-and-training.html