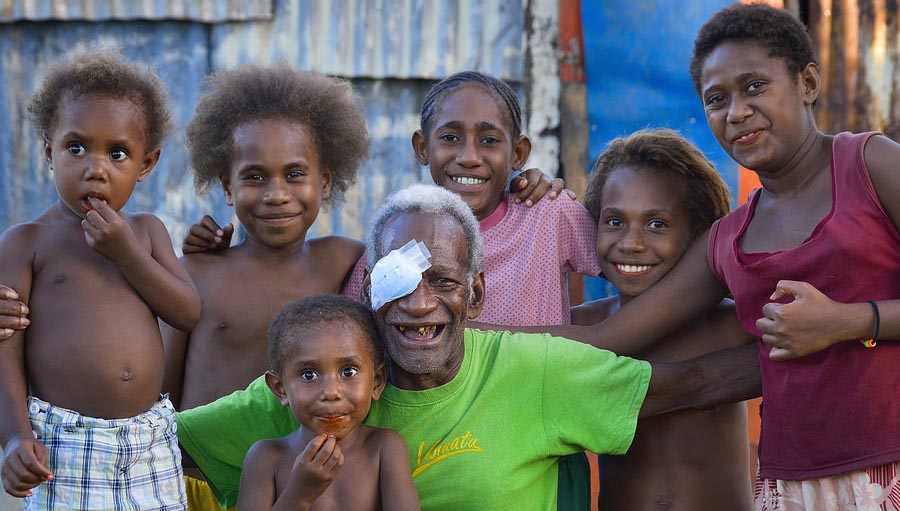 On World Sight Day, eye care organisations around the world take note of new data that shows that global eye care efforts are at serious risk of being overwhelmed—unless we act now.
New data published in the Lancet Global Health shows that decades of declining "avoidable blindness"—those with uncorrected refractive errors and cataract—is plateauing, and is projected to increase between 2015 and 2050.
The International Agency for the Prevention of Blindness (IAPB), an international alliance of eye care organisations, has launched the "IAPB Vision Atlas" with the latest global data and evidence on blindness and vision impairment this World Sight Day (12 October 2017).
A new paper by the Vision Loss Expert Group (VLEG) published yesterday in the Lancet Global Health identifies the leading causes of Blindness and Moderate and Severe Vision Impairment (MSVI) in 2015. Of the 253 million people who are blind or MSVI, uncorrected refractive errors (123.8 million people) and cataract (65.2 million) are the main causes, followed by Age-related Macular Degeneration and Glaucoma.
VLEG's latest prevalence data (released in a previous paper in August) shows progress between 1990 and 2015 resulted in some 90 million people being treated or prevented from becoming blind or moderate or severely vision impaired.
However, trends in an ageing and growing global population coupled with the increase in myopia and diabetic retinopathy are taking us into a new era of blindness and vision impairment—an era where existing efforts are at serious risk of being overwhelmed, potentially leading to a threefold increase in blindness by 2050.
Taking this new data into consideration, a new section on the IAPB Vision Atlas looks at the possibility of achieving the World Health Organization's Global Action Plan target of 25% reduction in avoidable vision impairment (blindness and MSVI combined) by 2019 (based on 2010 figures). Using the new VLEG data for both 2010 and their projection for 2020, the Atlas projects a 5.6% increase in the prevalence of avoidable vision impairment. As noted earlier, the VLEG projections for the longer term predict further dramatic increases in numbers of people affected.
Rupert Bourne, Professor of Ophthalmology at the Anglia Ruskin University, who coordinates the VLEG of 100 collaborating ophthalmic epidemiologists, said "we are very supportive of the Vision Atlas initiative by the IAPB-this means the results of this scientific effort are now of practical value to everyone in supporting efforts to highlight, prevent, treat or rehabilitate those with vision loss in all countries".
"The disturbing increase in numbers of people with vision loss worldwide show that our efforts at preventing vision loss are being eroded by an increasing and ageing global population" notes Peter Ackland, CEO, IAPB. "We believe the IAPB Vision Atlas will be an effective tool in understanding these trends and advocating for an increased commitment to eye health. The Atlas will help make vision count".
The IAPB Vision Atlas is supported by Sightsavers, The Fred Hollows Foundation, The Queen Elizabeth Diamond Jubilee Trust, Alcon, Allergan and Bayer.
Dominic Haslam, Director of Policy and Programme Strategy at Sightsavers says: "We have made significant progress in recent years in reducing the levels of avoidable blindness, but the new data in the Vision Atlas shows we need to redouble our efforts to prevent the predicted increase in blindness and visual impairment as the global population grows and ages. In order to focus our efforts effectively, we need to know who is at risk of these conditions and where they live, which means we need accurate and comprehensive data. The Vision Atlas brings all this information together in one place, which is why Sightsavers supports it."
Brian Doolan, CEO of The Fred Hollows Foundation said: "The Vision Atlas will be a useful tool in understanding eye health trends and advocating for an increased commitment from governments to eye health. The Vision Loss Expert Group research shows our combined efforts are clearly working, however we cannot rest on our laurels and we need to lift our game to stem the rise in avoidable blindness. By restoring sight we don't only give people their vision, we enable them to work, receive an education, and relieve their dependence on others and on society."
Dr Astrid Bonfield, Chief Executive of The Queen Elizabeth Diamond Jubilee Trust said: "The arrival of the Vision Atlas could not come at a more critical time. Despite the remarkable efforts taking place around the world to successfully reducing the prevalence of blindness globally since 1990, blindness is set to triple by 2050.  Due to an ageing population, increasing rates of diabetes and short sightedness, more people than ever are losing their sight needlessly. The Queen Elizabeth Diamond Jubilee Trust is working with partners to make a significant contribution to the elimination of avoidable blindness across the Commonwealth, in honour of Her Majesty The Queen."
Stephen S. Lane MD, Chief Medical Officer, Alcon Laboratories said, "Sight is our most precious senses.  While tremendous strides have been made to solve the problem of preventable worldwide blindness much work and many challenges remain. As the world leader in Ophthalmology, Alcon applauds the efforts of IAPB as they launch the IAPB Vision Atlas.  Alcon is proud to support this initiative as surely it will be yet another step in the marathon of curing preventable blindness."
"At Bayer, we are deeply committed to working with partners like the IAPB to reduce the number of people impacted by visual impairment around the world." said Dr Rafiq Hasan, Head of Ophthalmology, Bayer. "As a long-standing supporter of the IAPB we applaud the launch of the Vision Atlas, a powerful tool which offers the latest data on the global burden of vision loss."
The IAPB Vision Atlas brings all this data and evidence on blindness prevention to one place. It presents the complex science and data through maps and infographics, and provides context with expert commentary. The IAPB Vision Atlas will host prevalence and causes data by country or region, from 1990 to 2015, and will also include projections to 2020 and 2050. It will also include success indicators (Cataract Surgical Coverage, number of eye health personnel and more) towards achieving the WHO Global Action Plan.
The IAPB Vision Atlas will help eye care organisations, ministries of health, policy makers and eye health advocates compare vision impairment trends over time and in different parts of the world. The Atlas will also help track countries making progress, and those that are falling behind. Armed with the Vision Atlas, governments across the world can be convinced that we need to step up efforts to improve eye care and access to eye care. Together, let's make vision count.
Key facts
The updated IAPB Vision Atlas can be found here: http://atlas.iapb.org
Photo courtesy: Fred Hollows Foundation New Zealand, from the WSD "Stronger Together" Photo competition.