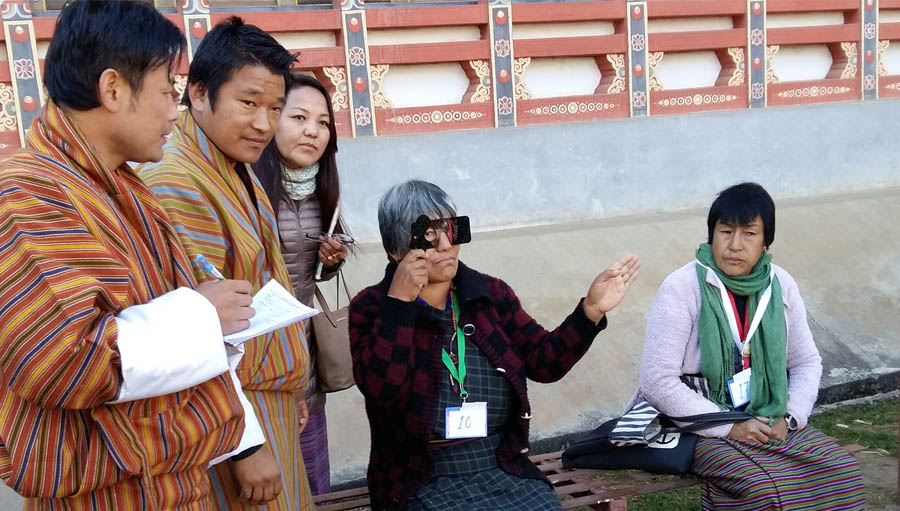 South East Asia is fortunate. The Lions Clubs International Foundation have yet again supported the region with a Research Grant in 2017 for a RAAB survey in Bhutan (After the surveys in Maldives and East Timor in 2016). The last time Bhutan had a blindness survey (RAAB) was in 2009 and so the 2017 follow-up is timely, as it is nearly a decade later. The Primary Eye Care Programme, Ministry of Health, Royal Government of Bhutan is carrying out the survey, in technical collaboration with IAPB.
The RAAB survey training was from 12 to 16 December 2017 with two trainers: Dr B R Shamanna from India and I. We trained three survey teams, lead by an ophthalmologist each, for data collection. The training comprised of classroom teaching, an inter-observer variation test and a pilot cluster to make the team conversant with data collection using smartphones (we are using mRAAB software installed on a smartphone for data collection in this survey).
The survey data collection began on 18 December and should complete by mid-February. Once completed, Bhutan will have fresh data on visual impairment and blindness in 2018. This information will help WHO and the ministry of health assess Bhutan's performance re the WHO Global Action Plan 2014-2019. As it is a follow-up, the results will be comparable with the 2009 Survey. It will also show the trend of blindness and impact of ongoing eye care service delivery in Bhutan. During the training we also trained Mr Tshering Phuntsho from Bhutan to become a certified RAAB trainer for future. If he is successful, there will be three certified RAAB trainers in South Asia.
Some pictures from the Training