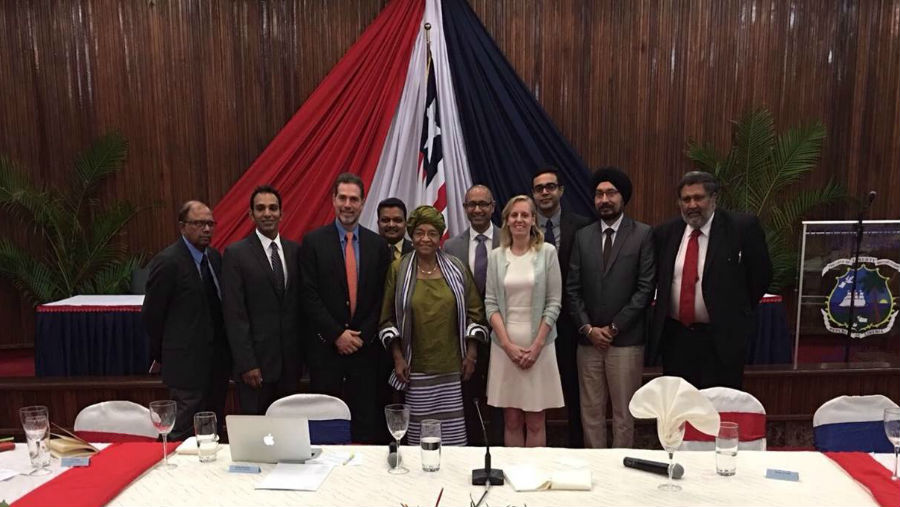 Prior to 10GA, Jordan Kassalow (co-founder of VisionSpring) and I had reached out to Raj Panjabi, CEO of Last Mile Health, about the potential to train community health workers to dispense reading glasses and he was kind enough to introduce us to President Sirleaf's Chief of Staff.  As a result, Jordan and I were fortunate to have a lengthy audience with Her Excellency while in Durban last year.
During our conversation, President Sirleaf immediately recognized the opportunity to build on the access to high-quality treatment created through the establishment of the new L V Prasad eye centre by expanding refractive error services for the country.  Her Excellency also expressed a strong interest in launching a new school eye health initiative during our discussions, and when she met with Kovin.
Following our meeting, President Sirleaf agreed to become an EYElliance Vision Champion and invited us to assemble a delegation to, in her words, "Work with us in creating an active plan to ensure our citizens in need of eyeglasses have access to this life enhancing service."
On July 23th President Sirleaf hosted a working lunch attended by the Ministers of Health and Education and EYElliance, Sightsavers, Our Children's Vision, OneSight, L V Prasad Eye Institute, and 2.5 New Vision Generation.
On July 24th the EYElliance delegation attended the President's dedication of the new Eye Centre at JFK Memorial Hospital established by L V Prasad Eye Institute with optical services provided by OneSight.
The dedication was followed by a working session that included additional representation from the government as well as: USAID's Education Lead in Liberia, Last Mile Health and New Sight Eye Center (Liberian NGO)
The key outcomes of the working session were:
Our goal is that by the year 2025, there will be a continuum of care with a national school eye health initiative and a robust referral network connecting patients (children and adults) to care at the primary, secondary, and tertiary level.
There is a need to develop a phased, comprehensive operational plan that includes short term, medium term, and long term objectives supported by policy.
This plan will require a detailed capacity building plan jointly developed with the Ministry of Health outlining training commitments from participating organisations.This will include training multiple cadres of eye health professionals.