Kate Woodhead from Standard Chartered Bank writes about her recent visit to a Seeing is Believing (SiB) project in Vietnam.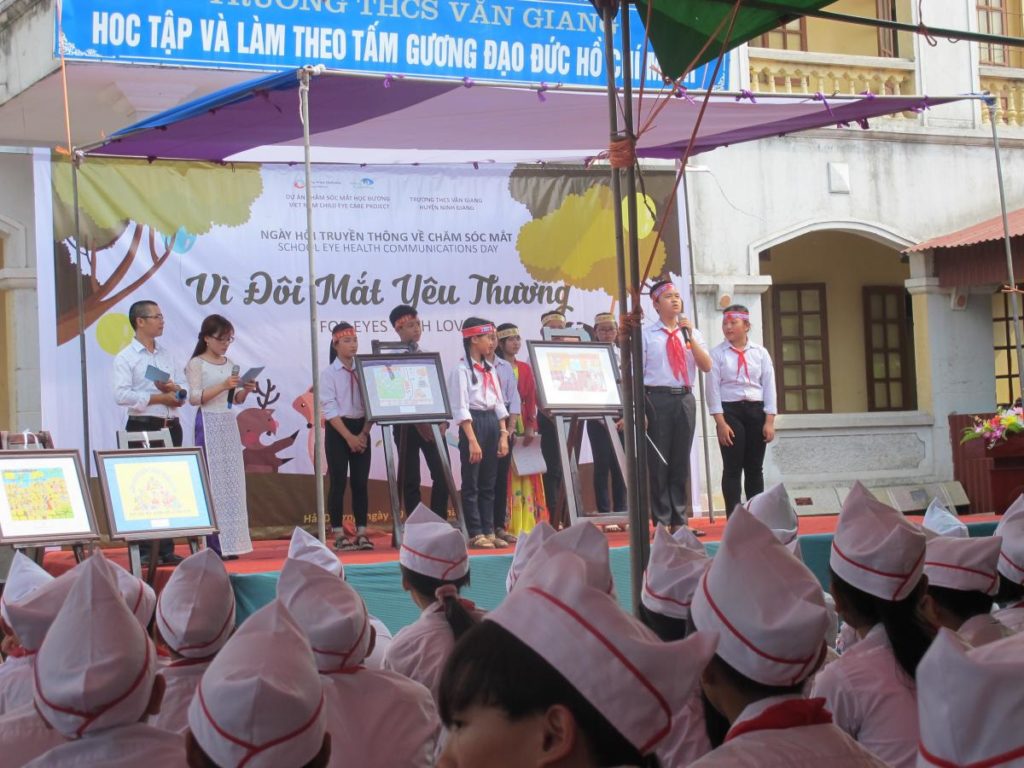 In April this year I was lucky enough to visit one of our two active Seeing is Believing (SiB) projects in Vietnam – the Fred Hollows Foundation's Viet Nam Child Eye Care Project.
Approximately 2.6 million Vietnamese children under 14 years of age have a visual impairment and 1.7 million children[1] have never received refractive correction or worn spectacles. This project aims to develop an effective school-based eye care model and advocate for the adoption of school eye health guidelines and policy by the Ministry of Education and Training (MoET).
I visited two "communication days" in schools to understand how this project is raising awareness among children, families and communities about childhood blindness being avoidable and how early intervention could result in better learning outcomes. These communication days are days held by the schools in Vietnam where they deliver messaging around certain topics such as health issues. The eye health agenda was therefore added to this list of topics and the awareness raising was done as a "communication day" in school.
The first of my visits was to a primary school where a group of young children performed an original play written by their teacher, highlighting some of the causes of common eye problems– how to avoid them, diagnosis, and how to seek help. The rest of the children in the 400-strong audience then took part in a hotly-contested quiz to test their understanding of the messages given through the play.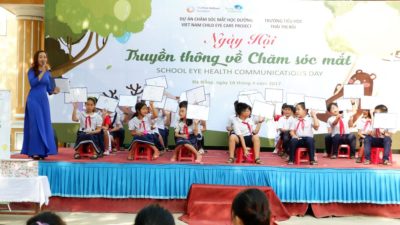 In my second visit, this time to a rural secondary school in a province a few hours from the country's capital Hanoi, the medium of choice was art. The students produced beautiful paintings depicting eye health messages, which they presented to their classmates.
The Viet Nam Child Eye Care project provides materials to the schools to enable pupils to perform their own basic preliminary eye checks with support from trained school nurses and teachers. The students experiencing difficulties are referred to seek further treatment from a trained refractionist.
I was privileged to speak at both schools about Seeing is Believing, and honoured to hand out SiB-funded spectacles to those pupils who had recently been diagnosed with visual impairment.
With over 650 children attending these special assemblies just on these two days, I felt completely uplifted and positive about this model for the future.
Sustainable success
Sustainability is a key component in all our projects and for this project's sustainability a close collaboration between the Department of Education and Training and Departments of Health (DoH) at the provincial level is key. In Vietnam, many challenges remain around the provision of spectacles under the national health insurance scheme (they are not currently considered a medicine/treatment and are not covered). There is also a lack of regulation and inadequate training on childhood refraction in private optical shops that can lead to dispensing unaffordable spectacles, often with the incorrect prescription.
It is clear that a robust model and strong advocacy is crucial; however these visits made me so proud to work for a Bank that really cares, and that is investing in the futures of Vietnam's children.
Photos courtesy: The Fred Hollows Foundation

---
[1] Prakash Paudel et al, 2014, Clinical and Experimental Ophthalmology