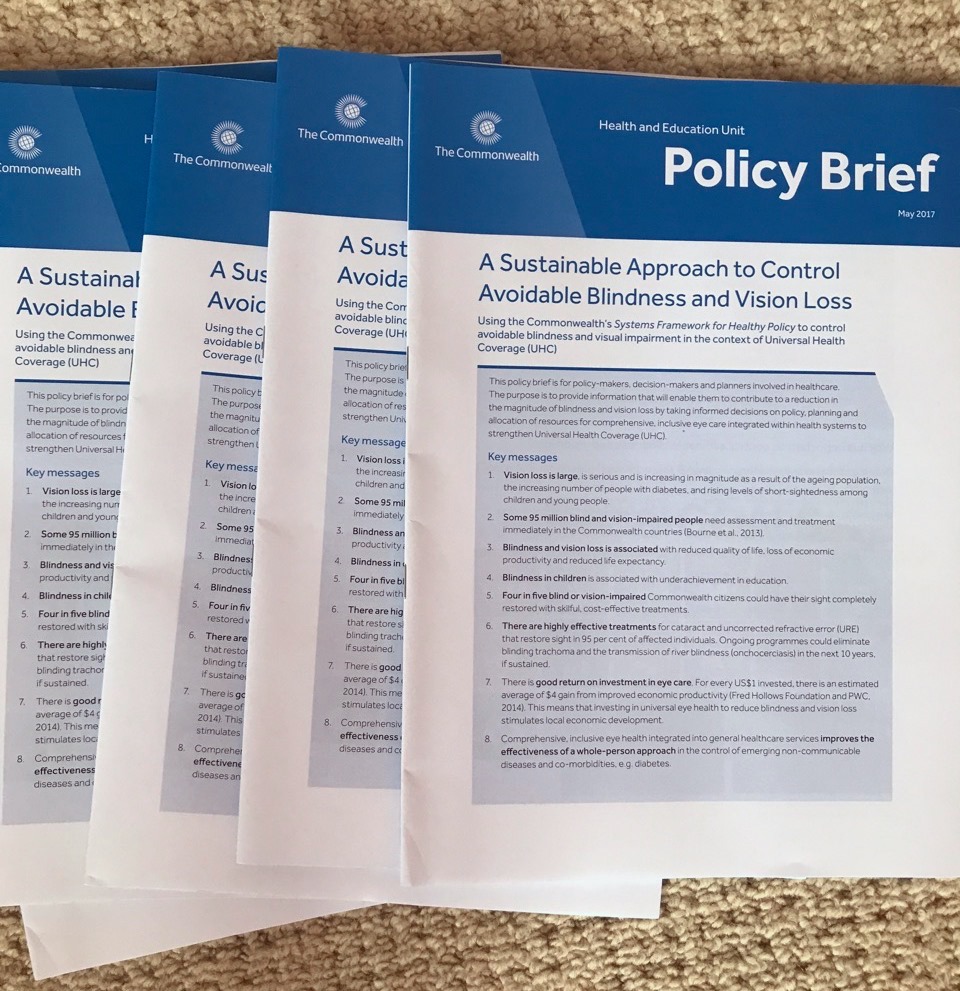 Dr Fatima Kyari has a PhD in Public Health from the London School of Hygiene and Tropical Medicine, with a research focus on glaucoma services and control of glaucoma blindness.
"I had no option but to resort to begging on the streets when I became blind. Now with my eyesight restored, I have gone back to gainful employment. I can now provide for my family," says Mr Saleh. He had received cataract surgery in an outreach surgical programme in Bauchi, Nigeria. The programme was part of the Nigeria Blindness and Visual Impairment Survey, 2005-2007.
The survey shows that Cataract is the leading cause of blindness in Nigeria, as in the rest of the Commonwealth. People with cataract are poorer and less able to engage in productive activities than people without cataract. Indeed, an Impact Study conducted in Kenya, Bangladesh and the Philippines clearly showed poverty alleviation in households benefiting from cataract surgery. In fact, the benefits extend beyond the individual effect.
I am an ophthalmologist from Nigeria with 15 years of experience as a clinical ophthalmologist at the National Eye Centre. I am also involved in outreach and community-based blindness prevention activities in Nigeria. I had also participated in the study design, data collection and analysis for the Nigeria Blindness Survey, which had examined over 13,000 participants.
A Policy Brief to address visual impairment in the Commonwealth
This year's World Health Assembly saw the presentation of a policy brief on controlling avoidable visual impairment in Commonwealth countries: A Sustainable Approach to Control Avoidable Blindness and Vision Loss. Interestingly, the brief was presented twice at the WHA: The first time at the Commonwealth Health Ministers Meeting and later at a Side-Event on the prevention of blindness and visual impairment. The side event was well attended and chaired by Australia, with a panel of member state representatives including Malta. Malta as Commonwealth Chair presented the policy brief (Figure 3).
As the brief's author, I had the support of a group of experts from across the Commonwealth and the International Agency for the Prevention of Blindness (IAPB) who advised on the content and reviewed successive drafts.
The aim of the policy brief is to provide information that will enable member countries to contribute towards achieving Universal Eye Health. The brief encourages them to take informed decisions on policy, planning and resource allocation. It also champions comprehensive eye care integrated within health systems to strengthen Universal Health Coverage (UHC).
An engaging document with clear ideas
With an ageing population, there is increasing prevalence of age-related blinding eye diseases such as cataract, glaucoma, age-related macular degeneration and diabetic retinopathy. But, the good news is that effective treatments are available with a good return on investment. The policy brief is an engaging document. It discusses why it is important to address avoidable blindness and vision loss. The brief shows how member countries might contribute to Universal Eye Health through cost-effective investments in alignment with the 2030 Agenda for Sustainable Development. It also discusses:
Current challenges of eye healthcare workforce,
Health financing and
Integration of eye health in health systems
The document also points out potential solutions within the Commonwealth's Systems Framework for Healthy Policy. Finally, it demonstrates the feasibility and impact of interventions and treatments through the following case studies:
The cataract impact study;
Examples of comprehensive eye care programmes;
Health partnerships and institutional links facilitated by the Queen Elizabeth Diamond Jubilee Trust.
The key policy recommendations include a call for Governments to take responsibility for scaling up existing interventions to promote Universal Eye Health. They need to do this within health systems to strengthen Universal Health Coverage. For example, in Nigeria, our call is to integrate primary eye care within Primary Health Care (PHC). We are asking the government to build a workforce of frontline healthcare workers who are able to identify and treat or refer common and blinding eye ailments.  Other issues highlighted are developing leadership skills of health policymakers and planners.
The policy brief encompasses the entire Commonwealth values to promote quality healthcare in alignment with the 2030 Sustainable development Agenda.