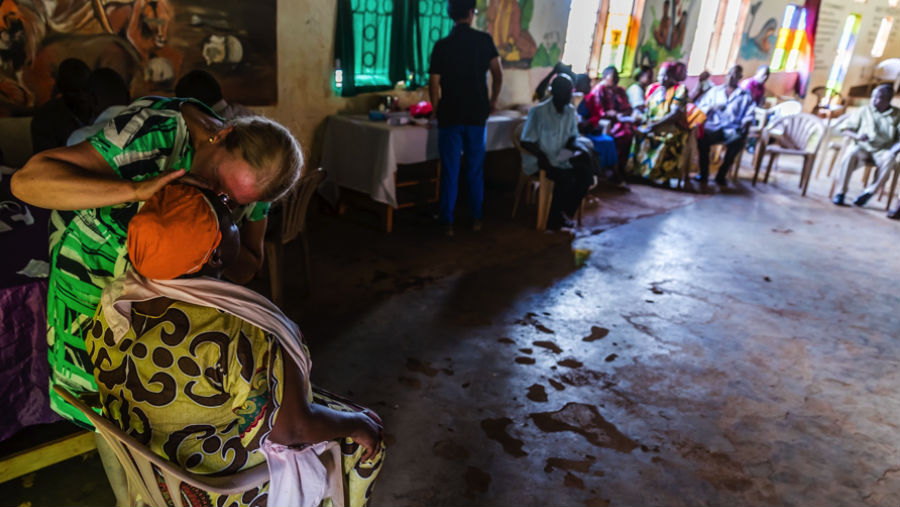 An initiative funded by the Tropical Health and Education Trust (THET) between teaching hospitals in the UK and Uganda will see the delivery of a community eye clinic workshop project followed by practical clinics in the Kampala and Mbarara areas. The clinics will screen for common eye problems and will take place in rural churches, mosques and social centres in March, June and September 2018, to access normally hard to reach patients.
In common with other low- to middle-income countries, Uganda has a high level of people living with visual impairment and this number is rising at a high rate. Reducing or eliminating sight loss matters because it has devastating consequences for the person affected, their immediate family and the community they live in.
Most sight loss is avoidable if detected early enough but many do not get their eyes checked and go needlessly blind. There are barriers to many people attending an eye clinic and these include lack of awareness that treatment is available, cost of travelling to a distant eye clinic and fear of a clinical setting such as a hospital. Carrying out eye clinics in the community can overcome these barriers and are therefore an important means of stopping people going blind.
Dr. Clare Davey, coordinator of the VISION 2020 LINK between Mulago Hospital in Kampala and the Royal Free, commented, "We have listened closely to our Ugandan partners in developing this project. They told us that they wanted to reach under-served communities at risk of blindness in Uganda, and particularly women and girls."
Dr. Doreen Birabwa Male, Deputy Director of the Mulago National Referral Hospital in Kampala commented, "I am very pleased to support the new community eye clinic workshop project. It will help us to increase access to ophthalmic health care and remove the fear of going to the hospital that some patients have".
Notes to editors
The VISION 2020 LINKS Programme
The VISION 2020 LINKS Programme is based at the London School of Hygiene & Tropical Medicine and originated as part of the 'VISION 2020 – The Right to Sight' initiative established by the World Health Organization and the International Agency for the Prevention of Blindness to eliminate avoidable blindness worldwide. It works with overseas institutions to identify their main needs and priorities in eye healthcare and matches them with a suitable UK training eye unit. The LINK between the Royal Free Hospital (RFH) in London and Mulago National Referral Hospital in Kampala, Uganda is one of 30 such LINKS and started in 2011. During the lifetime of the LINK there have been a total of 10 visits to Uganda by staff from the Royal Free Hospital and 8 visits to London by staff from Mulago.
The Tropical Health and Education Trust (THET)
For over twenty-five years, THET has supported health partnerships between UK and overseas health institutions such as hospitals, universities and research centres. Partnerships deliver health worker training programmes based on the needs of the overseas partner institution. UK partners have access to skilled, expert health professionals who volunteer their time to deliver training courses to overseas health workers to help improve practice and patient care.
Twenty health partnerships were awarded one-year funding through the Health Partnership Scheme in November 2017, working with a focus on sustainability, scale-up and access. The grants form part of the Health Partnership Scheme (HPS), programme that funds health partnerships to carry out training and capacity-building projects in low and middle-income countries in Africa and Asia. The Scheme is funded by the UK Department for International Development (DFID) and managed by THET. To date THET has managed over 300 grants through partnerships with the Department for International Development and Johnson & Johnson, with grant values of between £3,000 and £1.5m.
Image on top: Consultant ophthalmologist, Dr. Clare Davey, coordinator of the VISION 2020 LINK between Mulago and the Royal Free Hospital, carries out an examination on a patient attending a community eye clinic held at St. Peter's Church in Naguru, Kampala, Uganda in August, 2017/ Image courtesy: Terry Cooper