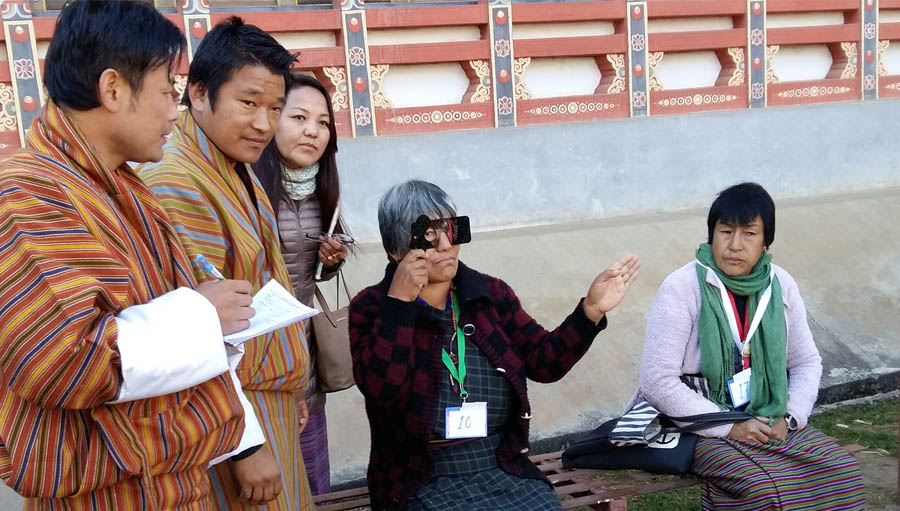 Many countries in SEA region do not have authentic base-line data to measure the progress of the Global Action Plan's (GAP) target of 25% reduction in visual impairment by 2019. The lack of a National Eye Health Action Plan and comprehensive eye care services has also been a major issue in some countries.
Therefore for us in IAPB in the SEA region, operationalization of GAP continues remain a priority. Thanks in part due to advocacy workshops and meetings the evidence generation activities through RAAB's are still ongoing, as reported in my update last year.
We now have data available from two more countries – Myanmar and Bhutan.
In Myanmar, fresh data on blindness and visual impairment, according to state and national level data is available as of March 2018.
I along with Dr Shammana from India were the two RAAB trainers- training the survey team in Bhutan in December. The RAAB there has now been completed, with fresh data at the national level available from February 2018.
Ongoing work
The RAAB survey in India that started in 2017 is still ongoing and is expected to be completed in 2018. In Afghanistan a RAAB survey has been planned for March-April 2018, with fresh data expected to be available by May 2018. I am planning to go there to train the survey team and will be supervising the data collection. The blindness data in Nepal is considered a bit out dated therefore they are planning to carry out a survey in the newly formed seven federal state from May 2018 onwards.
The focus on RAAB's is because they serve as important advocacy tools to inform health policy makers and planners. All of this can lead to eye health becoming an important priority for government health programmes.
A new National Action Plan for Universal Eye Health in line with WHO GAP 2014-2019 for Indonesia has been drafted and is expected to be approved soon. A National Eye Health Policy in line to WHO Universal Eye Health GAP 2014-2019 in Nepal is also due to be approved by cabinet and expected in March 2018.
In the second week of November, last year I accompanied a team from Operation Eyesight Universal to explore opportunities for improving eye health services in Sri Lanka and Maldives, two countries I have been working closely with, in the past few years.  This is in collaboration with WHO SEARO to explore OEU support for eye health services in these countries and address the important issues as revealed from recently conducted RAAB survey.
We are constantly working on making sure that all the SEA countries have updated data on magnitude of visual impairment and its risk factor in the region and a strategic action plan to resolve it in line to Universal Eye Health, WHO GAP 2014-2019 and SDG goals and target by 2018.