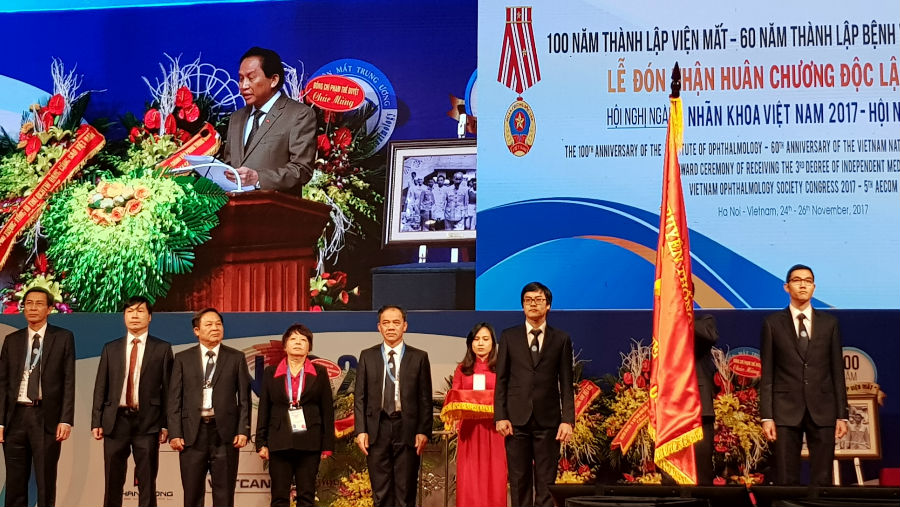 Hanoi's Friendship Cultural Palace was full to capacity on Friday 24th of November for the opening of the 5th National Ophthalmology meeting. It was a spectacular event attended by dignitaries from within Vietnam and overseas, complete with patriotic musical highlights and cultural displays – dramatic, colourful and a fitting way to mark the milestone 100th birthday of the Vietnam Institute of Ophthalmology (VNIO).
In a particularly significant ceremony, presided over by Vietnam's Prime Minister, Nugyen Xuan Puc the National Strategy for eye health was launched. IAPB is very proud to have funded the launch and to have worked with Vietnam's Eye Care Working Group (ECWG) to develop the strategy. Present at the ceremony were ECWG members Brien Holden Vision Institute, CBM, Eye Care Foundation, the Fred Hollows Foundation, Helen Keller International, Orbis and Project Bom. Later in the programme the team had an opportunity to present their work, including a highlight film of achievements over the past decades.
Based on the presentation by Dr Andreas Mueller, representing the World Health Organization (WHO), it is interesting to note how neatly the work of the ECWG members fits with the strategy of WHO and IAPB in the region. Key issues of importance include cataract surgery outcomes and the evolving challenge of diabetic retinopathy. Of course, the ECWG members are well-placed to deal with these issues and ever-changing technology. This was evident in the Project Bom-led 'Innovation Session' on Saturday morning which addressed new approaches to eye health in Vietnam including tele-ophthalmology and the introduction of optometry. It was also recognised by the awarding of commendations to the ECWG members at the gala dinner on Friday night.
Congratulations are certainly deserved in Vietnam – not only to the hardworking ECWG but also to the dedicated team at VNIO on an exemplary event, Director of VNIO, Dr Hiep on his inspiring leadership and the entire eye health fraternity on a truly auspicious double celebration!
Also read: