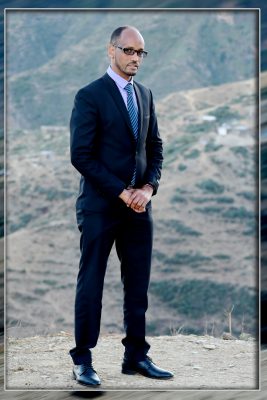 My childhood background has greatly influenced my desire to work in the area of Blindness prevention. Growing up in a small country-side village in Eritrea, North East of Africa, where all its residents are farmers gave me a real-life view of a community with limited access to healthcare, more significantly eye health care. In the early 1990s, I remember my grandmother and other neighborhood families suffering from different undiagnosed eye diseases including trachoma. Looking back, I realize that this experience pushed me to work harder with a strong desire to save my community from preventable causes of blindness.
I joined the Eritrean National Blindness Prevention Programme in late 2013. As soon as I joined, I understood that the weight and expectations placed on me meant that I needed to put in extra effort to meet this expectation. Therefore, I started to do my work precisely and was greatly encouraged to do more and more to eliminate the main cause of blindness in order to give the Eritrean people the "right to sight" by providing good quality, accessible, affordable and sustainable eye care services.
While in the programme, I have learnt about comprehensive eye care services and trachoma elimination programmes. I have acquired broad knowledge and practical professional skills which provide me with strong theoretical and practical concepts in the area of prevention of blindness. Moreover, I realized and understood that global blindness prevention emphasizes transnational eye health issues, determinants and possible solutions. It involves many disciplines within and beyond eye health services and promotes multi-sectorial cooperation; and is a combination of population-based prevention with individual-level clinical care.
Becoming an Eye Health Hero
Regardless of the limited professional development and capacity building opportunities, working collaboratively at the national and community level has improved my knowledge in eye health. I still remain passionate about eliminating avoidable blindness in Eritrea. The field exposure and support from The Fred Hollows Foundation and other partner organizations have extended my zeal to promote eye health in the country; thus, I became an Eye Health Hero in 2019; and I really felt very motivated by this. This achievement inspired me to continue my hard-work and gave me the strength to continue on my path. No other working area attracts me other than blindness prevention programme; I remain devoted to my goal and I am working hard to help my community even during this pandemic.
Despite the current challenges due to Covid-19 and other domestic difficulties, the country is on track to eliminate trachoma and reduce the burden of other main blinding diseases such as cataract. Overcoming obstacles and becoming a master of them is my specialty. My work-life has taught me to work hard, manipulate opportunities out of difficulties and to not give up.