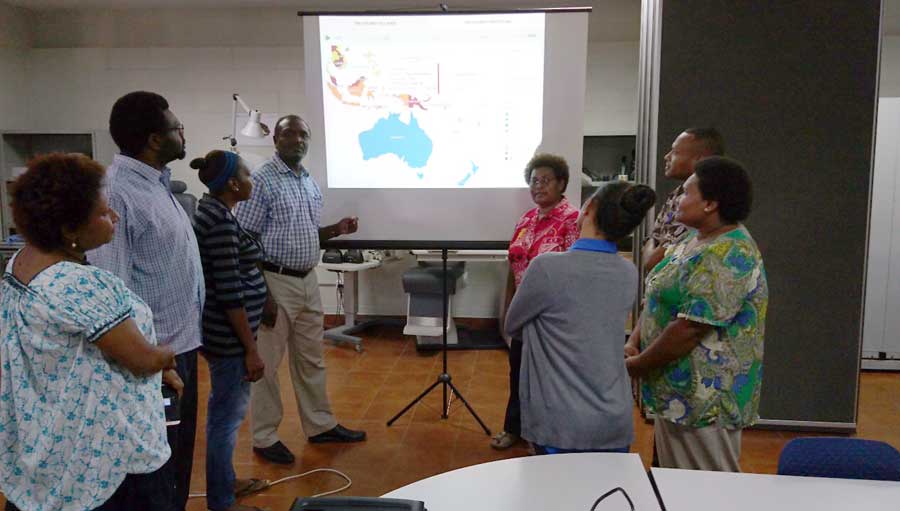 Across the South Pacific, members of the eye health fraternity have taken the opportunity of this year's World Sight Day – Make Vision Count – to launch the Vision Atlas. As a repository of data and advocacy tool the Atlas is particularly important in these far-flung, often remote island nations.
Sister Savelina, Diabetic Retinopathy Nurse at Vaiola Hospital in the Kingdom of Tonga's capital of Nuku 'alofa, highlighted a common theme across the region: the lack of HR. Sister Savelina heads up a team of just five eye health nurses across the archipelago. Yet as the Vision Atlas notes, in 2015 Tonga had a population of 2030 with Moderate to Severe Vision Impairment (MSVI) or 2.5% of the population. With diabetes on the rise across the region, Sister's team is only likely to see an increased workload. She looks forward to 2019, when Dr Duke Mataka returns from training in Fiji to become the Kingdom's only ophthalmologist.
Also in Fiji, Dr Elenoa Matoto is the President of PacEyes, the Pacific-wide representative body for the region's ophthalmologists and eye health fraternity. Dr Matoto is excited about the opportunities arising from the Vision Atlas. Fiji is home to the Pacific Eye Institute which leads the region in training for eye nurses and ophthalmologists. These graduates are perfectly positioned to collect data for the Vision Atlas and use it for advocacy efforts in their home countries. In effect they are walking, talking examples of the importance of HR in the sector.
At the University of Papua New Guinea, President of the Prevention of Blindness Committee, Dr Jambi Garap and Senior Lecturer in Ophthalmology, Dr Geoffrey Wabulembo held a launch of the Vision Atlas for ophthalmology students. Dr Garap noted "these students are the future. They need to be able to talk about the success and challenges in our sector and highlight trends. The Vision Atlas gives them the tools to do that." Good as her word, Dr Jambi worked with Lions Club of Port Moresby on a Walk for Sight to highlight the emerging eye health issues in PNG and how healthy activity can assist the fight against avoidable blindness.
Walk for Sight in PNG

Photo above: Vision Atlas Launch at UPNG – left to right: Dr Linda Lep, medical students, Lisiot and Daniel, Dr Geoffrey Wabulembo, Dr Jambi Garap, registrars, Dr Dennis Likia and Dr Maggie Mangot, Nerissa Wesley, PNG Eye Care.