For World Glaucoma Week, Marie-Claire Boyle from St John of Jerusalem Eye Hospital Group on glaucoma awareness and treatment in the Occupied Palestinian Territories.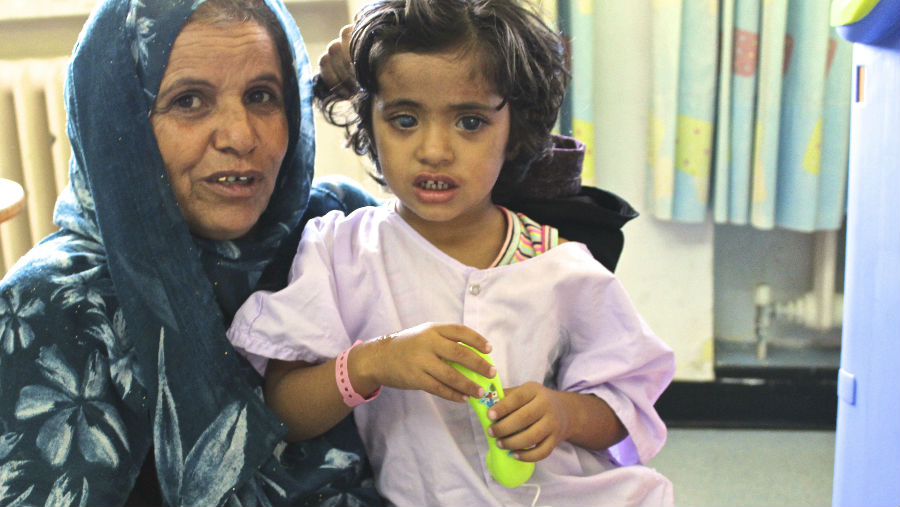 Glaucoma, "the silent thief of sight", can permanently rob a person's sight before they have even begun to notice symptoms. This is part of the reason why in the United Kingdom (where I work from) and other developed countries, the public is encouraged to have their eyes checked regularly. Of course once diagnosed, we are lucky to have at our disposal the National Health System (NHS) to tackle the condition.
Problems with access
In Palestine the condition the access to primary eye care, eye health education and treatment is much more complicated. Palestinians mostly reside in the West Bank or Gaza and each place presents unique boundaries to eye care. In the West Bank, since the early 2000s, the Israelis have been building a Separation Wall between Israel and Palestine, which cuts into Palestinian territory in several places, and also cuts off access between Palestinian towns and villages, especially with the ever growing number of illegal Israeli settlements on West Bank territory, that native Palestinians have to navigate around. Palestinians are also subject to a complicated permit system and a number of fixed and "flying" check points which restrict their movement.
In Gaza, the situation is worse – the treatment being stunted by the blockade on medical imports and the fuel crisis, among other issues. The entire enclave has been under political blockade since 2007, which means that a medical permit is required from Israeli authorities to seek help outside of Gaza. Sadly, the number of permits for patients and their companions (which are needed for those with visual impairment) that are denied or delayed (rendering the patient unable to make their appointment) continues to grow, and in November 2017 it reached 56% of all permit applications.
This is the climate under which St John Eye Hospital tackles glaucoma and other eye conditions. Despite having been working in the region since 1882 these political barriers are relatively new obstacles to negotiate but we do our best with the situation we have been given. Since 1980 in the West Bank, and 2017 in Gaza, our Mobile Outreach Programme has been providing primary eye care screening and eye care services to hundreds of Palestinian villages and Bedouin communities. If a patient is identified as having an advanced condition such as glaucoma, they are referred to one of our medical centres and we help arrange permits and other logistics for their travel. These outreach services also afford us the opportunity to deliver vital eye health education, in the hopes that this will encourage patients to seek treatment as soon as symptoms begin to present themselves.
Our centres for treatment are strategically located in the North and South of the West Bank, the Gaza Strip and in our flagship East Jerusalem hospital. The majority of our West Bank patients who suffer from advanced glaucoma and require surgery or other advanced treatment will attend a clinic with our Jerusalem-based glaucoma specialist, Dr Amer Mohsen. He is one of around twenty local Palestinian doctors, who have trained through our Medical Residency and Joint Teaching Programmes in an effort to invest in the local population.
Improving care in Gaza
In Gaza, it is more difficult for our patients to attend clinics in Jerusalem. We are therefore working to improve the level of care we are able to offer. In 2016 we opened a new state-of-the-art hospital in Gaza, the first building of any significance to be completed since the 2014 conflict. Since then our Jerusalem based doctors have been visiting the hospital four times a year for three-day stints where they perform as many surgeries as they can. This is not sustainable and we are therefore developing a similar programme in Gaza as we have in Jerusalem to train the local population, with help from Medical Aid for Palestinians. Last year we were delighted to welcome home Dr Al Walid, one of the first Gazan doctors to undertake a fellowship at Aravind Hospital in India (under our Joint Teaching Programme). As he specialised in Glaucoma we are now able to offer this on a permanent basis from within Gaza for the first time.
In 2017 we managed to treat and change the lives of almost 2,000 patients across the West Bank and Gaza with glaucoma. One such person is 25-year old Mohammad Ramadan, a car wash attendant from near Jerusalem, who is supporting his wife and young daughters. Access to uncontrolled steroid use caused severe glaucoma in both his eyes – badly damaging the optic disc, leaving him almost blind. For now his condition is being managed with laser treatment by Dr Mohsen in Jerusalem. When asked what vision meant to him he responded simply:
"Vision is for me, everything in my entire life."
The politics of this region may be in turmoil but our mission remains the same as it was when Queen Victoria sent us to open this centre over 136 years ago – we will treat all regardless of race, religion or ability to pay, no matter the barriers to navigate around. Disease knows no politics after all, and neither should the medical care offered to combat it.
Photo on top: 2-year-old Rimas in our Jerusalem Hospital awaiting surgery. As she is a Bedouin Gazan she has little access to eye care and her Glaucoma was caught too late to save much of her sight.