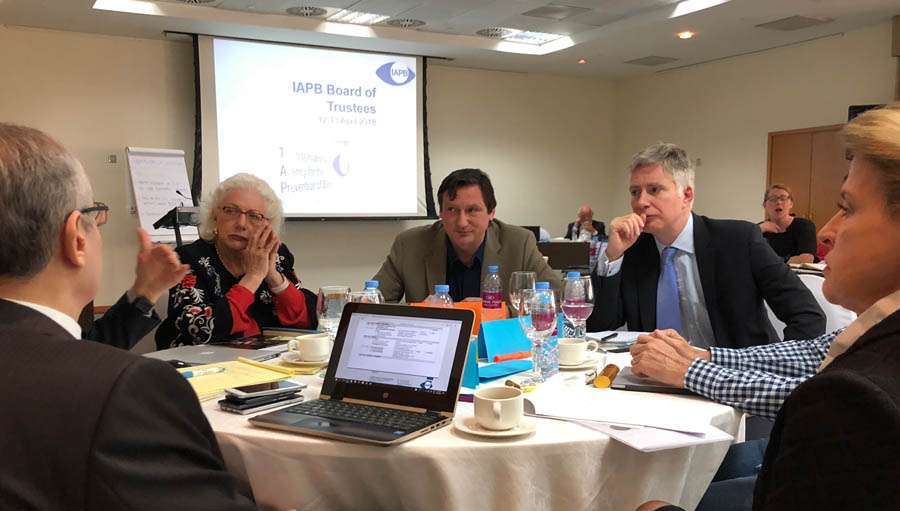 The IAPB Board of Trustees 2018 came to a successful close a few days ago. The IAPB Board meets twice a year to discuss key objectives, decisions and strategic areas that impact the alliance. Over two days in April, the Board met in Dubai for their first meeting for 2018 and discussed some key areas of work. The predominant theme at this meeting: How can IAPB–the secretariat and its members–engage with one another, and how can IAPB ensure members are kept up to speed with the latest developments.
The Board discussed this in a variety of ways, looking at external communications, the use of the IAPB Vision Atlas and World Sight Day.
We'd like to share with you the outcomes of those discussions, some key activities and actions that will take place. We'd also like to invite you or your organisation to feedback to us your thoughts around these areas:
Strategic Framework – a draft will be produced and presented at the Council of Members (CoM) Hyderabad, 13-16 September. There will be a chance for members to comment and contribute to this framework. The final strategic framework we hope will be approved at the Board of Trustee meeting in 24-26 April 2019.
World Report on Vision – there will be a coordinated communication strategy around World Sight Day with the WHO, to ensure utilisation of the launch of the report, and also to ensure that all member organisations are included and working together to deliver the key messages from the report.
World Sight Day – IAPB has produced some fantastic new WSD material for members and eye care organisations worldwide. We will be sending out World Sight Day materials to all our members. We will also work to ensure that groups outside of the eye health sector connect up with us on World Sight Day. IAPB members, do write to us and keep IAPB informed of your plans and WSD activities.
IAPB Vision Atlas – The Vision Loss Expert Group have produced some of the best and most up-to-date data on the global causes and prevalence of visual impairment. We believe the IAPB Vision Atlas is the vehicle for those interested in understanding the impact of the data. IAPB will continue to work with members to effectively communicate the figures from the Vision Atlas… watch this space!
Digital communications – IAPB will endeavour to connect and communicate with our members across current and new digital platforms, as well as engaging with members on International Days and key advocacy updates. Our Newsletters are going to get better, and more focused. We need your feedback on what works best, and what you would like to see more of. Do write to us.
Council of Members meeting – A special thanks to the L V Prasad Eye Institute (LVPEI) for being our local hosts in Hyderabad, and we look forward to celebrating with them the 20th anniversary of their International Centre for the Advancement of Rural Eye Care (ICARE). We anticipate around 500 delegates to attend the meeting and will be working to create an engaging programme. IAPB's member strength has grown, and we now have many new organisations in our fold. So, we are going to include the suggestion of an "IAPB membership 101" session.
11 GA – IAPB will continue to work with the Royal Australian and New Zealand College of Ophthalmologists (RANZCO) and the Asia Pacific Academy of Ophthalmology (APAO) to deliver a world-class eye health summit. The Board has approved the four resolutions around the theme, the concept of the three programmatic streams, note of the critical path and the budget—More later!
Please do write to me at efoote@iapb.org if you have any comments or suggestions on the IAPB Board of Trustees 2018. I will be delighted to listen to your ideas on how members can be more involved with meetings—or anything else related to your membership.