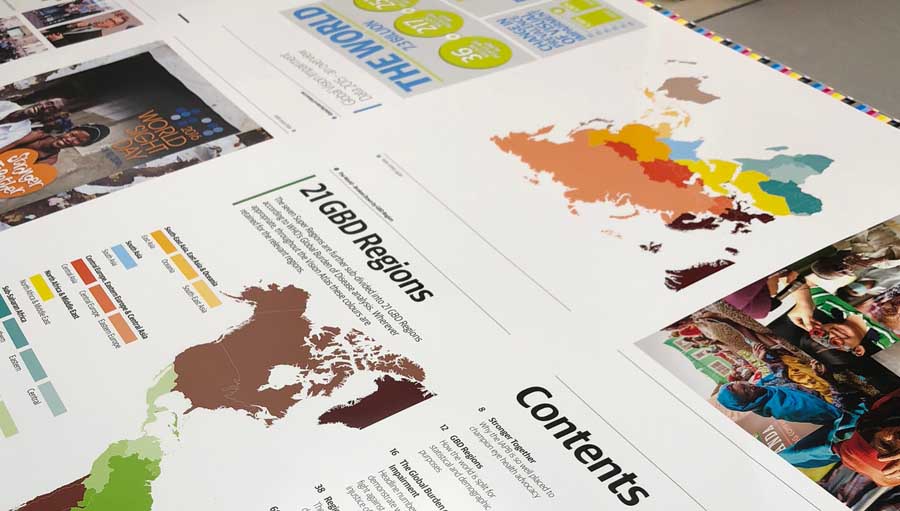 It's been an incredible few months for the IAPB Vision Atlas since we re-launched it on World Sight Day 2017. In the last weeks of December, we also managed to publish and ship physical copies of the Vision Atlas to IAPB members. You should all have received copies, and the response has been very positive–some of you asking for more copies!
At launch, the international press jumped on board, adopted our key messages from the data and helped spread the word. We think we achieved a lot over these few weeks, and We'd like to share some of the highlights with you.
Spreading the message
IAPB Regional coordinators will be taking copies of the IAPB Vision Atlas to conferences and meetings, ensuring that we advocate for the new numbers at all major regional events. The Seeing is Believing team too are chipping in; they are taking the Vision Atlas on visits to project sites and are giving them to national coordinators.
The showstopper at the Community Eye Health Journal's 100th anniversary was when the attendees were given copies of the Atlas! We were delighted to have a meaningful role to play in the celebrations for a popular eye health resource. In a similar vein, scientists and ophthalmologists who are members of the Vision Loss Expert Group too have received copies and have found it an amazing resource – the VLEG also received worldwide media attention for their wonderful work.
Feedback
The feedback from our members has been great; some have written back to us asking for more copies (in fact, we are trying to figure out the best way to get more copies into people's hands). Allen Foster from ICEH at LSHTM has this to say about the Atlas: "Truly Excellent"! He is incorporating the Atlas as a teaching resource in the courses on eye health he runs at the LSHTM. VISION 2020 India is also inspired by the Atlas and are working on putting together a 'knowledge-hub' for India.
The Way Forward
The digital Vision Atlas will be updated on an annual basis and we're excited about developing it further with the help of the VLEG. The website saw a huge amount of traffic; World Sight Day was our biggest day! It's great to see you were all using the Atlas to help with the celebrations.
The IAPB Vision Atlas would not have been possible without the support of sponsors—a special thanks to them.
We're interested in your thoughts on the Atlas – how does your organisation plan on using it? Get in touch with the team and tell us more: [email protected]