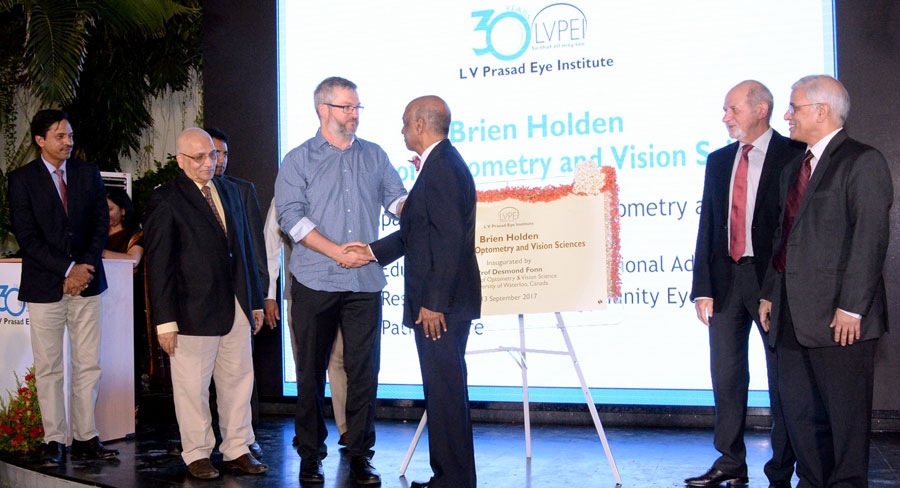 Brien Holden's influence in eye care in India has been immortalised following the inauguration of the Brien Holden Institute for Optometry and Vision Sciences by L.V. Prasad Eye Institute (LVPEI). The newly named institution, which incorporates the Bausch and Lomb School of Optometry, specialises in education, research, patient care and human resource capacity building in optometry.
LVPEI, one of the leading eye research, treatment and teaching hospitals in India, has been a long-time collaborator with Brien Holden Vision Institute, dating back to the 1980s. Brien Holden first met Dr Nag Rao, the founder and chair of LVPEI, in the 1970s and Professor Holden helped develop LVPEI's clinical research capabilities after it was established in 1987. His contributions were later recognised in the naming of the Prof Brien Holden Eye Research Centre at LVPEI.
"Dr Brien Holden spent his entire career inspiring scientists and healthcare professionals around the world with his dream of 'vision for everyone, everywhere'. It is an honour for us to have an institute named after him," said, Dr Rao.
Professor Kovin Naidoo, CEO of Brien Holden Vision Institute, said: "It is a great honour for such an esteemed institution to recognise and remember Brien Holden in this manner, and it verifies the impact Brien had in eye care in India."
"Brien and Prof. Nag Rao took their early friendship and developed it into a mutually beneficial partnership for LV Prasad Eye Institute and the Brien Holden Vision Institute that has spawned research, education and public health collaborations that have benefitted people and eye care practitioners in India and other parts of the world," he added. "Brien believed passionately in the potential of India and loved the country and its people and his contributions to eye care have been memorialised in this naming."
Brien Holden and the Brien Holden Vision Institute have been collaborating with LVPEI for many years in the area of vision correction research, contact lens education, eye care delivery and optometry development for many years. Both organisations were participants in a series of Cooperative Research Centres between 1991 and 2015 and were instrumental in the founding of the International Centre for Eyecare Education (later becoming the Brien Holden Vision Institute) and co-founded the India Vision Institute.
Photo: Daniel Holden, son of the late Professor Brien Holden and Dr Nag Rao at the inauguration of Brien Holden Institute of Optometry and Vision Sciences.