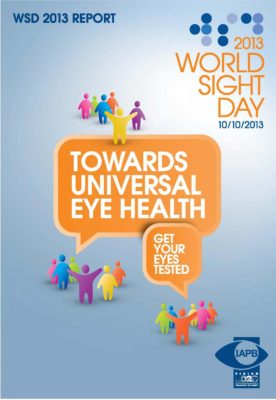 World Sight Day 2013 (WSD) – an international day of awareness about avoidable blindness and its prevention – will mark the launch of a report on Universal Eye Health.
2013 is an important year, as it marks the launch of a new WHO Action Plan on the prevention of avoidable blindness and visual impairment 2014-19. In keeping with the main thrust of this new Action Plan, the theme for World Sight Day 2013 is: "Universal Eye Health".
The WSD report sets out what universal eye health should mean in practice, taking into account key components of the Global Action Plan, and gives an overview of the situation of eye health globally and regionally, with examples of countries striving towards universal eye health.
Discussing the report, Zoe Gray, Advocacy Manager, International Agency for the Prevention of Blindness (IAPB) and one of authors said, "This World Sight Day report stresses that all people, including the marginalised, should be able to access quality eye health services without suffering financial hardship. It offers decision-makers and policy-makers guidance on means to progress".
On World Sight Day (10/10/2013) The WSD report on Universal Eye Health will be launched at events in Manila, Philippines; Thimpu, Bhutan; Kigali, Rwanda; Washington DC, USA; Dominican Republic and in scores of national and regional events around the world. In these events, representatives from the relevant ministry of health will be asked to unveil the report and copies will be passed on to other stakeholders.
"Universal Eye Health embodies many critical aspects of successful eye health uptake. World Sight Day is a powerful platform to showcase best practices and to also support blindness prevention activities globally. We welcome all stakeholders – NGOs, Corporations, hospitals and training institutes – to mark World Sight Day", said Joanna Conlon, IAPB.
Every year, World Sight Day is celebrated in over 300 events in 60 countries around the world. This year, WSD is marked the world over today, with the global call to action: "Get your eyes tested". Representing over 120 organisations, including every major eye health organisation and global eye health professional associations, IAPB supports World Sight Day activities across the globe by sending promotional material like posters, bookmarks, reports and advocacy material free of cost. This year too, WSD promotional material has been sent to over 500 addresses, including ministries of health, WHO country offices, numerous organisations who work with local communities and NGOs working across geographies to mark World Sight Day. For more information, please visit www.IAPB.org
You can download the Report in the following languages (PDF):
Download accessible version (Microsoft Word) of the report in English:
World Sight Day report and material produced with support from