Race generates USD170k for SiB

The 2017 Standard Chartered Great City Race has generated a staggering USD170k (with matching) for our flagship community programme Seeing is Believing (SiB).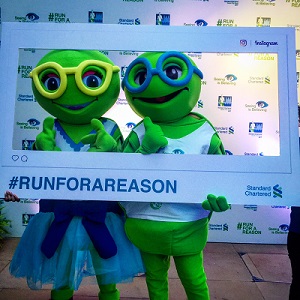 The funds have been earmarked for a three-year project to provide eye care services in four underserved districts in Muchinga Province and Eastern Province, Zambia. This is only the project's second year but we are already beginning to see how these funds are making a difference.
The event attracted over 6,500 runners and created a unique opportunity to showcase Seeing is Believing in the City. In a change to the usual line up, those attending yesterday's event may have thought they were seeing double as not one, but TWO, Seeing is Believing ambassadors took centre stage to raise awareness of the race's charity partner!
"Dr SiB", sister of our beloved Sir SiB, made her debut appearance as the newest SiB ambassador . She took to her new role like a pro, entertaining the crowds at the HAC as her brother kept runners' spirits up along the 5km route.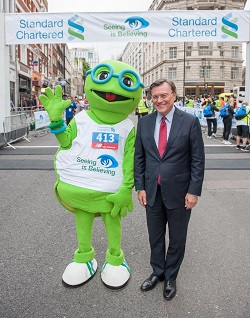 Sir SiB himself debuted six years ago at the very same race. Since then, he has travelled the world as an ambassador for Seeing is Believing, raising awareness of the issue of avoidable blindness and encouraging fundraising across our markets. Demand for Sir SiB's time has become so high that Dr SiB has been enlisted to share the workload and help SiB reach its USD 100mn fundraising target by 2020.
We will be seeing more of Dr SiB going forward so look out for her at other events both in the UK abroad.
Please visit the Seeing is Believing site for more information on our flagship  community programme.