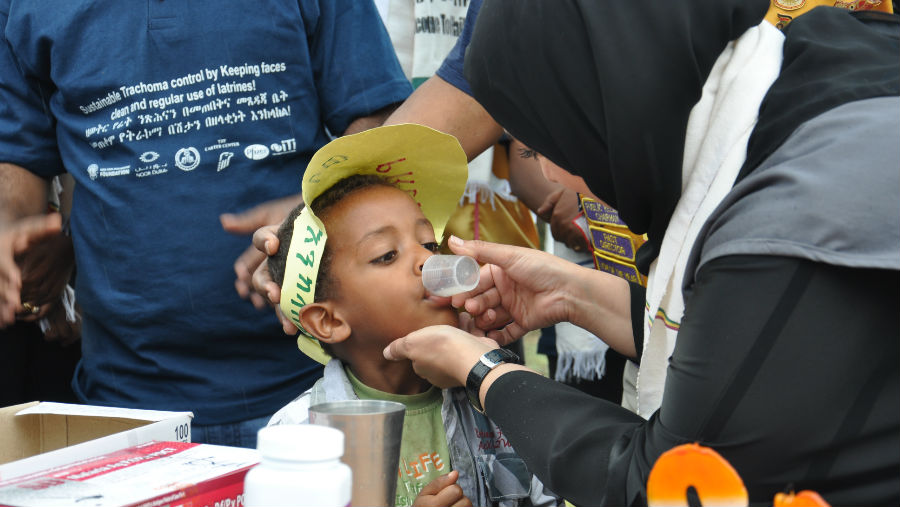 Noor Dubai Foundation is proud to celebrate seven years of spreading eye care and treating preventable blindness! First launched as an initiative in 2008 aimed at treating and preventing visual impairment through educational and treatment programmes, Sheikh Mohammad Bin Rashid Al Maktoum, Vice President & Prime Minister of the UAE and ruler of Dubai, officially launched Noor Dubai Foundation as a foundation in 2010. It has since expanded to treat more than 25 million people across 20 countries and 28 cities.
We are proud of our international efforts to work on the elimination of trachoma in the Amhara region of Ethiopia. Through a valuable partnership with The Carter Center over the last 3 years, Noor Dubai Foundation has reached out to 18 million individuals threatened by trachoma, and through an extended partnership for the next four years the anticipated outcome of the project is the elimination of blinding trachoma as a public health problem from Amhara, Ethiopia by 2020. Earlier on, the Foundation had supported Onchocerciasis control programmes in Cameroon, Ethiopia, Mali and Uganda.
Noor Dubai Foundation also conducts mobile eye camps in developing countries across Asia and Africa, which include screening and providing diagnosis and health care, conducting surgeries, and distributing spectacles during each camp. In 2016, we completed four successful mobile eye camps in Sri Lanka, Ethiopia, Niger and Senegal in partnership with Al Basar International Foundation. In total through our outreach programmes in Africa and Asia, we have screened 243,675 individuals, conducted 24,531 surgeries and provided 56,047 glasses to those living in remote areas with minimal access to primary healthcare facilities in over 16 countries.
Through our award winning outreach programme in the UAE, the mobile eye clinic, we have succeeded in providing free vision screening for over 8000 individuals in their workplaces (mostly the labor camps) throughout the UAE. In 2016, in collaboration with the Dubai Health Authority, the foundation also launched a vision screening campaign targeting community schools across the UAE, where 1,000 students were screened in the first year.
At a special strategic planning workshop held on September 12, 2017, His Excellency Humaid Al Qutami, Chairman of the Noor Dubai Board and Director General of the Dubai Health authority (DHA) remarked "Over 25 million visually impaired individuals from all over Africa and Asia have benefited from the free treatment and preventive programs conducted by Noor Dubai Foundation since its inception''. Dr Mahmoud Fikri, the Regional Director EMRO-WHO and Dr. Manal Taryam, CEO and Board member of Noor Dubai Foundation were also in attendance.
Dr. Manal Taryam, said that on the occasion of the seventh anniversary of Noor Dubai, the foundation is working on devising a new strategy that is in line with the developmental objectives of international organisations and best practices. The Foundation will continue its award winning mobile clinic outreach programmes in the UAE with wider coverage and range of services. The Foundation will also expand its international programmes using the evidence based best practices with strategic focus on sustainability.
We are proud to be a member of IAPB and for our work with leading global organisations such as WHO, The Carter Center and many others.
Photos courtesy: Noor Dubai Foundation