On World Optometry Day, Drs Robert & Kimberly Molter, reflect on the value of contributing to developing optometry beyond your own setting…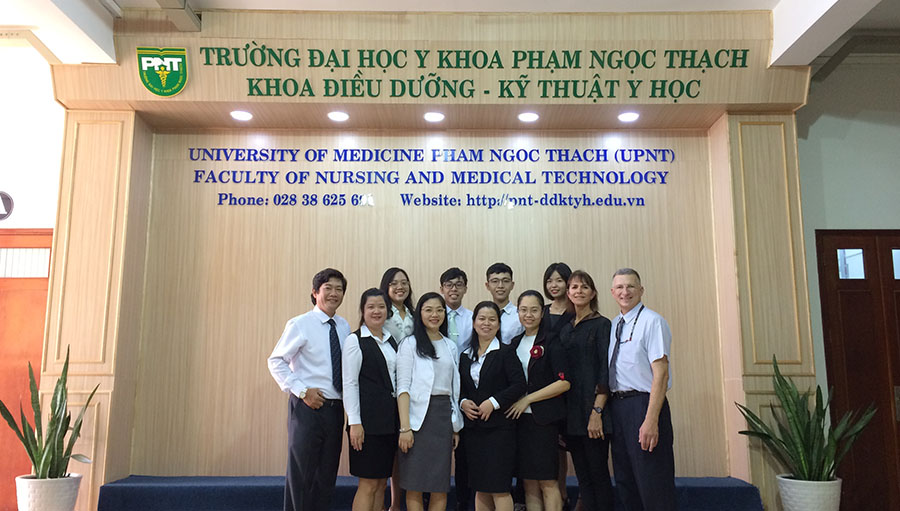 The average global citizen isn't aware that World Optometry Day is March 23rd. The truth is that we all have a bit of myopia when it comes to what we pay attention to.  When I was in private practice in Northern Michigan, I was concerned primarily with running my office and living my normal life.  The other side of the world simply didn't have my attention. Then my situation changed. Allow me to share some of my personal experiences with global optometric development.
My wife, Kim, is also an optometrist and together we had built a fine practice. We had an opportunity to sell the practice, took it, and retired. Not wanting to sit still, we worked at the Michigan College of Optometry as adjunct clinical professors. Feeling a sense of restlessness and with our kids on their own, we decided to explore opportunities to work abroad. Perhaps we thought that sounded romantic. What we found on the other side of the world was an eye-opener, truly an awakening to the needs that we were previously peripherally aware of: a need for the development of optometry world-wide.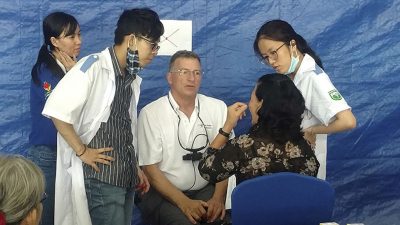 Optometry performs an important service that we in the US take for granted: The monitoring of ocular health. Without this surveillance, ocular diseases go unnoticed until they become life-changing events. The few eye hospitals in developing countries are overwhelmed with cases of catastrophic, preventable eye problems.  Preventing these blinding events requires creating a culture of preventative care, and this culture is what we hope to contribute to by educating our students in Vietnam.
The cultural and educational differences between the US and Vietnam are significant, but there are also similarities. The Vietnamese people are friendly, warm, and kind. We have made many friends and enjoy our students who are interested in the American culture. We feel we are performing a necessary role here.  American optometrists are ideally suited to teach in emerging optometry programmes as they practice one of the more advanced levels of optometry in the world.
Challenges we have faced include building the programme to the point where it will be sustainable. I feel that this 4-year programme is almost to this point. Brien Holden Vision Institute Foundation has been working hard as the guiding force in keeping the curriculum and clinical education protocols consistent with a WCO level-three optometrist. This is an optometrist with diagnostic and treatment ability without prescription drugs. Our students earn a bachelor's degree in optometry. Another challenge is getting our University to recognise that supervised clinical care is integral to the education of optometrists. My greatest concern for our students is getting the necessary patient experience with guidance before they graduate. This programme is in need of a few more experienced clinical professors, a role that any of you ODs would be able to fill.
In closing, I would encourage everyone to look beyond your own situation to the wider world. Kim and I have been greatly enriched by our experience teaching in Vietnam, and while you might not be in a situation yet where you can teach abroad, there are things that you can do to support global optometry that would be just as valuable. VOSH/International education programmes are expanding. Contact me at molter@vosh.org if you wish to step off your current path or would like to learn more about opportunities abroad; I'm happy to answer your questions.
GA 2020 – Act Now!
The IAPB Global Assembly 2020 (GA2020) programme has several sessions for optometrists. If you are keen to share your work, do submit an abstract–the sector needs to know!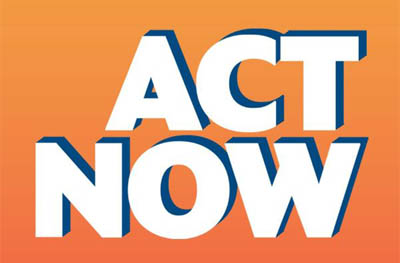 World Optometry Day 2020 Stories