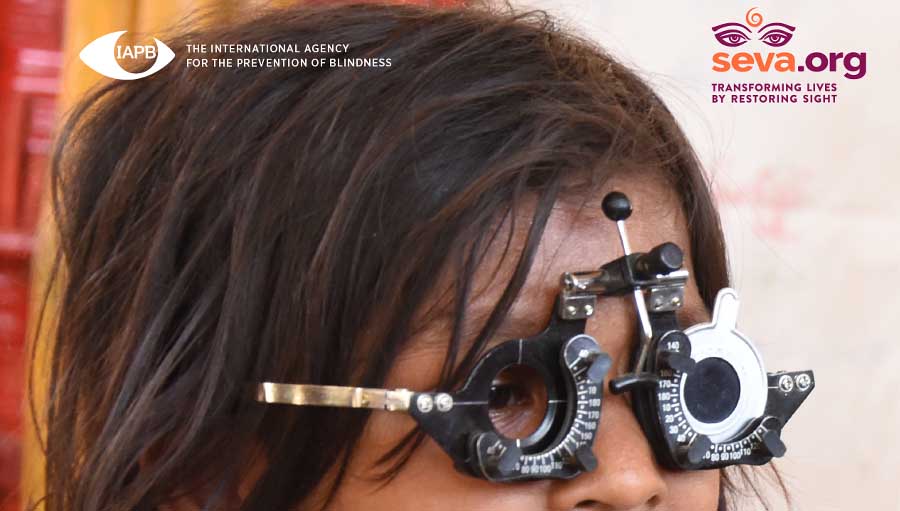 The Seva Foundation, an international eye health and blindness-prevention organization, recently released a new report to assess the eye care needs of the one million Rohingya people living in refugee camps in Bangladesh. "A Situational Analysis: Eye Care Needs of Rohingya Refugees and the Affected Bangladeshi Host Population in Cox's Bazar District Bangladesh" provides a snapshot of the critical eye care needs in this region. Key international non-governmental organizations (INGOs) have established an eye care working group to coordinate sight-related medical response for these refugees. The report was completed in partnership with the International Agency for the Prevention of Blindness.
In the face of what the United Nations has referred to as ethnic cleansing, hundreds of thousands of Rohingyas have fled Myanmar. Approximately one million people currently live in refugee camps located in Cox's Bazar District, Bangladesh.
Displaced populations bring their health care needs with them, including vision problems like cataract and low vision. Substandard living conditions in refugee camps create additional threats to eye health.
"Providing eye care is one of the most effective ways to lift people out of poverty," said Kate Moynihan, Executive Director of the Seva Foundation. "The Rohingya people are facing multiple severe threats to their health and dignity. Addressing their eye health needs will help this embattled population reach toward independence. A relatively modest strategic investment into eye care systems in Cox's Bazar would make it possible for those who suffer from preventable blindness and low vision to care for themselves and gain access to economic opportunity, including the ability to access education for refugee children."
According to the report, after addressing acute life-saving needs, the Rohingya refugee camps must prioritize integrating eye care as a critical component of primary health care. The report highlights several widespread eye care issues affecting the refugee population:
Vitamin A deficiency, which can cause blindness primarily among children, has been confirmed in the camps.
Trachoma, a treatable, blindness-causing disease, is likely present based on environmental factors and previous studies of eye health in Myanmar's Rakhine state, the Rohingyas' place of origin.
The refugees, who had no access to health care in their native country, are likely to have a high incidence of blindness from cataract, which can be treated with safe, inexpensive surgery. The World Bank has identified cataract surgery as one of the most cost-effective poverty prevention measures available globally.
Untreated low vision, easily treated with eyeglasses, is statistically likely present at high levels in the refugee population.
Diabetic eye disease and glaucoma are also likely to be present in the refugee population.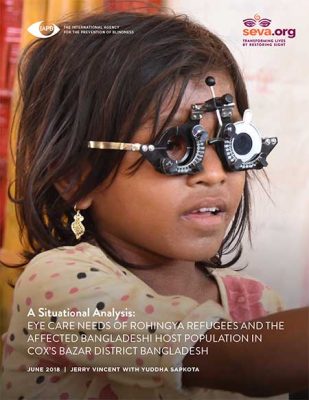 The report calls for government officials and INGOs to develop a strategic plan to address these preventable or treatable eye health threats. A Minimum Initial Service Package would include integrating basic eye services into the primary health care system at the camps and providing referrals to eye health specialists at the regional hospital. It also calls for addressing the eye care needs of the resident Bangladeshi population, which is experiencing economic pressure because of the growth of the refugee camps and which has the highest rates of blindness among Bangladeshis.
"The situation in Cox's Bazaar is distressing; the conditions fluid and the availability of resources is very limited. And yet, we have a vital role in ensuring that these populations have access to basic health services, including eye care," added Yuddha Sapkota, IAPB South-East Asia Regional Coordinator.
"I do hope that we will be able to respond with adequate strength. IAPB is keen to play a role in formulating a solid and dependable response there."
To arrange an interview with those knowledgeable about the report's findings, contact Nina Erlich-Williams at nina@publicgoodpr.com or 510-336-9566.
Download the report here