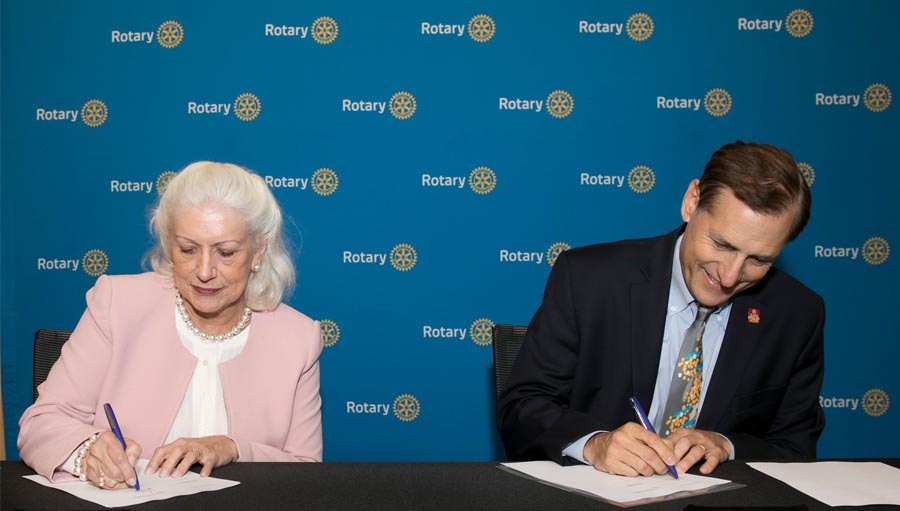 EVANSTON, IL (August 7, 2017) — About 80 percent of the world's 285 million visually impaired people have treatable eye diseases, according to the World Health Organization. Rotary and the International Agency for the Prevention of Blindness (IAPB) aim to promote eye health to underserved communities.
Under the one-year partnership signed today by Rotary International General Secretary John Hewko and Vice President of IAPB Victoria Sheffield, Rotary clubs can partner with IAPB member agencies to provide access to continuous eye care and blindness prevention services. These could include eye exams, cataract screenings and treatment, and diabetic eye examinations and follow-up services.
"IAPB champions the belief that in the 21st century no one should have to live with avoidable blindness or sight loss," said Rotary General Secretary John Hewko. "Rotary also sees global health as a core priority. With IAPB's expertise, and the power of Rotary's volunteer network, we will help transform the lives of millions of people who live with a visual impairment."
"The impact of blindness prevention efforts is lasting and has a palpable effect at the local level. This service partnership agreement will help eye care agencies and hospitals tie-up with local rotary clubs to deliver positive, lasting eye care to local communities" noted Victoria Sheffield, CEO, International Eye Foundation and Vice-President, IAPB. "Eye care work will greatly benefit from the passion, energy and support of Rotary members worldwide".
IAPB and Rotary
IAPB's mission is to eliminate the main causes of avoidable blindness and visual impairment. IAPB achieves this by bringing together governments, non-governmental agencies, academic institutions and the private sector to facilitate the planning, development and implementation of sustainable eye care programmes.
Rotary members develop sustainable projects that fight disease, promote peace, provide clean water, support education, save mothers and children and grow local economies. The recent partnership will help clubs further their efforts to provide disease prevention and treatment and maternal and child health programs worldwide. Over the past three years, nearly a quarter of a million people benefited from Rotary's interventions for disease prevention and maternal and child health, supported by almost $100 million awarded through its grants programs.
IAPB joins a list of Rotary service partners including, the Peace Corps, Dollywood Foundation, the Global FoodBanking Network and YSA.